Korea Blockchain Week: Best Events Curated by Mpost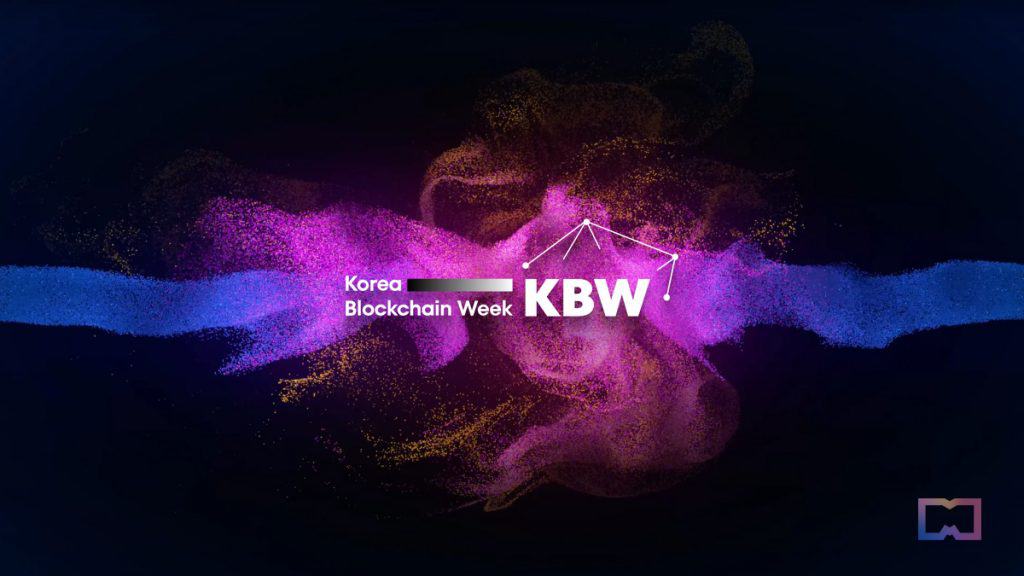 by
Nik Asti
Published: August 22, 2023 at 11:24 am Updated: August 23, 2023 at 4:08 am

by
Victor Dey
Edited and fact-checked: August 23, 2023 at 4:08 am
Korea Blockchain Week (KBW) 2023 is anticipated to be a pivotal event on the blockchain calendar, encompassing innovative ideas, networking opportunities, and a focal point for blockchain enthusiasts.
Initiated by FACTBLOCK and co-hosted by Hashed, the annual gathering is now in its sixth edition, highlighting the dynamic landscape of decentralized finance.
Alongside the main event featuring keynotes and panels, KBW 2023 will present an extensive lineup of 130+ side events this year. These range from niche meetups to comprehensive gatherings, aiming to provide diverse perspectives and insights to its attendees.
This article delves into the Mpost team's involvement in overseeing these activities, offering a glimpse into our team's presence at the following events:
Circle Hacker House: Seoul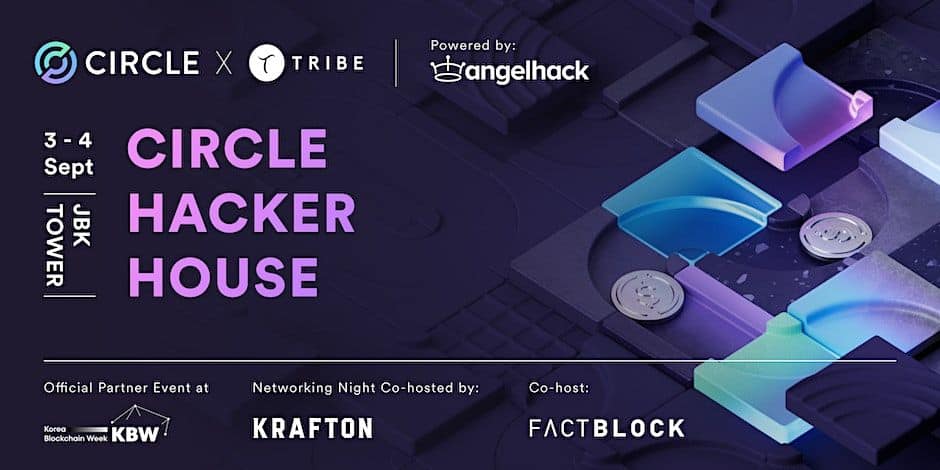 Held in conjunction with the much-awaited Korea Blockchain Week, Circle Hacker House: Seoul 2023 promises to be a melting pot of innovation, bringing together the industry's titans, developers, and visionaries to discuss the burgeoning realm of Web3.
Centered around Circle's technological expertise, attendees will gain an exceptional insight into the future of finance, accompanied by groundbreaking keynotes and extensive networking opportunities.
So if you're interested in learning about fascinating new innovations, this is the event for you.
What to expect from the event:
Engage in thought-provoking panel dialogues that promise to enlighten and challenge perspectives.
Discover the state-of-the-art suite of developer tools meticulously designed to streamline the Web3 building experience.
Forge meaningful connections with a diverse group of investors and trailblazing builders who are shaping the future.
Wrap up the experience with an evening of refreshing beverages and insightful conversations, ensuring a blend of knowledge and relaxation.
STARKKorea 2023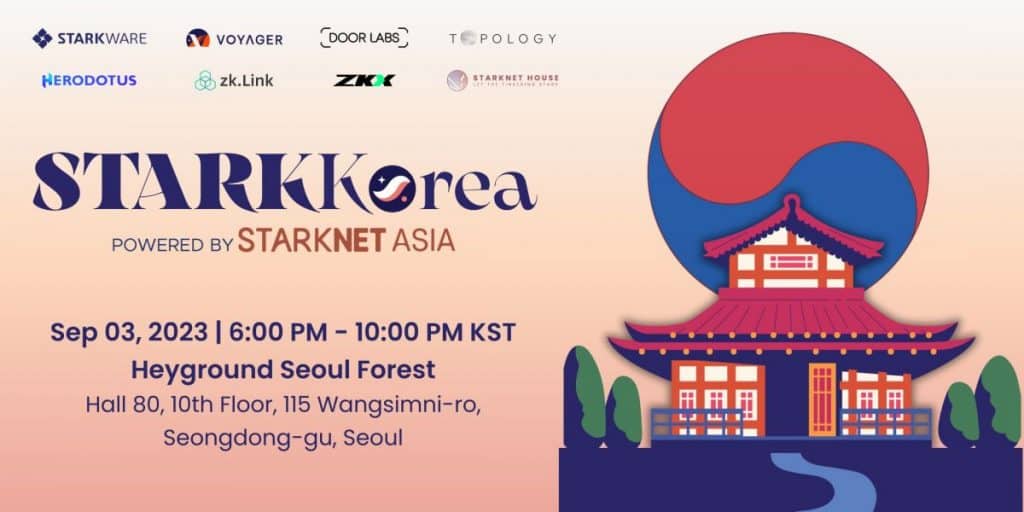 STARKKorea 2023 is a prominent gathering for scalable blockchain solutions. Participants can look forward to a convergence of blockchain enthusiasts, developers, researchers, and industry experts.
Talks: Distinguished figures from Starknet will share their insights. These discussions are set to explore the current applications of Starknet and its potential impact across various sectors.
Networking Opportunities: The event features dedicated sessions for networking. Attendees will engage with startups, industry leaders, and professionals, fostering the potential for expanded blockchain insights and partnerships.
Innovator's Corner: Several pioneering projects will showcase their work. These demonstrations will highlight how Starknet is applied to create innovative solutions.
For both seasoned blockchain professionals and newcomers, STARKKorea 2023 will offer a platform for exploration and networking in the realm of scalable blockchain systems. It's an avenue to gain a comprehensive grasp of this emerging technology.
ZK Community Meetup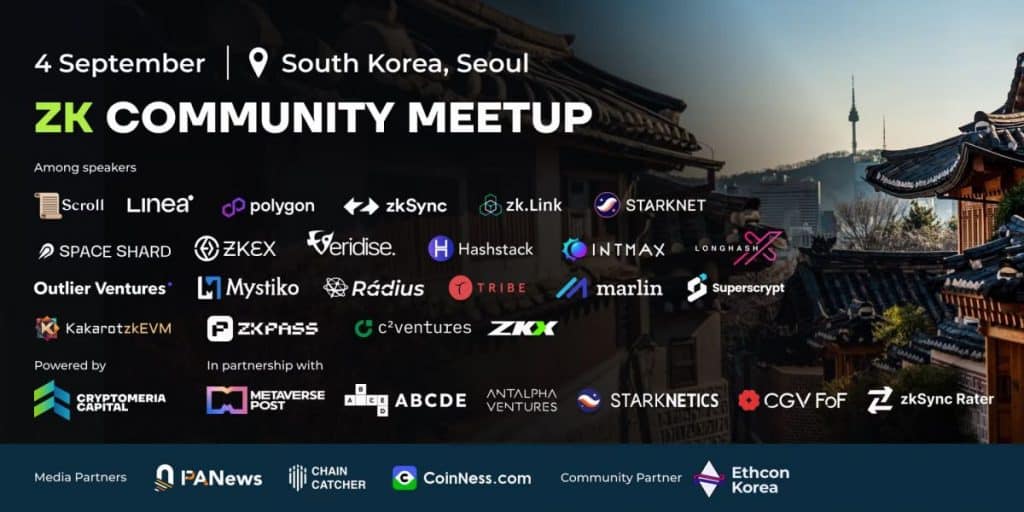 Following the resounding success of the ZK Community Breakfast in Montenegro, the ZK Community Meetup is poised to redefine networking dynamics.
Insightful panel discussions on VC and ZK, coupled with enlightening keynote speeches, underscore this as the networking event of the year. The ZK Community Meetup promises to be built upon the triumph of its predecessor and foster a space for enriched networking.
The event will comprise of:
Panel discussions that delve into VC and ZK topics.
Keynote speeches delivered by industry luminaries.
The presence of a private network of ZK experts.
A vibrant community atmosphere.
A Community Breakfast that drew the participation of over 100 individuals.
Past events have featured speakers from organizations such as zkSync, Scroll, EthStorage, SpaceShard, Hyper Oracle, zkPass, PSE (Privacy & Scaling Explorations), and Ethereum Attestation Service.
Epic ETH Infra Day, Seoul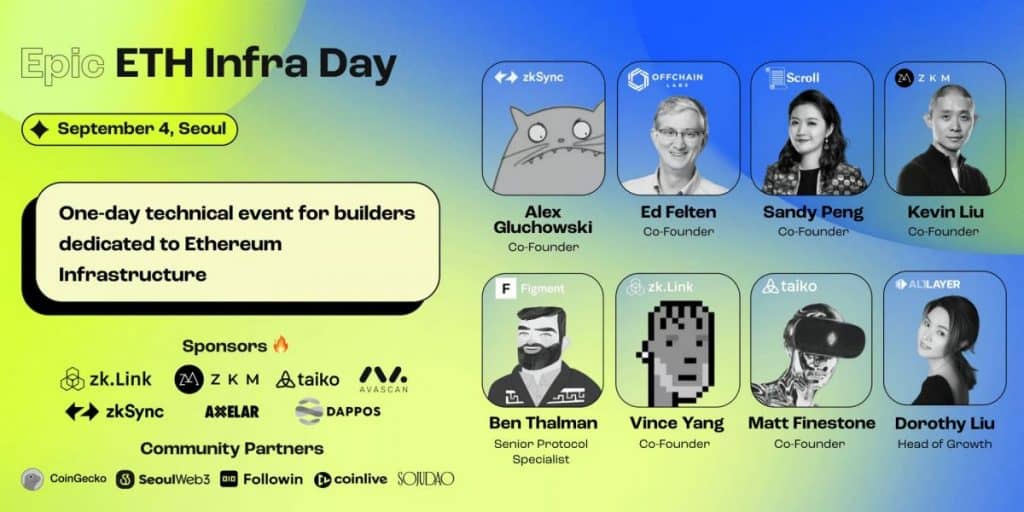 Held in the heart of Seoul, Epic ETH Infra Day is a dedicated event focusing on Ethereum Infrastructure. The event promises insightful presentations, in-depth discussions, and networking opportunities that cater to Ethereum enthusiasts, from developers to founders.
Highlighted Speakers:
While the availability of free tickets might be limited, attendees can anticipate a day rich in learning, sharing, and exploring the vast potential of Ethereum.
To the Next Billion Users & Beyond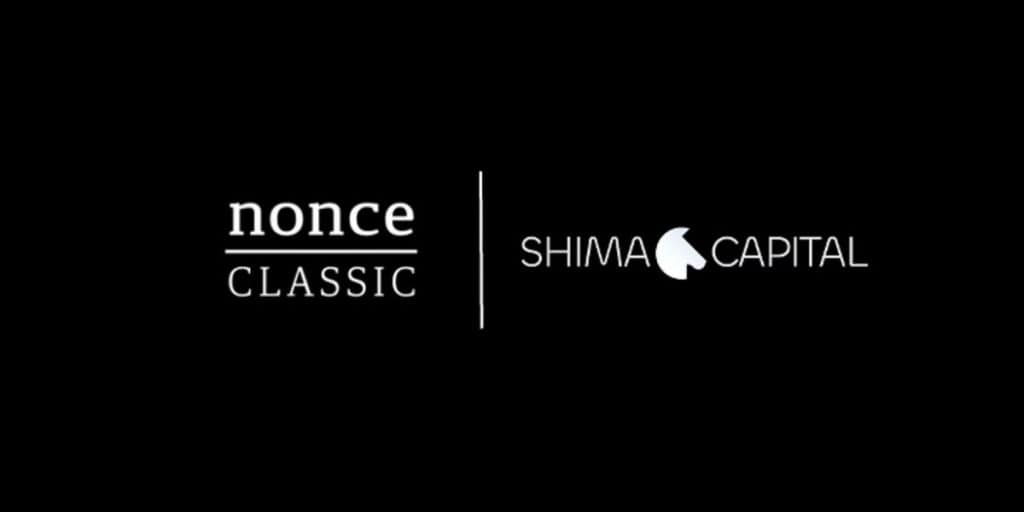 Presented by nonce Classic & Shima Capital, this event is the must-attend satellite of Korea Blockchain Week. Against the backdrop of Seoul's skyline at sunset and under the glittering stars, delve into thought-provoking conversations about the Web3 future.
Engage with panel discussions that delve into Web3's trajectory and its impact on consumers, offering equal parts enlightenment and inspiration.
Discussion Topics:
Web3 for Consumers: An Exploration into its Potential and Benefits
The Road Ahead in Web3: Insights for Consumers and Investors
Fundamentals of Web3 Infrastructure: A Deep Dive into L2 and AA
Content in the Web3 Ecosystem: Assessing Value and Utility in Contexts like Gaming
Featured Panelists:
Additional speakers are yet to be announced.
Delysium x Google – Web3 x AI Night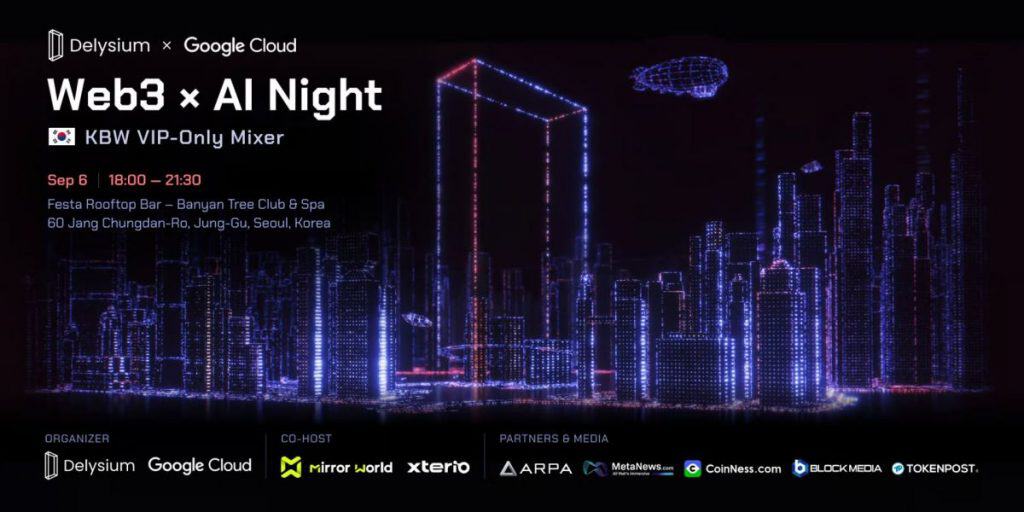 In a tech landscape where AI and Web3 are the defining forces, Delysium in partnership with Google, aims to provide attendees with unparalleled experiences.
Limited to just 110 VIP guests, this evening will provide engaging discussions and networking with influential figures from the AI and Web3 sectors.
The collaboration between Delysium and Google will dive deep into the convergence of AI technology and Web3 platforms' future. Blending Google's unmatched cloud computing prowess with Delysium's pioneering strides in AI x Web3, this partnership envisions a virtual world populated by both humans and AI entities.
Attendees will also have the exclusive chance to join the Google Cloud AI & Web3 startup program. This opportunity will empower startups with resources and technological expertise that might otherwise be inaccessible.
KBW 2023 VIP Night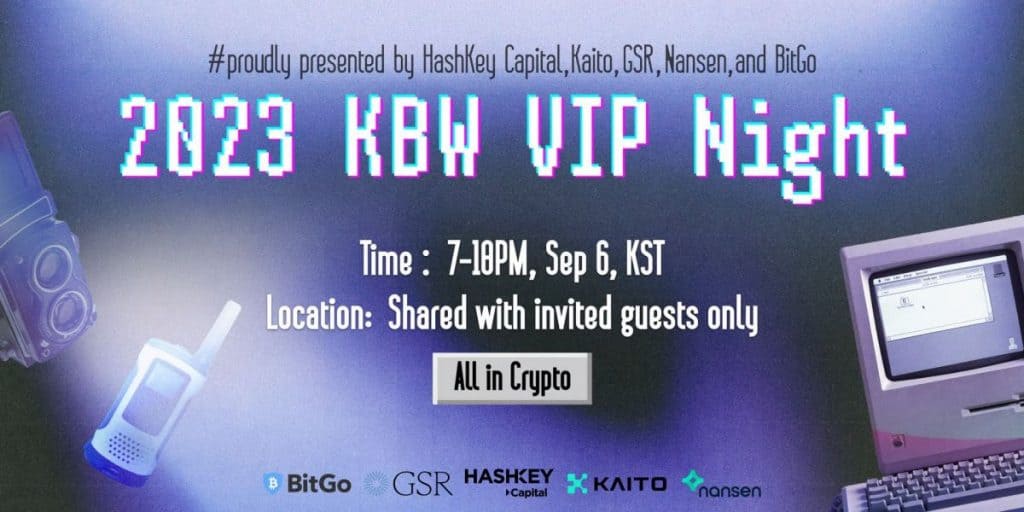 In an exclusive, invite-only reception co-hosted by luminaries like HashKey Capital, Kaito, GSR, BitGo, and Nansen, Korea Blockchain Week 2023 VIP Night is expected to be the bridge between the established Web2 and the emerging Web3 ecosystems.
The participation of these companies is a testament to the premier stature of this event. Their collective presence not only elevates the gravitas of the gathering but also assures attendees of an enriching experience:
HashKey Capital, a towering entity in the crypto world, boasts of managing over $1 billion in assets and has the honor of being one of the earliest institutional investors in Ethereum. Their deep-rooted knowledge and vast network are unparalleled in the blockchain domain.
Kaito, a revolutionary AI-powered Web3 search engine, is charting new waters with its platform aimed at providing seamless access to blockchain-related information for its rapidly growing user base.
GSR, with a decade in the crypto market, is renowned as a market maker, investment advisor, and a critical player in digital asset liquidity.
BitGo, a leader in digital asset security and custody, has become the operational linchpin for over 1500 institutional clients across 50 countries, processing about 20% of global Bitcoin transactions.
Nansen, the blockchain analytics platform, offers enriched on-chain data, becoming the go-to platform for crypto investors to make informed decisions.
With such giants co-hosting, this evening will provide discourse on the synergies between Web2 and Web3, offering a glimpse into the blockchain's limitless future potential.
FIL Seoul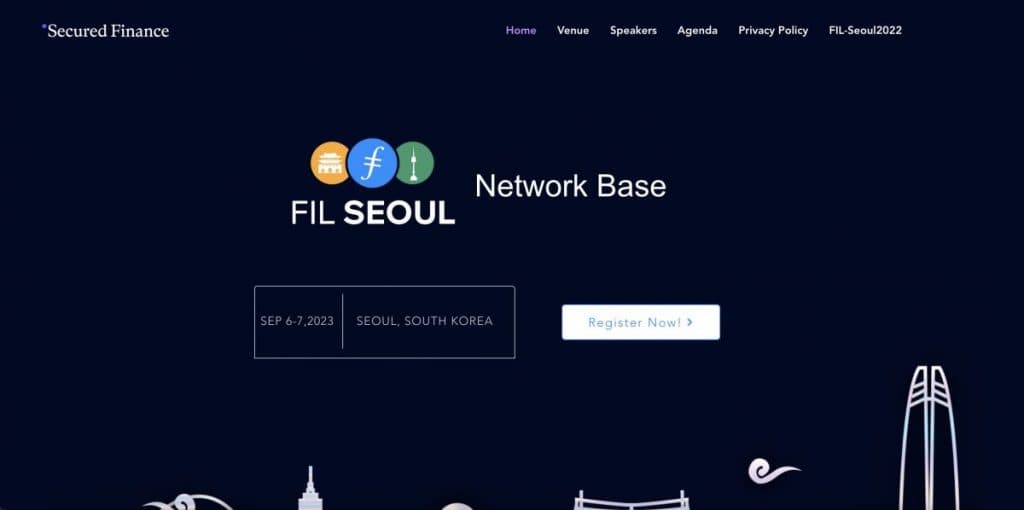 The FIL Seoul Network Base will serve as a hub for diverse sessions, featuring informative lightning talks, interactive workshops, and collaborative coworking experiences.
Additionally, the event offers a networking platform to facilitate potential collaborations and establish professional connections.
With the goal of bringing together a varied audience of developers, storage providers, clients, and ecosystem partners, the event promotes both knowledge exchange and networking opportunities.
Featured Speakers:
Individuals keen on presenting at the FIL-Seoul Network Base can explore opportunities by clicking the link below.
Avalanche House: Seoul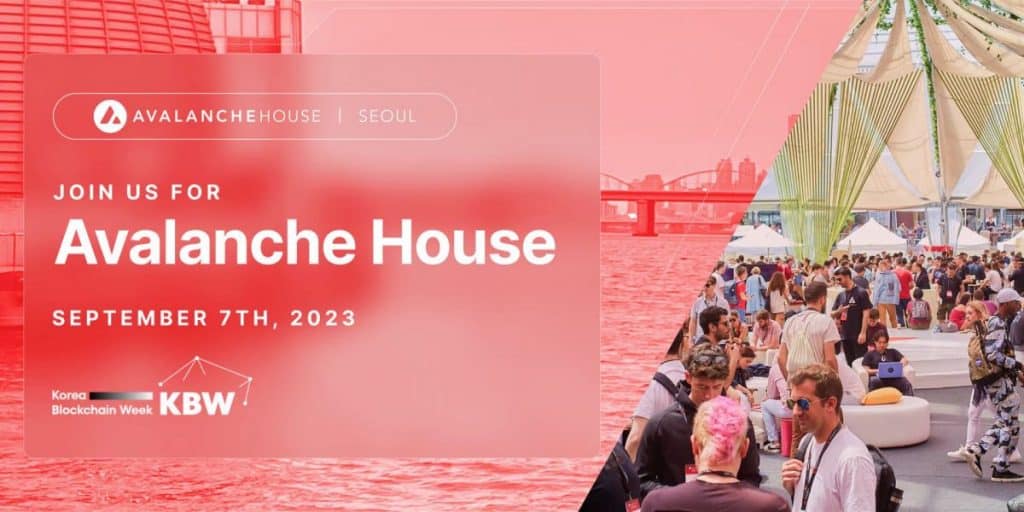 During Korea Blockchain Week on Thursday, September 7, "Avalanche House" will be hosted in Seoul.
The gathering aims to provide attendees with insights about cryptocurrency and facilitate connections between individuals with shared interests. It's expected to foster deep discussions and shed light on contemporary ideas in the domain.
Event Details:
The agenda includes presentations by notable speakers, alongside various other activities such as performances, interactive art displays, and gaming stations.
Seoul Buidl Day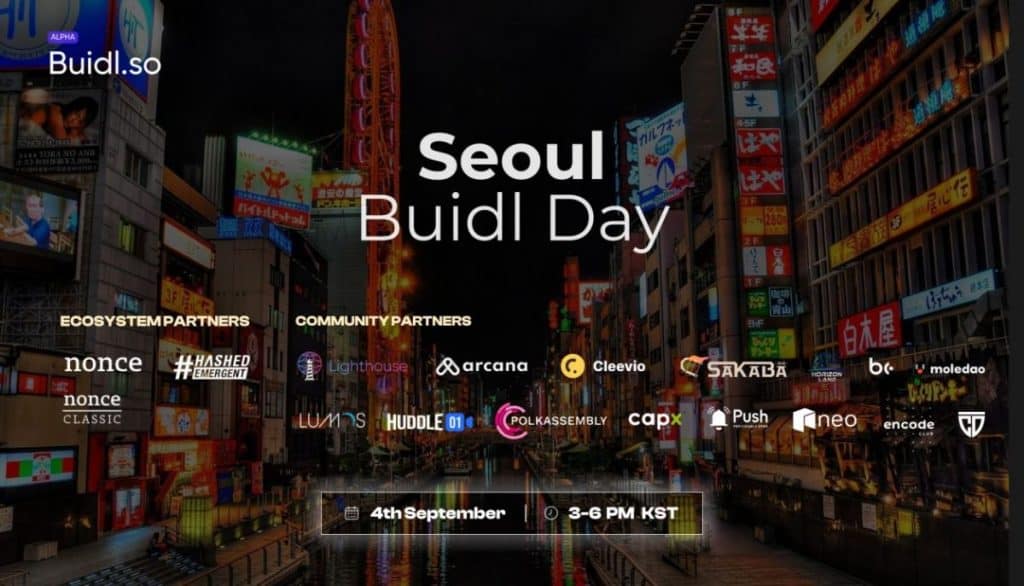 The upcoming Seoul Buidl Day will provide a comprehensive platform for startup founders. The event promises to host key leaders from the Web3 support companies, prominent investors, and innovative startup founders.
Participants have an opportunity to:
Present their ideas to a select group of notable investors.
Access ecosystem support, which might include grants and credits.
Engage in networking sessions with fellow founders.
Seek advice and guidance from a dedicated mentor network.
Receive feedback on their pitches and ideas.
Potentially secure funding for their ventures.
Interested parties are encouraged to apply to maximize the benefits from this gathering.
Meet the Mpost Team
An undeniable highlight of these events lies in the chance to engage with the Mpost Team.
As advocates of curated content and community engagement, we eagerly anticipate connecting with attendees, listening to their insights, and exploring future collaborations.
Beyond blockchain, our focus extends to fostering understanding and bridging gaps, as we will eagerly await your feedback or thoughts about the crypto landscape.
For a comprehensive list of side-events, please refer to the official links provided below:
Korea Blockchain Week 2023 is a pivotal milestone in the landscape of blockchain gatherings. Beyond mere seminars and speeches, it mirrors the industry's shared drive towards a decentralized, efficient, and inclusive future.
The extensive range of side events vividly portrays the convergence of diverse and vibrant interests in Seoul. Each event, whether an in-depth technical exploration or a casual networking occasion, embodies the dynamic spirit and unyielding pursuit of innovation that characterizes the blockchain community.
The active engagement of the Mpost Team throughout these events will enrich the narrative with added depth and perspective.
Embrace the future, indulge in culture, and feel the adrenaline this September in Singapore. We look forward to seeing you there!
Read more:
Disclaimer
Any data, text, or other content on this page is provided as general market information and not as investment advice. Past performance is not necessarily an indicator of future results.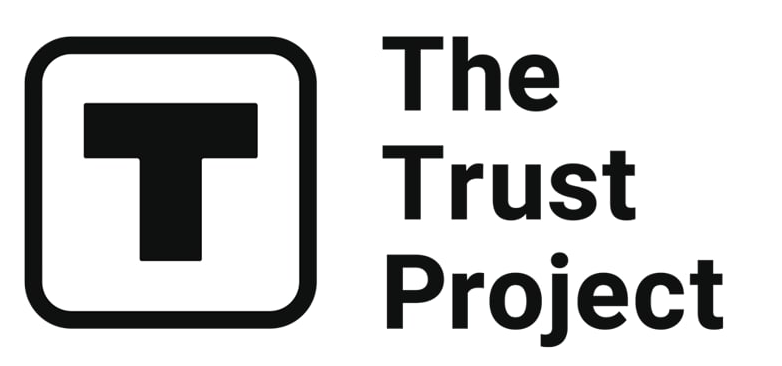 The Trust Project is a worldwide group of news organizations working to establish transparency standards.
Nik is an accomplished analyst and writer at Metaverse Post, specializing in delivering cutting-edge insights into the fast-paced world of technology, with a particular emphasis on AI/ML, XR, VR, on-chain analytics, and blockchain development. His articles engage and inform a diverse audience, helping them stay ahead of the technological curve. Possessing a Master's degree in Economics and Management, Nik has a solid grasp of the nuances of the business world and its intersection with emergent technologies.
More articles


Nik is an accomplished analyst and writer at Metaverse Post, specializing in delivering cutting-edge insights into the fast-paced world of technology, with a particular emphasis on AI/ML, XR, VR, on-chain analytics, and blockchain development. His articles engage and inform a diverse audience, helping them stay ahead of the technological curve. Possessing a Master's degree in Economics and Management, Nik has a solid grasp of the nuances of the business world and its intersection with emergent technologies.
Hot Stories
by Cindy Tan
September 25, 2023
by Victor Dey
September 25, 2023
by Damir Yalalov
September 25, 2023
by Victor Dey
September 22, 2023
Latest News
by Nik Asti
September 25, 2023
by Agne Cimermanaite
September 25, 2023
by Cindy Tan
September 25, 2023
by Cindy Tan
September 25, 2023