Insights and announcements from Permissionless Conference… so far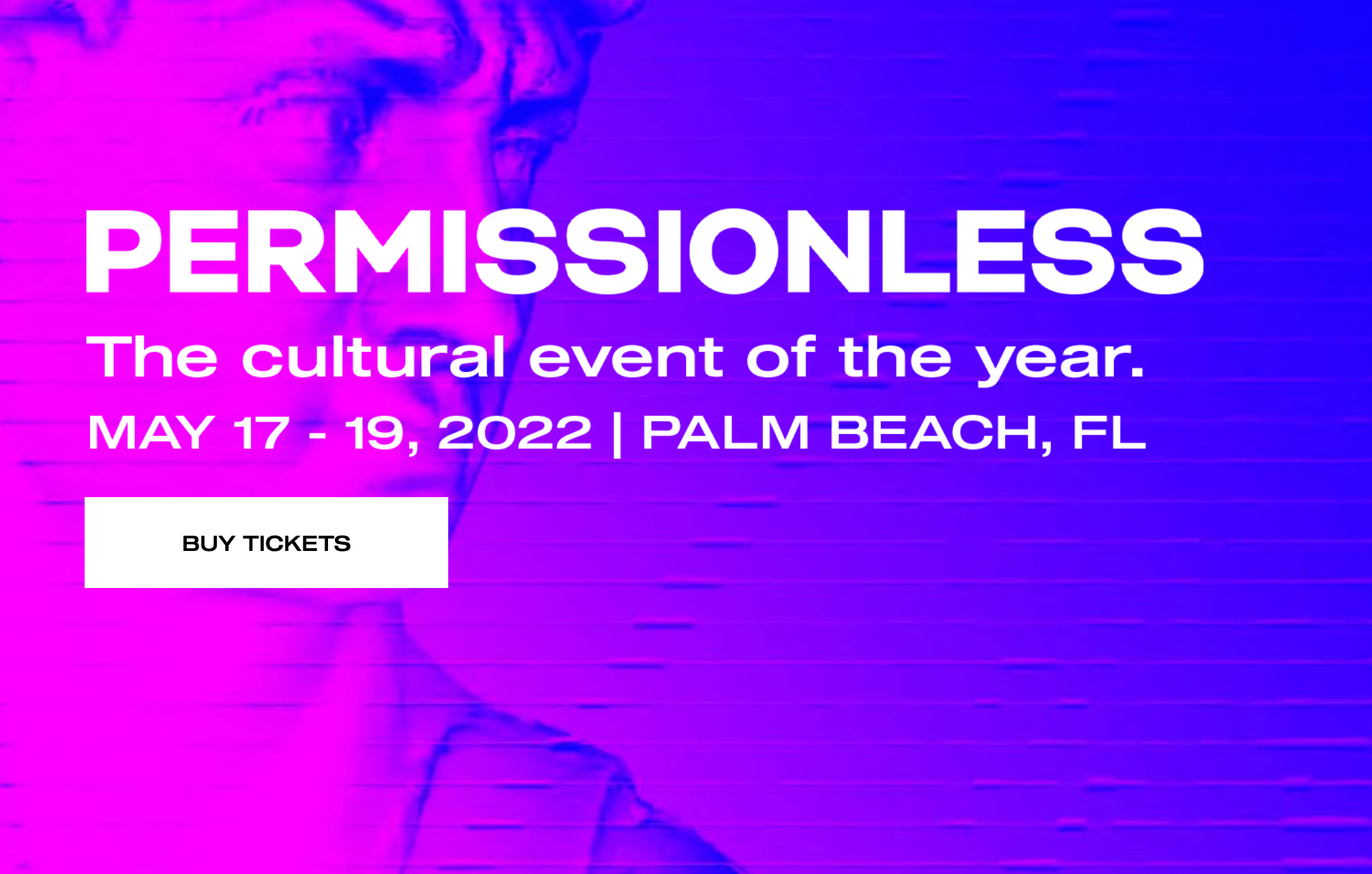 Monday, May 16th opened Permissionless, a crypto conference in Palm Beach, FL organized by financial media brand Blockworks. They've boldly called it "the cultural event of the year," but the past few days have indeed proven a veritable who's-who of crypto, from DeFi to NFTs.
Three full days of programming, scheduled through tomorrow, have already unveiled insight and announcements that have rippled throughout the industry–in the wake of what Jake Chervinsky from DC-based lobbying firm Blockchain Association called on Twitter "among the most painful weeks in crypto history & one we'll reckon with for a long time to come," due to TerraUSD's debilitating meltdown and greater market fluctuations.
The volatility even spurred A16z to release their first-ever "State of Crypto" report–a document espousing crypto's endless potential amidst difficulty, an unflinching optimism that A16z general partner Chris Dixon echoed throughout his own talk at Permissionless yesterday. Notable appearances so far include another keynote address where Robinhood Co-Founder Rob Tenev made headlines announcing new updates to their wallet. Politico has even called the conference "Crypto's silver lining playbook."
Just after the Robinhood keynote yesterday, Nansen CEO Alex Svanevik gave a talk titled "Building the Information Super App of Web3" where he announced the company's acquisition of multi-chain portfolio tracker Ape Board. A concurrent statement by Nansen explained: "Combining Nansen's analytics and Ape Board's portfolio tracking will enable us to take the first step towards establishing a true all-in-one information service – just the start of a series of expansions and feature releases designed to position Nansen as the definitive Information Super-App of Web3."
The release quoted Svenik's talk at the conference: "We're aiming to bring all the market intelligence a trader, institution, or business needs under one roof–With this acquisition, we are paving a path towards becoming the go-to information super-app for all of Web3." Afterwards, Svanevik immediately participated in a panel called "Investing in an On-Chain" world alongside the likes of Dragonfly Capital managing partner Haseeb Qureshi and Volt Capital Founder & General Partner Soona Amhaz.
Further announcements include a big drop from Stani Kulechov, founder of DeFi lender Aave, who CoinDesk notes "was temporarily suspended from Twitter for proclaiming himself 'interim CEO.'" Today they reported on Kulechov's on-stage announcement–presumably at this morning's "DeFi State of the Union" panel–that the company's "long-teased decentralized social media platform starts launching today." CoinDesk says the new feature "allows developers to build their own decentralized social media networks in which users fully own their data." Participants can begin minting their profiles on the Polygon blockchain mainnet today. An Aave spokesperson said "about 50 apps are already built on Lens."
"We believe that the ownership of content and profiles should belong to you in the way that DeFi belongs to you," Kulechov is also quoted saying on stage regarding Aave and Lens's common principles.
Tomorrow's keynote speaker will be Michael Shaulov, CEO & Co-Founder at custody platform Fireblocks. Before then, it will be interesting to see what insights leak from today's "Marketing in Web3" conversation between Coinbase Chief Marketing Officer Kate Rouch, VaynerNFT President Avery Akkeneni, and Burrata Co-Founder Jeff Carvalho–especially considering aesthetics, from appearance to user experience, are do or die for ioneers participating in the advent and gold rushes of Web3.
To that end, it's worth noting the way Permissionless is packaged–its color scheme and overall feel offer a slightly more corporate, digitized take on the soft millennial look of A16z's report released yesterday. Extracurriculars at the conference have included morning coffee breaks and an NFT gallery on view, but also nightly bar-hopping along Clematis Street, where various presenters have hosted parties at various local eateries and watering holes. The whole affair opened with a Gatsby-themed croquet party on Monday night–definitely a hot take, given current events and the underlying context of Fitzgerald's novel. Tomorrow evening Permissionless closes with an after party featuring 3LAU, AMICAZ, and PLS&TY.
From this vantage point we see that if the crypto community truly intends to change the world, they might do better to actively converse with it, lest the game become an echo chamber akin to the very structures they're allegedly uprooting. Permissionless still has a few days in store–let's see how the conversation unfolds.
Read related posts:
Disclaimer
In line with the Trust Project guidelines, please note that the information provided on this page is not intended to be and should not be interpreted as legal, tax, investment, financial, or any other form of advice. It is important to only invest what you can afford to lose and to seek independent financial advice if you have any doubts. For further information, we suggest referring to the terms and conditions as well as the help and support pages provided by the issuer or advertiser. MetaversePost is committed to accurate, unbiased reporting, but market conditions are subject to change without notice.
About The Author
Vittoria Benzine is a Brooklyn-based art writer and personal essayist covering contemporary art with a focus on human contexts, counterculture, and chaos magic. She contributes to Maxim, Hyperallergic, Brooklyn Magazine, and more.
More articles


Vittoria Benzine is a Brooklyn-based art writer and personal essayist covering contemporary art with a focus on human contexts, counterculture, and chaos magic. She contributes to Maxim, Hyperallergic, Brooklyn Magazine, and more.
Hot Stories
by Victor Dey
November 30, 2023
by Kumar Gandharv
November 30, 2023
by Victor Dey
November 30, 2023
by Nik Asti
November 29, 2023
Latest News
by Alisa Davidson
November 30, 2023
by Victor Dey
November 30, 2023
by Alisa Davidson
November 30, 2023
by Nik Asti
November 30, 2023