What is NFT Joke?
NFT joke, which is typically not meant to be taken seriously, is a humorous act in which words are utilized within a clear-cut narrative structure to make people laugh.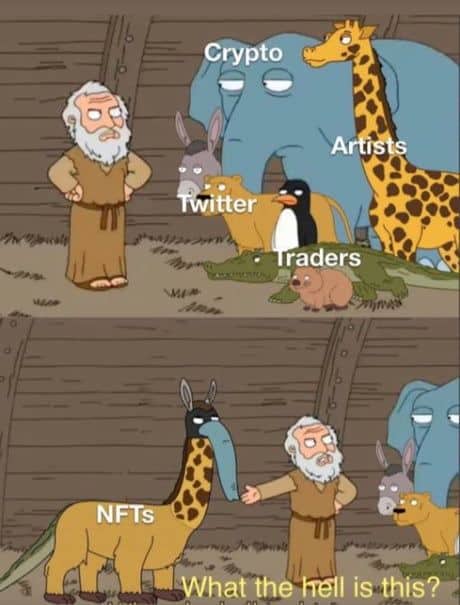 Understanding NFT Joke
We all love jokes and we used to be supplied with this by Instagram or Twitter, where people post all sorts of memes, and then other people take these memes and put them in their groups, exposing it for their posts, in other words, one came up with a meme and put it up, while others took it apart this is in their groups under the guise of authorship, now a wave of memes and jokes has reached the NFT, but, most importantly, now those who create memes are their sole owners, now the joke is completely assigned to the author, now your humor costs money. I think all of you have seen a cat that leaves the color of the rainbow behind him, his owner Chriss Torres sold his meme for half a million dollars, just think about it, before people posted memes and jokes for free, for likes, and now you can get almost a million dollars for it. The next meme that I will tell you about will be the expression on the face of a cat named Tartar, I'm sure you all saw a white cat with a darkish muzzle and an expression of discontent, this is not Photoshop, not an adjustment, but just the owner showed her cat from which she made nft, what do you think how much was it sold for? for almost 100 thousand dollars, for a pet, I think everything that a cat or a dog can give you, it's just your pet that you care for, play with it, but that's not all, you can literally afford to pay for your pet to buy an apartment, not bad, right? A girl against the backdrop of a burning house with a smile on her face, I think this meme was on all screens, scrolling through the tape and this meme, everyone saw it and this joke also became NFT, half a million dollars, this is no longer just an apartment, this is a whole mansion. The world of NFT allows everyone to realize themselves, are you a cool designer? Create nft and you will earn money. Are you a comedian? create an nft joke and earn money. Each of you can do it, we live in an age of opportunity, NFT is the future that has already arrived!
Read related articles: