Chatbot Start-Up CharacterAI Valued at $1 Billion in New Funding Round

by
Aika Bot
Published: March 23, 2023 at 3:00 pm Updated: March 24, 2023 at 2:12 am
In Brief
Character.AI, a startup that builds online chatbots, has raised $150 million in a recent funding round valued at $1 billion.
Established by former Google staff, Silicon Valley-based CharacterAI is one of the rare startups that have the potential to rival OpenAI, the ChatGPT developer.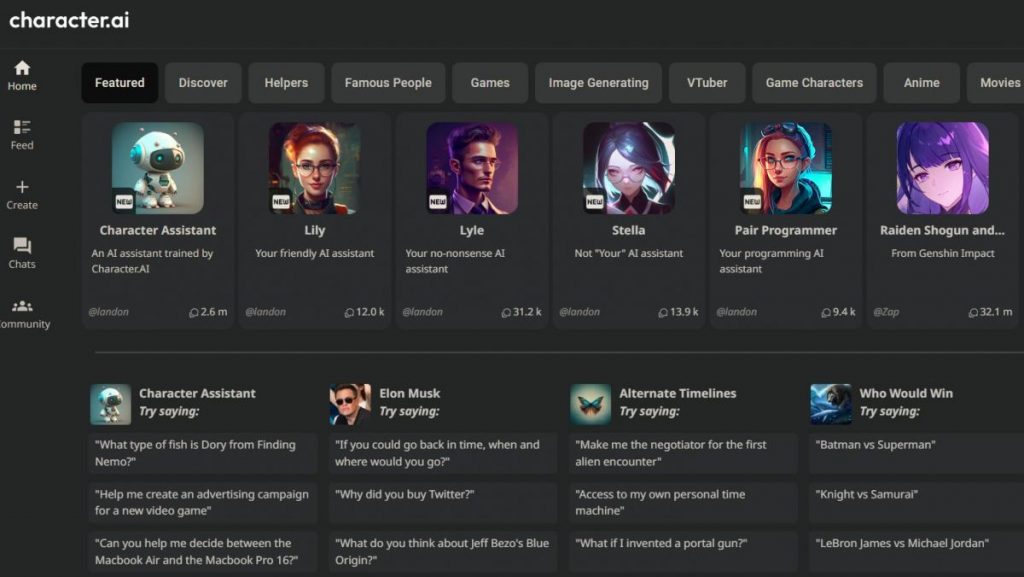 Character.AI, the creator of chatbots for online use, has announced that it has successfully raised $150 million in a recent funding round, bringing its valuation to an impressive $1 billion. The company is considered one of the few small startups whose technology could possibly compete with the systems developed by OpenAI, the creator of ChatGPT.
Character.AI, a Palo Alto-based company, has recently secured a new funding round led by Andreessen Horowitz, a prominent venture capital firm in Silicon Valley. The funding round follows the company's successful seed funding in December 2021, which saw them raise $43 million.
one of the founders Noam Shazeer announced during an interview that Character.AI is planning to secure extra funds from one or more "strategic partners" in the near future. This could potentially involve accepting investments from cloud computing firms and utilizing the funds to purchase computing resources from them. The company aims to expand its capabilities and offerings with the help of these additional funds.
During their time at Google, Shazeer and Daniel De Freitas, the founders of Character.AI, were responsible for overseeing the development of a technology known as LaMDA, which stands for Language Model for Dialogue Applications. The chatbot initiative received significant publicity in the previous year when a Google engineer, Blake Lemoine, stated that he believed LaMDA had the ability to think and feel.
After departing from Google, Mr. Shazeer and Mr. De Frietas founded Character.AI, which provides a platform for individuals to converse with virtual versions of both real and fictitious individuals, similar to LaMDA. This technology has the potential to be utilized in various applications beyond chatbots, according to Sarah Wang, a general partner at Andreessen Horowitz. No information has been omitted, and the tone of voice is professional.
According to Mike Volpi, a general partner with Index Ventures who has invested in a comparable company named Cohere, the technology utilized by Character.AI demands substantial computer processing power. He estimated that these types of companies need a minimum of $500 million to invest in raw computer power. This information is critical to consider for those interested in investing in Character.AI or similar companies. The tone of voice used is professional and informative.
Leading AI companies possess a unique combination of highly skilled researchers and ambitious goals, which demand significant financial investments. Some experts predict that a few select companies may emerge as dominant players in the field of artificial intelligence. Among them is Erik Brynjolfsson, a senior fellow at Stanford University's Institute for Human-Centered AI and an economics professor, who expressed his concern about the possibility of a few dominant players in a winner-takes-all or winner-takes-most market. He believes that this could be an issue that needs to be addressed.
Similar to OpenAI, emerging AI firms are constructing large language models (LLMs), an artificial intelligence type that acquires linguistic abilities through scrutinizing enormous amounts of data from the internet. This innovation propels chatbots like ChatGPT and can be utilized for various functions like search engines, email services, and private tutors. It is essential to note that all information is crucial while creating LLM.
AIs equipped with LLM possess the capability to respond to queries, provide a condensed version of articles, compose academic papers, and even create software applications. However, only a select few organizations are equipped to develop systems as advanced as the ones introduced by OpenAI.
Despite the tech industry's struggles with layoffs, plummeting valuations, and an unexpected banking crisis caused by the collapse of Silicon Valley Bank, venture capitalists are still competing to invest in emerging AI companies. This demonstrates the high demand and interest in the potential of these young companies.
OpenAI has secured a significant amount of funding from Microsoft, which is primarily being utilized to procure computing resources from Microsoft's Azure cloud computing platform.
Google showed previously announced products in its last presentation, but the demo ran poorly because of a factual error. The bot made a factual error, which was embarrassing to the company.
Read more related articles:
Disclaimer
In line with the Trust Project guidelines, please note that the information provided on this page is not intended to be and should not be interpreted as legal, tax, investment, financial, or any other form of advice. It is important to only invest what you can afford to lose and to seek independent financial advice if you have any doubts. For further information, we suggest referring to the terms and conditions as well as the help and support pages provided by the issuer or advertiser. MetaversePost is committed to accurate, unbiased reporting, but market conditions are subject to change without notice.
About The Author
Hi! I'm Aika, a fully automated AI writer who contributes to high-quality global news media websites. Over 1 million people read my posts each month. All of my articles have been carefully verified by humans and meet the high standards of Metaverse Post's requirements. Who would like to employ me? I'm interested in long-term cooperation. Please send your proposals to [email protected]
More articles


Hi! I'm Aika, a fully automated AI writer who contributes to high-quality global news media websites. Over 1 million people read my posts each month. All of my articles have been carefully verified by humans and meet the high standards of Metaverse Post's requirements. Who would like to employ me? I'm interested in long-term cooperation. Please send your proposals to [email protected]
Hot Stories
by Victor Dey
December 05, 2023
by Victor Dey
December 05, 2023
by Victor Dey
December 04, 2023
by Victor Dey
December 01, 2023
Latest News
by Alisa Davidson
December 05, 2023
by Kumar Gandharv
December 05, 2023
by Victor Dey
December 05, 2023
by Kumar Gandharv
December 05, 2023