In Brief
Blockchain gaming is one of the fastest-growing sectors in web3.
DappRadar has analyzed blockchain gaming and discovered that it "accounts for 49% of the industry's usage in 2022."
The team behind the web3 game Legends At War share industry insights and future outlook.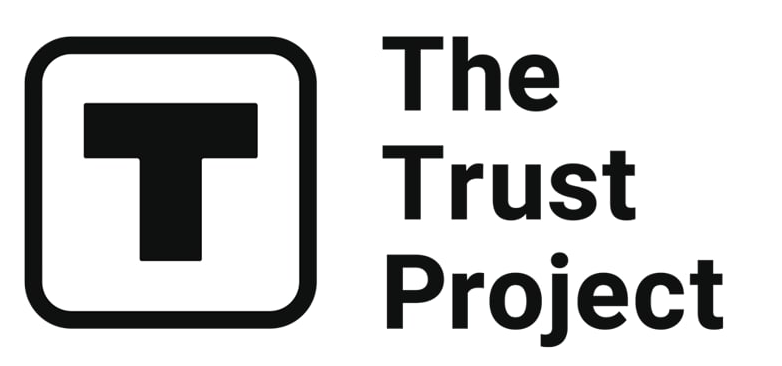 The Trust Project is a worldwide group of news organizations working to establish transparency standards.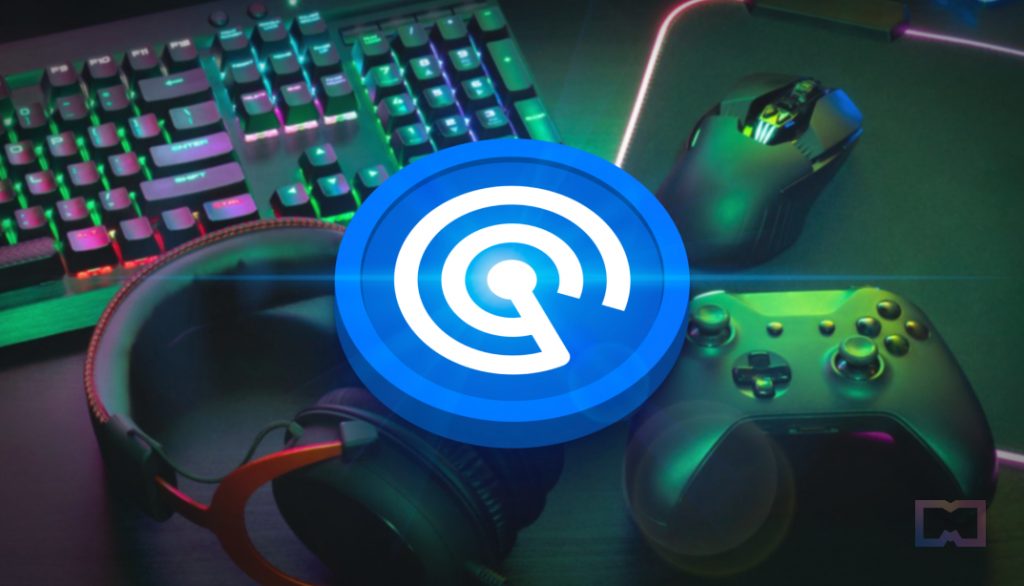 Crypto and DeFi have seen a downturn, and NFTs have reached their lows, but blockchain gaming has been moving forward despite some slumps. There's no surprise there—some experts believe that the metaverse will first be adopted in the gaming sector. In addition, blockchain-powered games are becoming increasingly advanced, thus becoming more attractive to players.
In its industry report for 2022, DappRadar noticed that gaming is currently the most popular category for applications based on the blockchain. In 2022, web3 games saw a staggering 94.17% increase in transaction numbers compared to 2021. No other sector has witnessed such large-scale growth.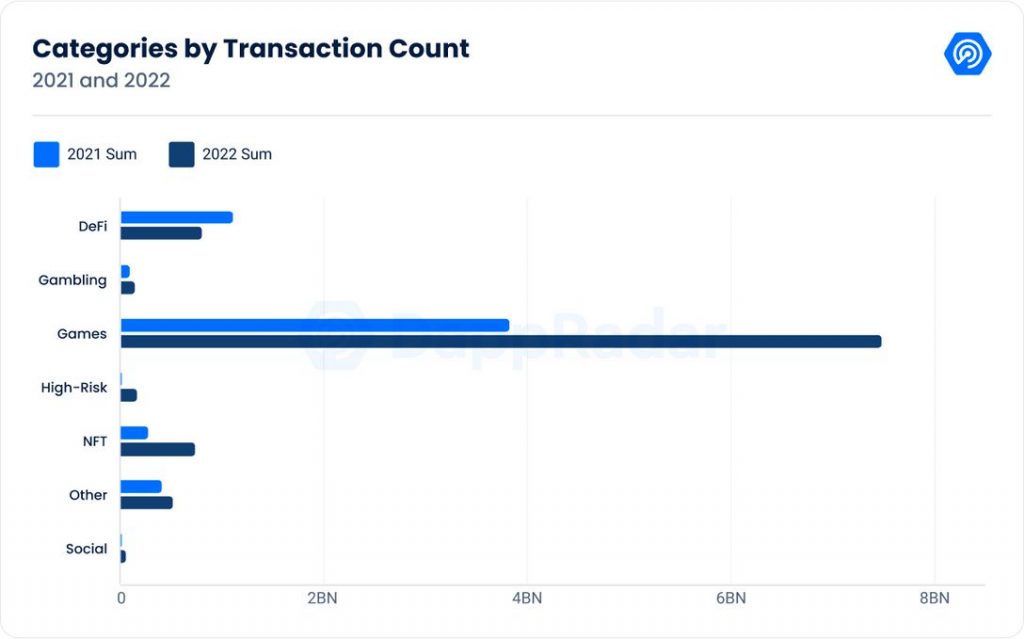 "The gaming sector accounts for 49% of the industry's usage in 2022," DappRadar discovers
While the web3 gaming industry has faced some challenges in recent years, the market has seen a positive outcome in 2022. The number of unique active wallets (UAWs) for web3 gaming has grown this year to around 1.15 million dUAW on average. This represents nearly half of all daily blockchain activity, with the transaction count going up by 94.17% over the year and reaching 7.44 billion, DappRadar wrote.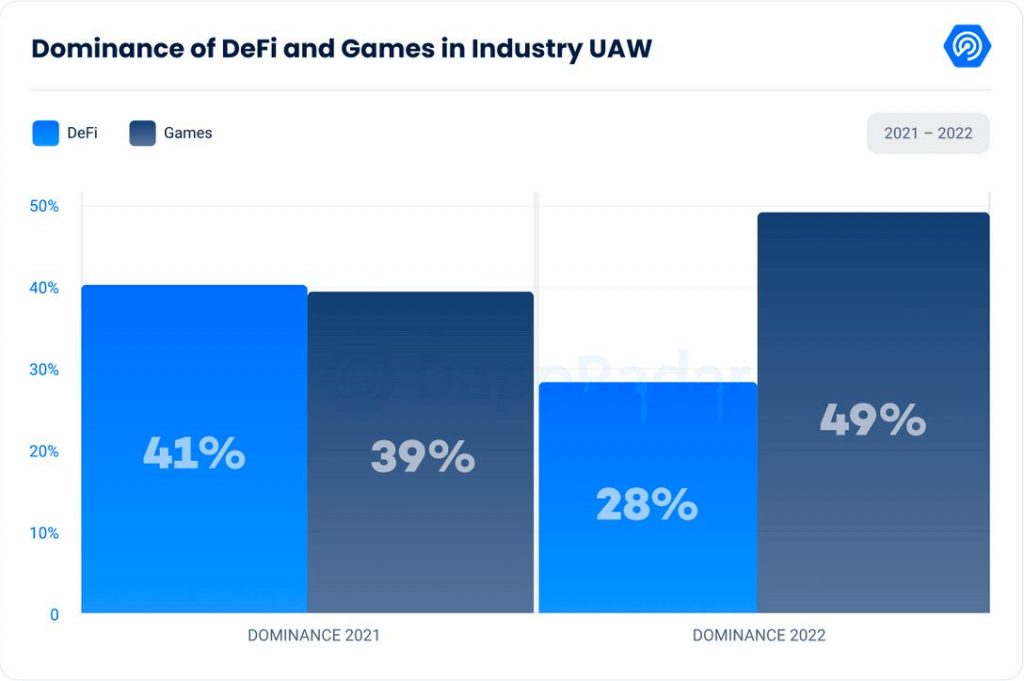 Ethereum has been the most popular blockchain used for gaming, with Solana, Polygon, and Immutable X behind it. The Ethereum network has held around 60% of the market share in secondary market trading of in-game NFTs.
DappRadar named Splinterlands and Alien Worlds the two most popular games in the market based on the number of unique active wallets. However, funding for the blockchain gaming industry has slowed down this year.
"The companies that are receiving the most funding are those that are able to produce high-quality content that utilizes blockchain gaming infrastructure," DappRadar wrote.
Positive changes in blockchain gaming
Blockchain games based on the play-to-earn (P2E) model have experienced a fall-off this year. Most P2E projects lost over 90% of their market capitalization in 2022. Now, many web3 game creators are working on changing the mainstream opinion that blockchain games are about earning crypto. Instead, developers are looking at blockchain as a tool to improve gameplay, prioritize the free-to-own model, aim to create fun games, and offer ownership and immersive experiences. This mindset will likely move into 2023.
"The blockchain gaming market has undergone significant changes over the past year. 2021 saw a massive influx of "investors" and web3 curious people to the promise of play-to-earn games. Unfortunately, most of the models failed. These web3 games offered a tool for speculative investors to spend $1 and get out $2, which made the gaming component secondary to profits,"

Jason Dooney, the Chief Product Officer of blockchain game Legends At War, told Metaverse Post.
Dooney also said that while P2E caused a lot of people to question the validity of web3 gaming, the market conditions created a unique opportunity for the best, long-term projects to build and the web3 gaming ecosystem to recalibrate.
The future looks good for web3 gaming
"We believe that next year will enable gaming studios to launch long-awaited projects that leverage technological improvements and player-first methodologies. New models that reward user-generated content, exciting gameplay, and free-to-own systems will emerge victorious. Further, we will see the rise of AI-generated content, and we are eager to see continued innovation throughout the upcoming year," Wojciech Kaszycki, the CEO of Legends At War, told Metaverse Post. 
Generative AI helps to augment the player experience to match the players' level and ensure gameplay is rewarding and unique for every player. This is one of the examples of how emerging technology is bringing gaming to the next level.
Researchers at DappRadar concluded that although there are several challenges to overcome (for example, scalability and economic design). Nevertheless, the blockchain gaming industry is positioned ideally for future growth and mainstream adoption.
Related posts:
Disclaimer
Any data, text, or other content on this page is provided as general market information and not as investment advice. Past performance is not necessarily an indicator of future results.