7 Best AI Art Inpainting Tools in 2023: Online and Free


by
Damir Yalalov
Published: August 22, 2023 at 8:20 am Updated: August 22, 2023 at 8:20 am

by
Danil Myakin
Edited and fact-checked: August 22, 2023 at 8:20 am
These top AI inpainting apps make use of AI algorithms to remove unwanted objects, add new elements, and recreate missing areas in an image. Best of all, many of these tools are completely free and available online, allowing users to fully realize their artistic potential without financial constraints. Whether you're an experienced artist or a beginner, get ready to discover the limitless potential of AI Art Inpainting tools as we explore the exciting world of online and free options.
Pro Tips
1. Check out these amazing 10+ Text-to-Video AI Generators that can convert text into engaging videos.
2. These useful prompts are designed to challenge AI art generators like Midjourney and DALL-E to create visually stunning images based on text descriptions.
3. Follow these guidelines to explore the world of uncensored AI-generated art without restrictions.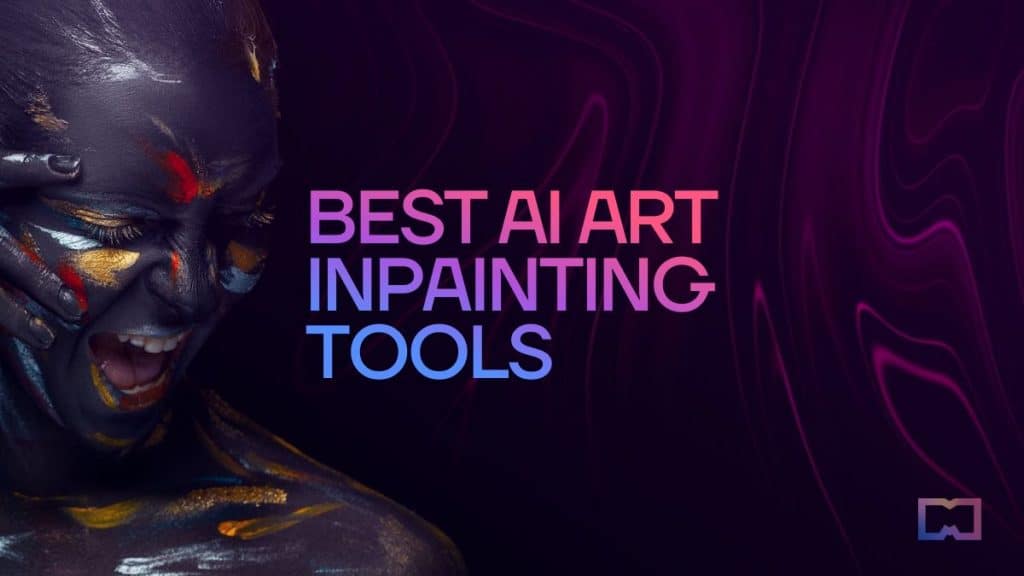 Best AI Art Inpainting Tools
1. Fotor AI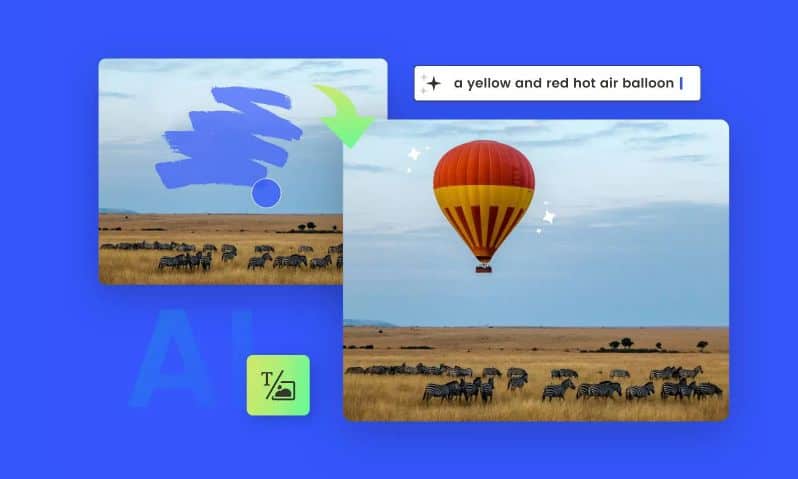 With Fotor's AI image inpainting tool, you can seamlessly create stunning images with just a few clicks. This feature is backed by advanced inpainting stable diffusion algorithms that enable users to easily add or remove elements from an image. By simply brushing over a part of the image that needs modification and entering the desired prompts, the AI inpainter will generate the requested elements, leaving you with a beautiful and realistic result.
Features:
Inpaint & Replace for AI Image Recreation: Rather than discarding a picture that doesn't meet your expectations, you now have the option to recreate and redesign it using the AI image inpainting tool by Fotor. With the magic AI inpainting brush, users can easily wipe out any undesirable elements and repaint them as they see fit, thereby creating a completely new, photorealistic image in just seconds.
Exploring New Possibilities: The AI image inpainting tool by Fotor provides endless possibilities for creativity and fun. For instance, you can add realistic head ornaments to your pets by simply brushing over their heads and entering the desired element prompts. This feature allows users to engage in AI photo filler and create amusing and entertaining images that can be shared with friends and family.
Price:
Fotor Basic – Free
Fotor Pro – $3/month
Fotor Pro+ – $5/month
2. Nvidia Image Inpainting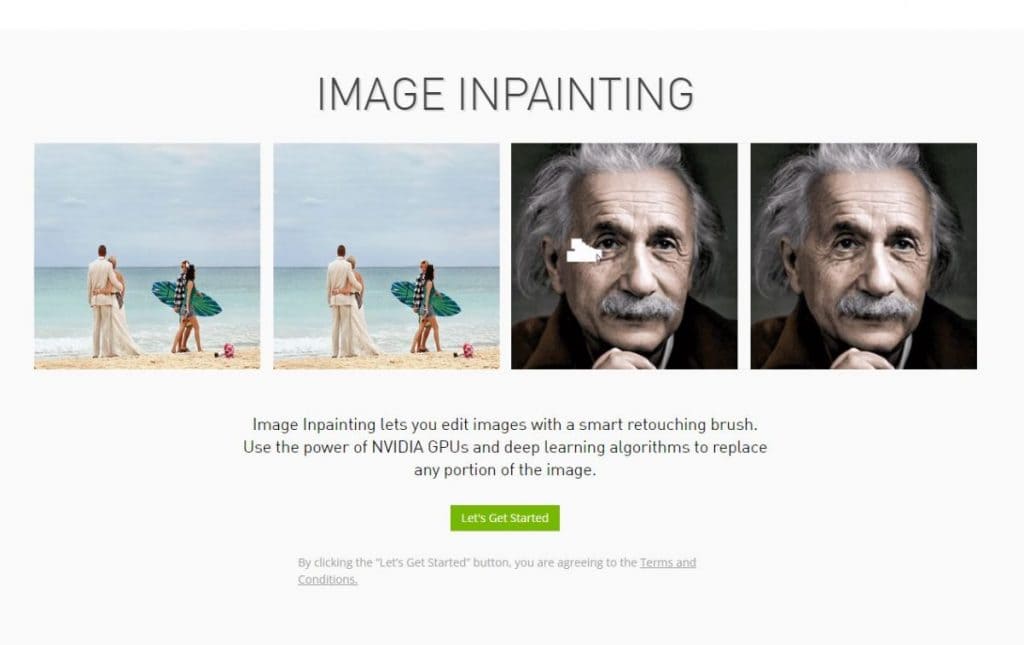 Nvidia has unveiled its latest innovation in the field of AI image editing: Image Inpainting. This tool is set to change the way users retouch and edit their images by utilizing the power of NVIDIA GPUs and deep learning algorithms.
With Image Inpainting, users can seamlessly edit their images by replacing any undesirable portion of the image with a smart retouching brush. This cutting-edge technology harnesses the power of NVIDIA GPUs (graphics processing units) to deliver top-notch performance and accuracy.
Features:
The process of using Image Inpainting is quite simple and user-friendly. In the first step, users need to upload their desired image and scale it, and then center the image using their cursor. Once the image is positioned correctly, the uploaded image will be zoomed and cropped automatically.
The second step involves masking out any unwanted portions of the image using the smart retouching brush, and then selecting "Apply Model" to view the edited image. The deep learning algorithms ensure that the replaced portion is seamlessly blended with the original image, giving a natural and realistic look.
With this innovative tool, editing images has become more efficient and precise. The integration of AI technology in image editing allows users to remove or replace any unwanted objects, people, or blemishes from their photographs. Nvidia's Image Inpainting is poised to become a game-changer in the world of digital image editing, simplifying the retouching process for both professionals and amateurs alike.
Price: Free
3. Classace Inpainting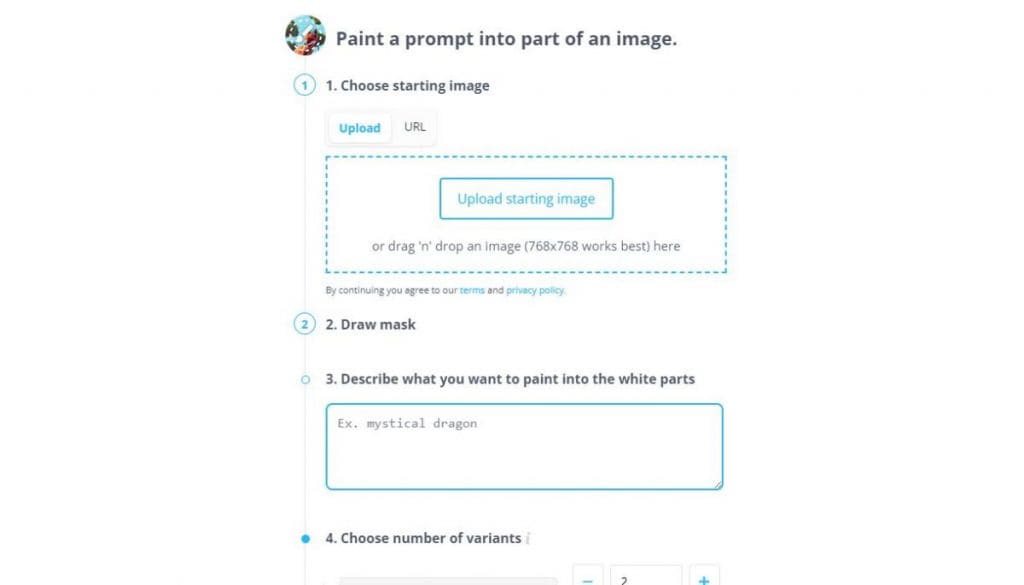 With the introduction of the innovative Classace Inpaint Image Generator, users now have access to a groundbreaking tool that promises to transform the way images are edited. Classace Inpaint Image Generator is a software that enables users to paint a desired prompt seamlessly into a part of an existing image. The process is simple, intuitive, and takes the hassle out of traditional image editing techniques.
Features:
To get started, users must first choose their starting image and proceed to draw a mask that defines the areas they want to edit. Once the mask has been established, users can paint over the white parts of the image, describing the desired changes or prompt. The software will then provide the user with a number of variants from which they can select the best result.
This revolutionary tool not only saves time but also offers exceptional quality, generating images that appear completely natural. This makes it an ideal option for professional photographers, digital artists, and everyday users alike.
What truly sets Classace Inpaint Image Generator apart is that it is absolutely free for Class Ace members. The generous offer includes four free AI tool uses per day, making it an enticing option for those looking to explore its possibilities without having to pay for a subscription. With a current estimated compute time of just 38 seconds, it is a cost-effective solution that provides impeccable results in a matter of moments.
Price:
Individual – $6/month
Parent – $7/month
Teacher – $20/month
4. Adobe Firefly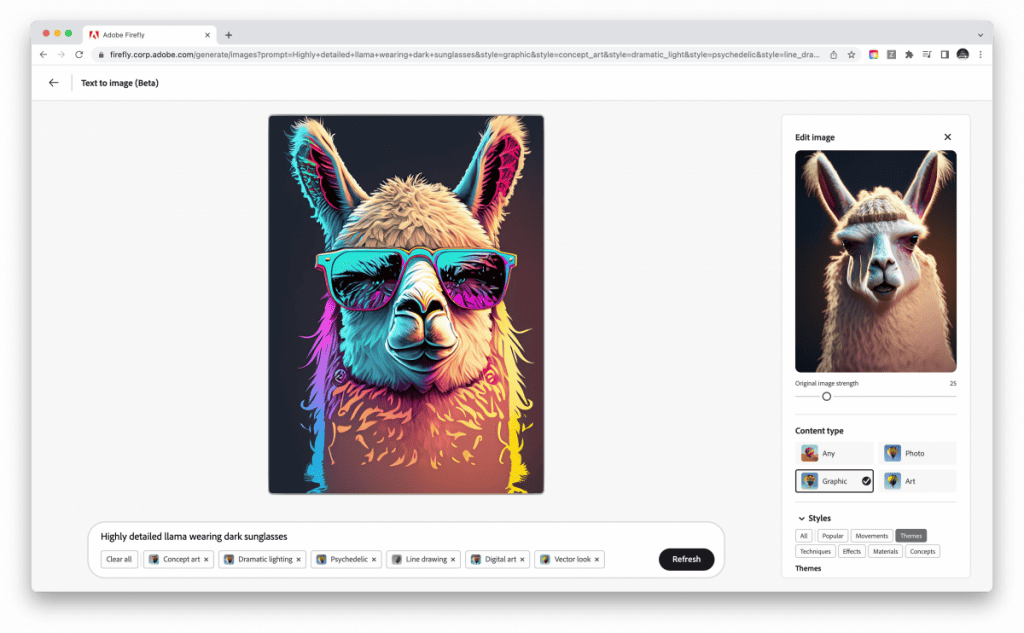 Adobe unveils the integration of generative AI feature Generative Fill into Photoshop, marking the first time an Adobe Firefly feature will be directly available in one of their Creative Suite applications. Powered by Firefly, Adobe's family of creative AI models, Generative Fill allows users to easily add, extend, or remove content from images using simple text prompts. This innovation streamlines the user experience and expands the possibilities within Photoshop.
Firefly has demonstrated its value within Adobe's AI portfolio since its launch six weeks ago, having generated over 100 million assets during its beta phase. The versatility and adaptability of Firefly have shown potential in accelerating creative processes and design workflows.
Features:
Generative Fill's advanced features enable seamless blending of generated and original content, precisely matching perspective, lighting, and style. This new functionality allows creators to iterate rapidly with non-destructive editing, preserving the original image while exploring various possibilities.
By combining the speed and ease of generative AI with the precision and power of Photoshop, Generative Fill empowers users to create high-quality content quickly.
Generative Fill also supports Content Credentials, Adobe's solution for attributing content to AI or human creators. Content Credentials act as "nutrition labels" for digital content, ensuring transparency regarding authorship and origin.
5. Pincel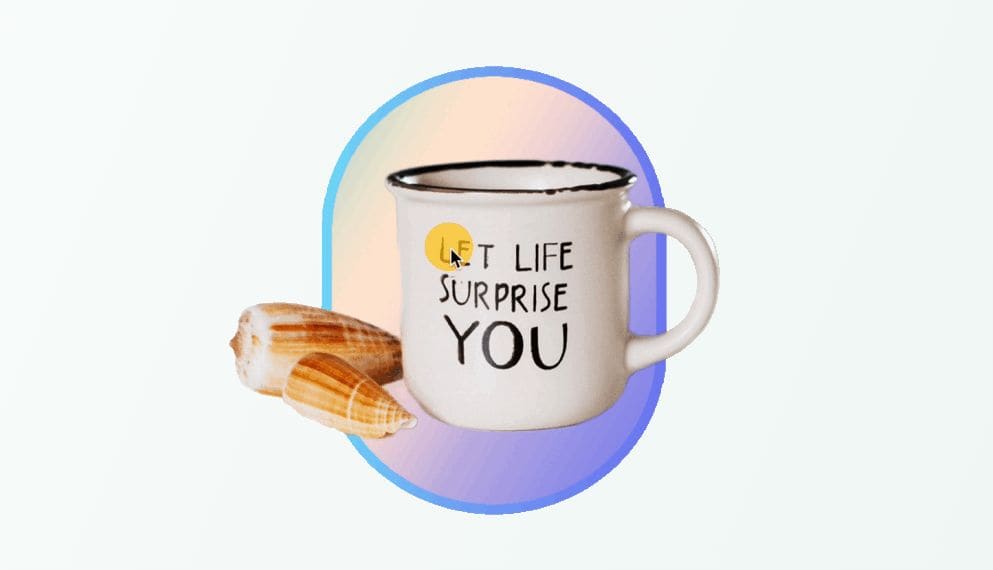 Introducing Pincel AI image inpaint, a technology that can effortlessly remove unwanted objects and edit parts of an image with a few brush strokes online, thanks to advanced deep learning algorithms. Using inpaint to create stunning, seamless images has never been easier. Simply follow these steps:
Upload your image: Start by dragging and dropping your image in any popular format. Note that the free version is limited to 700px for faster performance, while the PRO version allows full-size uploads.
Brush over to mark the area: Adjust the brush size and paint over the area or details you wish to delete or improve. You can also zoom in to better capture any small details.
Download or refine more: Download your new image, clean other parts of the image, or inpaint over the same area for a more accurate result. You can also reset the image and try again with different brush sizes.
Features:
Ecommerce: Save countless hours of editing by creating beautiful, clean, and minimal e-commerce images that can boost sales of your online products and transform quick photos into great listings.
Photography: Easily remove unwanted objects or people from your photos, making your pictures look more appealing and professional.
Mockups: Convert your photos into flawless mockups by removing logos, watermarks, or any unwanted elements, allowing you to create presentations that stand out.
Price:
One Time Ticket – $7/day
Subscription – $9/month
Annual – $54/year
6. Midjourney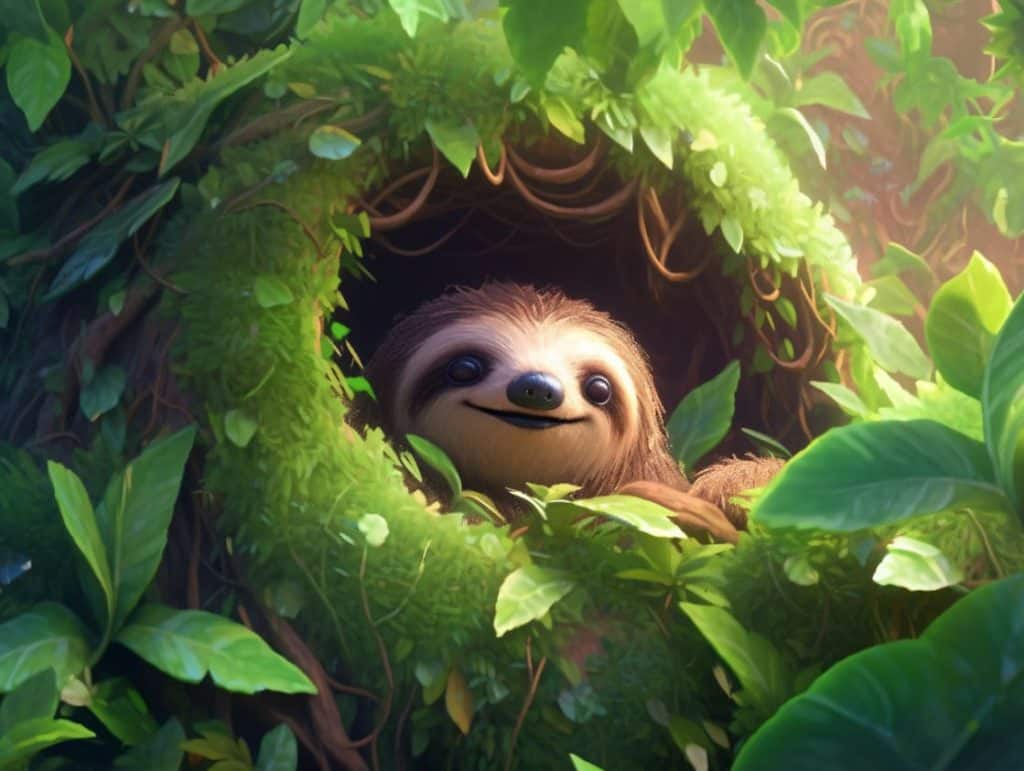 Midjourney has recently launched a highly-anticipated Inpainting tool, designed to simplify the editing process for users. This innovative feature enables users to modify specific areas of their generated images without relying on external software or advanced Photoshop skills.
Prior to the Inpainting tool, users often encountered difficulties when trying to make minor adjustments to their images, frequently resorting to re-generating their images multiple times or using a lengthy generative loop to achieve the desired results. The Inpainting tool addresses these challenges, making the editing process more efficient and user-friendly.
The Inpainting tool offers a quick and simple method for customizing images without the need for extensive technical expertise. Users can simply press the "Vary (Region)" button while viewing an enlarged picture, highlight the area they want to edit, and provide a written description of the desired changes.
Features:
The Inpainting function works best on larger image areas, ranging from 20% to 50% of the image.
Requested changes are more successful when they are consistent with the original image, as opposed to introducing elements that are entirely unrelated.
When adding accessories such as hats to characters, aim for complementary elements that align with the image's context.
Price:
Basic Plan – $10/month
Standard Plan – $30/month
Pro Plan – $60/month
Mega Plan – $120/month
7. Dream Studio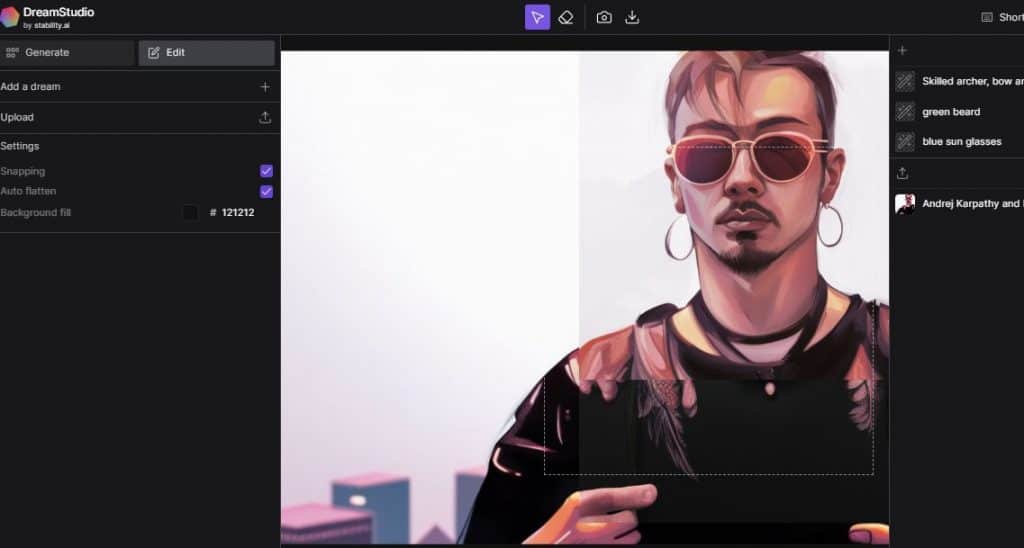 Introducing Dream Studio Image Inpainting, the platform that empowers creators to generate stunning images using StableDiffusion, the powerful AI technology that offers endless possibilities for art, photography, and illustration. With Dream Studio's wide range of features, users can explore, create, and edit their dream projects with incredible accuracy and ease. Experience the latest and greatest with SDXL, the latest StableDiffusion model, offering exclusive access to new features and capabilities.
Features:
With Generate Mode, users have access to a vast array of image generation options including StableDiffusion, a state-of-the-art generative model, making it easy for creators to bring their ideas to life. Through text-to-image, image-to-image, and style transfers, artists can create their desired images with incredible detail and accuracy.
The DS Edit feature allows users to take their artwork to new heights, offering an improved canvas for working across multiple images simultaneously. Creators can expand, add to, and remove elements from their images with powerful inpainting and outpainting capabilities, ensuring they have complete control over their artistic process.
The platform also features a unique dream box system, where users can work with multiple dream boxes to edit various elements of their images and artwork. This advanced tool offers unprecedented flexibility, allowing creators to hone in on specific details and enhance their projects with precision.
Dream Studio Image Inpainting is truly revolutionizing the world of creative expression, providing artists with unparalleled access to cutting-edge AI technology and tools. By tapping into the realms of imagination and opening up endless opportunities for artistic exploration, this platform empowers creators to reach new heights and bring their most vivid dreams to life.
Price: $10 = 5000 images
Write It Up
With the availability of these AI art inpainting tools, users can effortlessly restore damaged or missing parts of images with just a few clicks. Furthermore, the user-friendly interfaces and intuitive features make them accessible to both professional designers and casual users, democratizing the power of AI in image editing.
FAQs
What is AI Image Inpainting Tool?
AI Image Inpainting tools are software applications or platforms that utilize artificial intelligence and deep learning algorithms to edit and modify images. These tools allow users to remove unwanted objects, defects, or people from images, as well as add new elements or recreate parts of an image. AI Image Inpainting tools use advanced techniques to fill in the gaps or missing areas in an image seamlessly 12, resulting in a visually appealing and realistic output. These tools enable users to enhance and transform their images without the need for complex editing software or extensive manual retouching.
What are the benefits of using AI image painting tools?
The benefits of using AI image inpainting tools include saving time and effort in editing images, achieving seamless and realistic results, and accessing professional-level editing capabilities.
What is the future of AI image painting?
The future of AI image painting holds the potential for more advanced algorithms and technologies that can generate highly realistic and creative images with minimal human intervention.
Read more about AI:
Disclaimer
Any data, text, or other content on this page is provided as general market information and not as investment advice. Past performance is not necessarily an indicator of future results.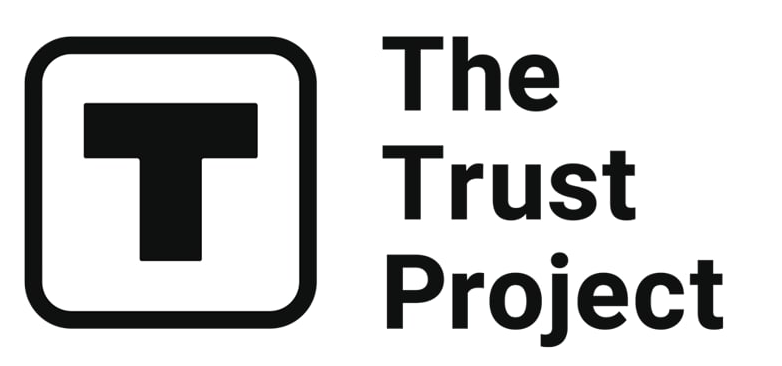 The Trust Project is a worldwide group of news organizations working to establish transparency standards.
Damir is the team leader, product manager, and editor at Metaverse Post, covering topics such as AI/ML, AGI, LLMs, Metaverse, and Web3-related fields. His articles attract a massive audience of over a million users every month. He appears to be an expert with 10 years of experience in SEO and digital marketing. Damir has been mentioned in Mashable, Wired, Cointelegraph, The New Yorker, Inside.com, Entrepreneur, BeInCrypto, and other publications. He travels between the UAE, Turkey, Russia, and the CIS as a digital nomad. Damir earned a bachelor's degree in physics, which he believes has given him the critical thinking skills needed to be successful in the ever-changing landscape of the internet. 
More articles


Damir is the team leader, product manager, and editor at Metaverse Post, covering topics such as AI/ML, AGI, LLMs, Metaverse, and Web3-related fields. His articles attract a massive audience of over a million users every month. He appears to be an expert with 10 years of experience in SEO and digital marketing. Damir has been mentioned in Mashable, Wired, Cointelegraph, The New Yorker, Inside.com, Entrepreneur, BeInCrypto, and other publications. He travels between the UAE, Turkey, Russia, and the CIS as a digital nomad. Damir earned a bachelor's degree in physics, which he believes has given him the critical thinking skills needed to be successful in the ever-changing landscape of the internet. 
Hot Stories
by Damir Yalalov
September 27, 2023
by Victor Dey
September 27, 2023
by Cindy Tan
September 26, 2023
by Victor Dey
September 26, 2023
Latest News
by Damir Yalalov
September 27, 2023
by Damir Yalalov
September 27, 2023
by Agne Cimermanaite
September 27, 2023
by Cindy Tan
September 27, 2023