OG Tupac Shakur album cover to auction as NFT this June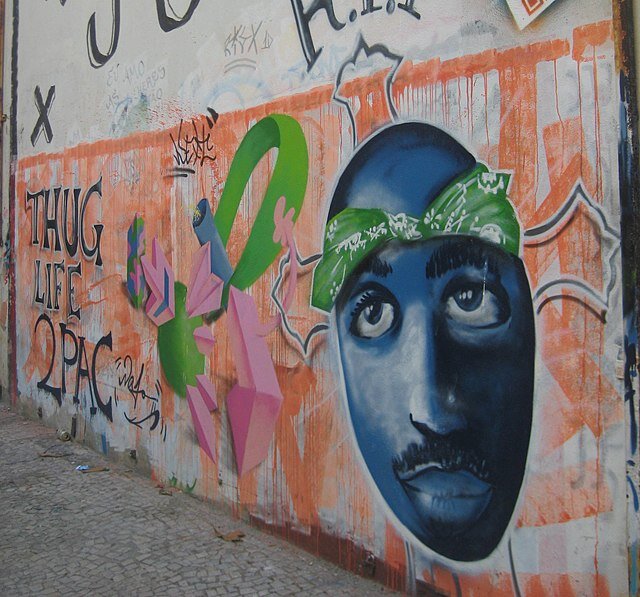 Today, TMZ broke news that Tupac Shakur will joins this week's spate of musicians hitting the blockchain, commemorating the 25th anniversary of the late Shakur's last studio album "The Don Killuminati: The 7 Day Theory." Riskie Forever, the artist behind the iconic album's cover art, has teamed up with Mike Tyson to celebrate this latest installment in Shakur's crypto legacy, which will mint the OG paintubg with an auction through Heritage Auctions in NYC June 18th. "Fans will also have a chance to win up to $100,000 through sweepstakes on the MakaveliArt.com website starting June 5," TMZ adds.
Compton-raised Riskie Forever is an legend in his own right–the graffiti writer-turned-fine artist has also made album artwork for Snoop Dogg and Daz Dillinger. Although you can find Riskie's early work with Tupac on inserts for an earlier album called "All Eyez On Me," former Death Row Records CEO Suge Knight himself asked Riskie to conceptualize visuals for "The 7 Day Theory," which was later released under Shakur's alias Makaveli–an illusion to Machiavelli, the Renaissance-era author of seminal hustler bible "The Prince."
Shakur's swan song gifted the world, and the charts, with hits like "Hail Mary" and "To Live In Die In L.A." The album dropped on November 5th, 1996–nearly two months after Shakur's death. Its timing and content stoked rumors that Shakur's demise had been a sham, and wishful thinking that he might still be alive (which prevails to this day.) The album's controversial cover art only stoked such fervor–Riskie envisioned Shakur as Christ himself, splayed on a cross with his manhood aptly covered by the album's 'explicit' warning.
The rapper's visage is no stranger to Web3. Last November, NFT Evening reported on another Shakur-centric drop initiated by Riskie–a collection of NFTs inspired by the "Don Killuminati" album cover in partnership with crypto wallet company Zelus, which also celebrated the album's 25th anniversary by dropping five NFTs every day for five days. "Each NFT is a twist on the cover art of the album by Death Row Records," NFT Evening wrote. "Inspired by Riskie Forever's original artwork, this is a modern-day twist featuring Video NFTs."
The following month, NFT Street reported that rare photos of Tupac from 1992's Tupacalypse would be sold as NFTs on OpenSea by Hip Hop journalist and photographer Loupy D. Then HypeBeast shared that "MakersPlace has joined forces with the Estate of Tupac Shakur for a series of NFTs entitled 'The Immortal Collection.'"
June's auction stands apart because it's really the real deal. Back in 2015, Riskie sold the original artwork from "The 7 Day Theory," once hand-picked by Shakur to grace his album cover. Zelus has since helped him recover the painting–now the OG artwork hits the block this summer. Mike Tyson joins the event by hosting Riskie's original work on his "Hotboxin" podcast, "where [Tyson] will also run through some of his cherished Tupac memories," as TMZ notes. "They enjoyed a long-running friendship during the course of Pac's life, whose last moments were spent attending the Tyson vs. Bruce Seldon fight on September 7, 1996, in Las Vegas."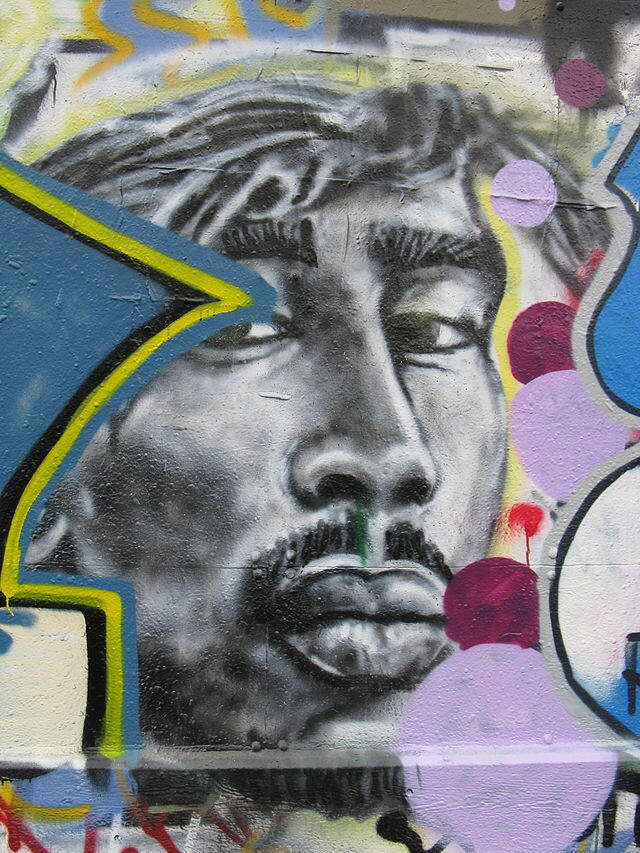 All this on the heels of a piece the New Yorker published just three days ago that asks "What Can NFTs Do For Dead Artists?" following a run-in with the British Museum's new NFT store, where digitized vitrines and woodblocks by the art historical likes of Katsushika Hokusai reach new audiences. "Creating new work by a late artist is usually taboo in the art world," the article notes. "Prints produced posthumously sell for less than those that an artist personally oversaw in her lifetime."
Critical to note as it relates to today's announcement, though, is that while Shakur's the face of it all, Riskie Forever is actually the artist–and he is still alive. Translating cultural relics like this through new technology provides collective catharsis, as society simulates an active relationship with the creatives they're missing. It also offers new opportunities for interaction, so Shakur's output can continue impacting new generations. Most importantly though, celebrating the 25th anniversary of this watershed album art asserts Riskie's role in hip hop history, honoring a living artist's ties to the present–and hopefully offering him a healthy payoff for it.
Read related posts:
Disclaimer
In line with the Trust Project guidelines, please note that the information provided on this page is not intended to be and should not be interpreted as legal, tax, investment, financial, or any other form of advice. It is important to only invest what you can afford to lose and to seek independent financial advice if you have any doubts. For further information, we suggest referring to the terms and conditions as well as the help and support pages provided by the issuer or advertiser. MetaversePost is committed to accurate, unbiased reporting, but market conditions are subject to change without notice.
About The Author
Vittoria Benzine is a Brooklyn-based art writer and personal essayist covering contemporary art with a focus on human contexts, counterculture, and chaos magic. She contributes to Maxim, Hyperallergic, Brooklyn Magazine, and more.
More articles


Vittoria Benzine is a Brooklyn-based art writer and personal essayist covering contemporary art with a focus on human contexts, counterculture, and chaos magic. She contributes to Maxim, Hyperallergic, Brooklyn Magazine, and more.
Hot Stories
by Victor Dey
November 30, 2023
by Kumar Gandharv
November 30, 2023
by Victor Dey
November 30, 2023
by Nik Asti
November 29, 2023
Latest News
by Alisa Davidson
November 30, 2023
by Victor Dey
November 30, 2023
by Alisa Davidson
November 30, 2023
by Nik Asti
November 30, 2023