MoleDAO Demo Day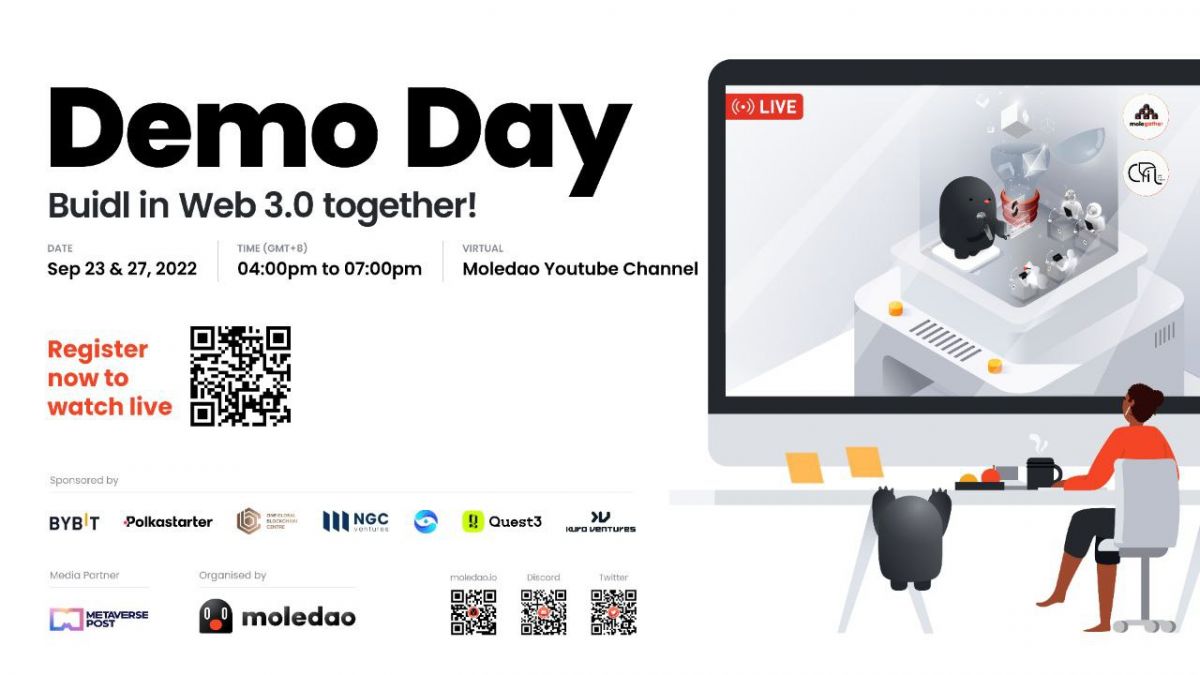 Overview
What is Demo Day?
Demo Day is a day that refers to project showcases organized by an incubator, accelerator, or in our case, community (Moledao), whereby the founders can pitch their projects to a room full of investors, in the hope of securing investment and potential mentorship.
​
Why Demo Day?
On top of large-scale global hackathons, smaller events, such as Demo Days, are also indispensable in developing the blockchain ecosystem. Many new Web 3.0 projects need more channels to gain access to funding, human resources, networking and other resources. We believe that all individuals have the right to be empowered and to have their potential realised and maximised. Having a lack of connections and resources should not stop anyone from realising their aspirations. In doing so, we can benefit the blockchain space. Demo Day is one step to achieving this vision.
When will Demo Day be held?
MoleGather – Demo Day Season 1 will be held in the middle of Sep 2022 (23 & 27 Sep), offline and online.
If you are based in Singapore, you would be able to join the event at our physical venue (capped at 40 pax, including Moledao staff).
If you are based overseas, you would be able to join the event held online.
Demo Day Season 1 will be a public event, and we warmly welcome all startup projects and investors in Web 3.0 to participate.
How to participate?
Application for Participants & Judges is closed.
For general viewers:
You can join the online Demo Day via the event's link that will be provided on the day.

If you would like to join the event in-person, please contact us via official

Discord

.
Prize Pool
Finding potential investors and mentors to notice your project is one component of helping your project move forward. Apart from the network formed and feedback received during this Demo Day, 6 of the projects, as selected by our judges, will receive an incentive from the prize pool. 
Over 7,000 USDT prize pool in total, more to be updated
Prize type
Winner 
Prize 

Grand Mole

Gold

$ 3000

Grand Mole

Silver

$ 2000

Grand Mole

Bronze

$ 1000

Early Mole

Promising

$ 500

Early Mole

Orator

$ 300

Early Mole

Pretty Mole

$ 200
Judging Criteria
Projects will be judged based on the following criteria on a scoring system from 0-10 points:
Technical Aptitude (20%)
0 – Project has no technical accomplishment at all, not even a GitHub link.
5 – Project has done some technical work but lacks key features for use.
10 – Project is very technically sound, in terms of what it set out to do, and accomplishes it with features.
Creativity (20%)
0 – Project shows 0 creativity, e.g., it is an exact copy of something else.
5 – Project shows some innovation and creativity that distinguishes itself in an interesting way for users.
10 – Project shows extreme creativity, few, if any, other projects in the market are doing anything similar.
Utility / Playability (20%)
0 – Project has very little utility, and cannot be used or played at all if fully built.
5 – Project can be used or played to some degree, but there are some issues that limit this.
10 – Project has a lot of useful applications or is very enjoyable as a game.
Design (20%)
0 – Project has little to no design elements shown, there is not even a mockup, it is pure code.
5 – Project shows some elements of design e.g. a simple UI, and artistic elements.
10 – Project shows excellent design thinking in terms of the whole user flow, user experience and/or aesthetics and embodies it in the visuals.
Presentation (20%)
0 – Project is poorly presented, presenters read it off a script in a monotonous voice.
5 – Project is competently presented; presenters show the main features and goals of the project, but might be lacking in certain elements of delivery.
10 – Project was very well presented, engages the audience as well as showcases the benefits of the project.
Pitching day schedule
We are excited to share with you more details on the MoleGather: the first Demo Day in Moledao!
Important dates: Demo Day Finale at SG BitTalk Space & Online
23 Sep 2022, 04:00 PM~09:00 PM (GMT+8)
27 Sep 2022, 04:00 PM~10:00 PM (GMT+8)
General FAQs
Who can participate in Demo Day?
We welcome developers and non-developers, of all skill types and levels. All you need to do is sign up for our first Demo Day if you have started building your project. If you don't have a full team to start the project, don't worry. There will be a streamlined team formation process to help you find talent to join your project team. We are open to all developers, new and existing, into our ecosystem!
You may register for the Demo Day on the Moledao website. It will be the main platform that covers registration to project submission.
Is there a cost to participate in the first Demo Day?
The first demo day is 100% free for all attendees.
I am based outside of Singapore, can I still participate in Demo Day?
Yes. Demo Day will be held both online and offline as it is a hybrid event.
If you are in Singapore, you may attend it offline at our office.
Offline attendees will be restricted to 40 members (including Moledao staff).
How many people can be on the team?
There is no restriction on the number of team members. You can team up with software developers and talent from any country, or with any type of experience! Join our Discord to find your fellow teammates. This is where you can introduce yourself with your skills and experience and describe what kind of project you are building.
What are the criteria to be considered for the Early Mole awards? We will consider the following criteria for Early Mole Projects:
Projects founded for less than 6 months

Projects that have not received any funding, or have less than $100,000 USD in funding either through a token launch or private investments, etc.
What are the criteria for joining the first Demo Day?
We welcome all projects, regardless if you have just started building or have been building for a while. However there is an additional criterion that we want to set down to for mature projects:
Projects have received funding of at least $100,000 USD, whether through token launch, NFT sales or private investments, etc.

If you have submitted your project for other Hackathons or Demo Day, you are still welcome, but please read the next question.
Can I submit a past project that has been previously submitted for Moledao or other hackathons?
Yes, but you will not be eligible for the Early Mole Awards.This is to ensure fairness for projects and teams who have just started building.
If you would like to submit a past project, we'd expect considerable alteration of at least 1-2 differentiators over your past project submissions.