Bitcoin's Price Crashes to $25K – What Happened?


by
Valeria Goncharenko
Published: August 18, 2023 at 1:32 am Updated: August 18, 2023 at 3:12 am

by
Victor Dey
Edited and fact-checked: August 18, 2023 at 3:12 am
In Brief
On the night of August 17 to 18, altcoins' prices experienced a significant crash. Both BTC and ETH faced a significant drop in prices. In the last 24 hours, Bitcoin lost 7.53% of its value, and Ethereum lost 6.73%.
This might have occurred due to several reasons. SpaceX reportedly sold $373 million worth of Bitcoin; US Treasury bond yields reached their highest point since October; Evergrande Group filed for Chapter 15 bankruptcy protection; and a whale reportedly dumped significant amounts of crypto.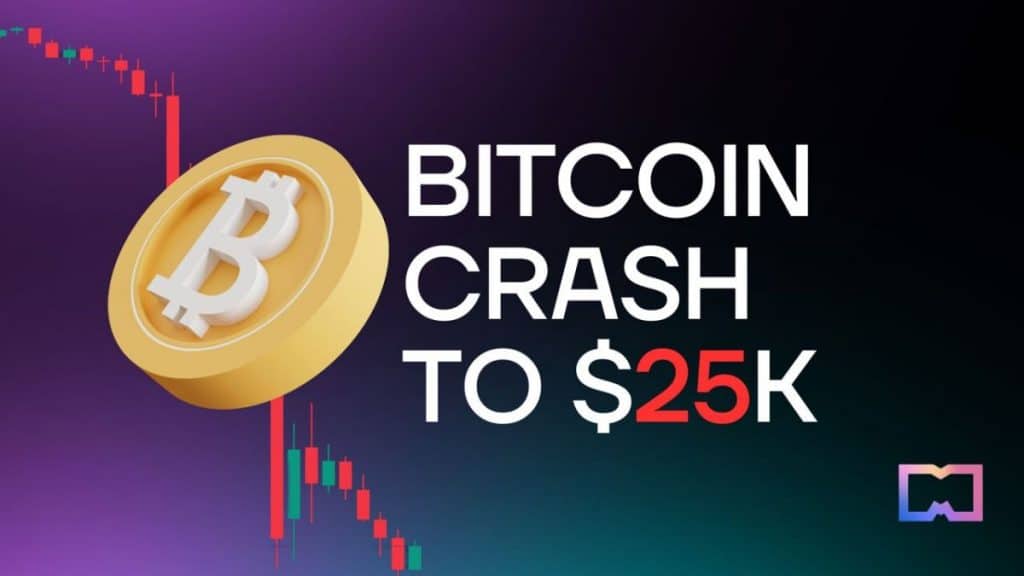 In a dramatic turn of events on the night spanning August 17 to 18, the prices of various altcoins took a sharp nosedive.
The crypto analytics platform Parsec reported that the DeFi chain bore the brunt of this market turmoil, as liquidations soared beyond $75 million within the past 24 hours. This surge in liquidations stands as the pinnacle of this year's occurrences.
A staggering $54 million in ETH holdings were liquidated during this period. Concerns have arisen that should ETH's value plummet to the vicinity of $1,480, assets totaling around $268 million will be subject to forced liquidation.

But what sequence of events paved the way for this economic downturn?
US Treasury bond yields reached their highest point since October
The Federal Reserve System unveiled its "Minutes of the Federal Open Market Committee" protocol on August 16. The collaborative gathering unfolded within the confines of the Board of Governors' offices, commencing on Tuesday, July 25, and extending into Wednesday, July 26.
According to the document, the Central Bank envisions the potential for further rate hikes unless a notable reduction in inflation materializes. Following the public release of these "minutes," yields on United States Treasury bonds surged to their peak since October.
Simultaneously, on August 16, Bitcoin's value underwent a decline from approximately $29,200 to $28,700.
Space X sold $373 million worth of Bitcoin
On August 17, at 3:22 pm ET, the Wall Street Journal reported that Elon Musk's space company Space X sold $373 million worth of Bitcoin. The company held the token on its balance sheet in 2021 and 2022.
The prices started dropping at 5:40 pm ET, a mere two hours and twenty minutes following the publication of the report. Bitcoin's value plummeted from approximately $28,553 to about $25,166 within a mere four-minute span, all on the cryptocurrency exchange Binance. On exchanges with lesser liquidity, the price experienced an even steeper decline, touching a low of $24,400, which consequently triggered a surge in liquidations.
Originally reported, Elon Musk procured Bitcoin at a range of $28,000–30,000. His company Tesla, also had holdings in Bitcoin. Since 2021, the company has divested itself of a significant portion of its cryptocurrency assets, amounting to $936 million in value.
Whale selling significant amounts
As reported by Cointelegraph, a trader operating under the pseudonym @TheFlowHorse has indicated that a solitary substantial seller may have initiated the unexpected downward shift, subsequently intensifying the strain on derivatives.
"It was not just a natural cascade. Someone big bailed for a purpose and set it in motion. Spot volume barely compared to perps," the individual informed Cointelegraph.
Evergrande Group's bankruptcy
At 8:30 pm ET on August 17, CNN broke the news that the Chinese real estate titan, Evergrande Group, had initiated the process of obtaining Chapter 15 bankruptcy protection within New York's jurisdiction. This pivotal default by Evergrande wielded substantial repercussions on China's real estate domain and the broader economic landscape.

The real estate sector, a cornerstone of China's progress, has historically contributed as much as 30% to the nation's GDP. As Evergrande faltered, a cascade of defaults followed suit among other prominent Chinese developers. In totality, the nation grappled with an economic deceleration, potentially prompting a shift away from cryptocurrencies.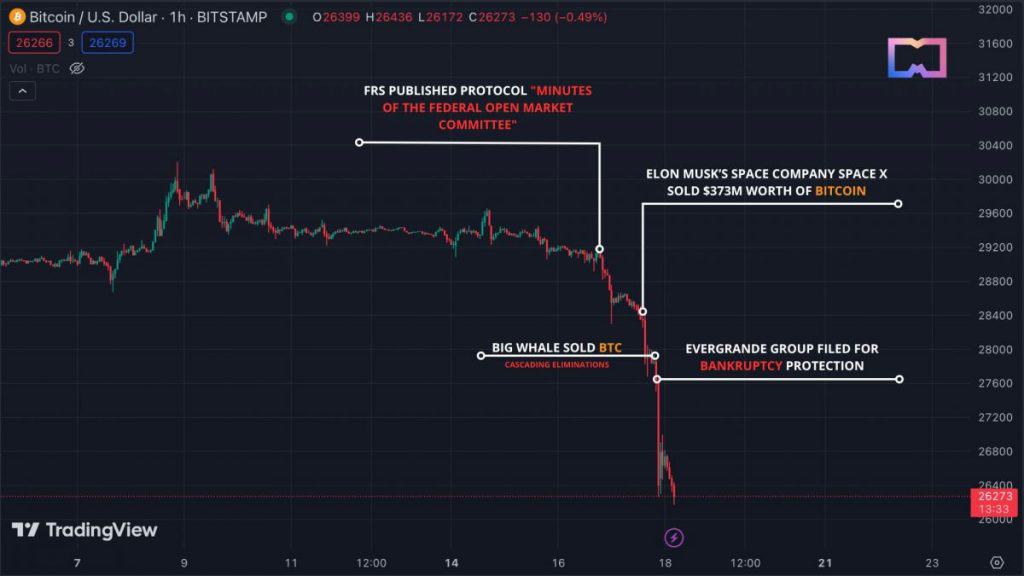 What to expect
Both BTC and ETH have undergone noteworthy price decreases. In the preceding 24 hours, Bitcoin saw a 7.53% depreciation in its value, while Ethereum experienced a loss of 6.73%. As of this writing, Bitcoin was valued at $26,542, with Ethereum trading at $1,680.
The market confronts challenges arising from limited liquidity for transactions. Intriguingly, positive news releases have failed to impart a substantial short-term upswing to prices. This erosion of confidence intensified when the price of Bitcoin slipped beneath $29,000.
Market turbulence profoundly affected both BTC and ETH, indicating anticipation of substantial price fluctuations. However, once the market regains composure, this heightened uncertainty is anticipated to swiftly dissipate.
Read related posts:
Disclaimer
Any data, text, or other content on this page is provided as general market information and not as investment advice. Past performance is not necessarily an indicator of future results.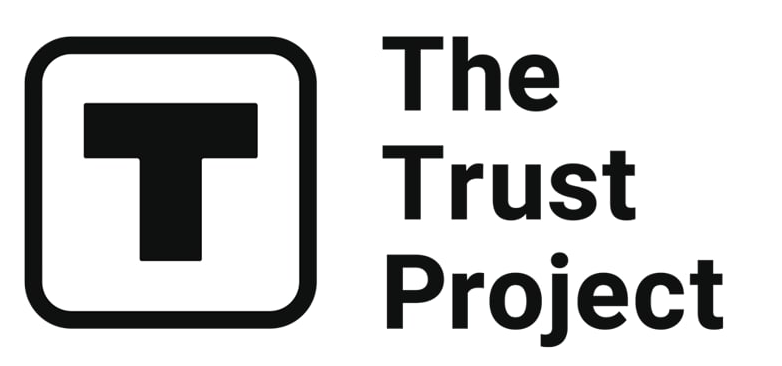 The Trust Project is a worldwide group of news organizations working to establish transparency standards.
Valeria is a reporter for Metaverse Post. She focuses on fundraises, AI, metaverse, digital fashion, NFTs, and everything web3-related.Valeria has a Master's degree in Public Communications and is getting her second Major in International Business Management. She dedicates her free time to photography and fashion styling. At the age of 13, Valeria created her first fashion-focused blog, which developed her passion for journalism and style. She is based in northern Italy and often works remotely from different European cities.You can contact her at [email protected]
More articles


Valeria is a reporter for Metaverse Post. She focuses on fundraises, AI, metaverse, digital fashion, NFTs, and everything web3-related.Valeria has a Master's degree in Public Communications and is getting her second Major in International Business Management. She dedicates her free time to photography and fashion styling. At the age of 13, Valeria created her first fashion-focused blog, which developed her passion for journalism and style. She is based in northern Italy and often works remotely from different European cities.You can contact her at [email protected]
Hot Stories
by Nik Asti
September 28, 2023
by Damir Yalalov
September 27, 2023
by Victor Dey
September 27, 2023
by Cindy Tan
September 26, 2023
Latest News
by Agne Cimermanaite
September 28, 2023
by Victor Dey
September 28, 2023
by Agne Cimermanaite
September 28, 2023
by Cindy Tan
September 28, 2023