10 Best Free AI Presentation Tools in 2023: Simple PowerPoint Export


by
Damir Yalalov
Published: August 02, 2023 at 7:02 am Updated: August 02, 2023 at 7:03 am

by
Danil Myakin
Edited and fact-checked: August 02, 2023 at 7:03 am
Presentation tools have advanced far beyond static slides and simple transitions in the current era of digital transformation. The world of presentation software has now been invaded by AI, which provides improved functionalities, wiser design recommendations, and more individualised audience engagement features. The best AI-driven presentation tools currently on the market are examined in this article, along with how they are changing the way we interact with our audiences and convey information. Understanding the capabilities of these AI-powered tools can help you step up your presentation game whether you're an experienced presenter or just getting started.
Pro Tips
1. Check out these amazing 10+ Text-to-Video AI Generators that can convert text into engaging videos.
2. These useful prompts are designed to challenge AI art generators like Midjourney and DALL-E to create visually stunning images based on text descriptions.
3. Follow these guidelines to explore the world of uncensored AI-generated art without restrictions.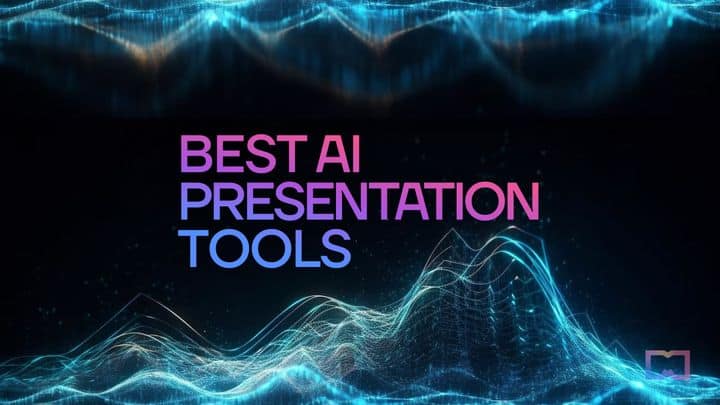 1. Beautiful.ai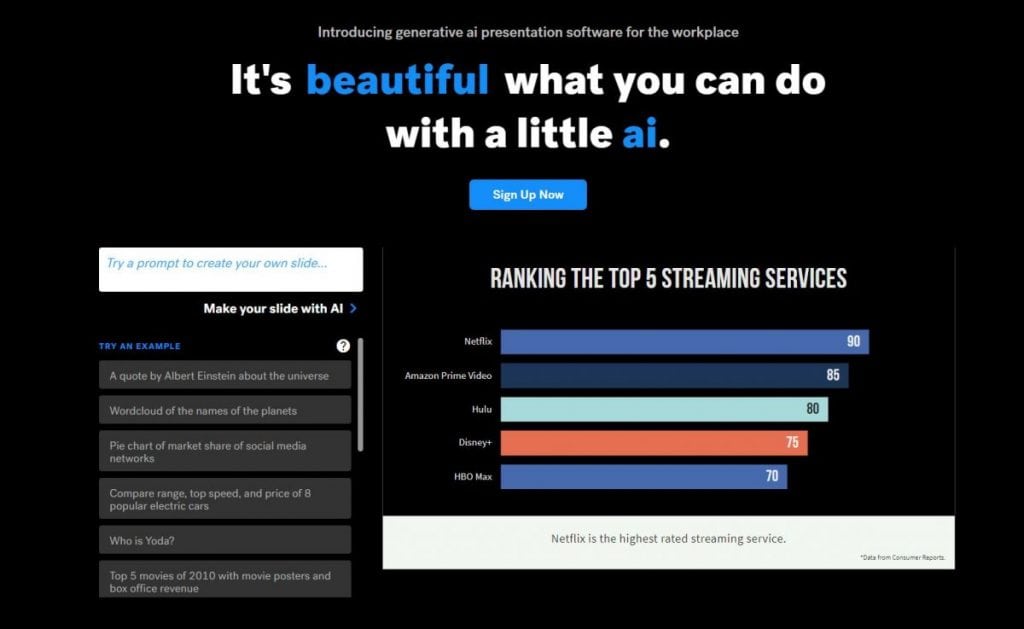 Beautiful.ai, a contemporary presentation software, presents a suite of tools aiming to simplify the design process. Central to its offering is a collection of smart templates. These templates, curated with a modern aesthetic, guide users in crafting presentations that resonate with today's audience.
One of the distinguishing features of Beautiful.ai is its ability to automate slide formatting. By integrating design principles directly into the software, users only need to input content, and the slides modify themselves to fit. This functionality eliminates time-consuming adjustments, allowing users to focus on content.
Features:
Facilitating team collaboration, the platform introduces a Team Plan. This feature offers centralized account management, streamlining the presentation creation process across departments. Whether working remotely or in the office, teams can now coordinate seamlessly, resulting in quicker project completions and approvals.
Branding consistency is another area where Beautiful.ai shines. With features that ensure adherence to branding guidelines, presentations maintain a unified look. Users can access a vast online library of images and icons, aligning each slide with brand aesthetics. The Team Plan further bolsters these capabilities, allowing organizations to oversee brand integrity across multiple presentations.
Beautiful.ai positions itself not just as a presentation tool, but also as a productivity enhancer. By cutting down on redundant steps and fostering collaboration, businesses can craft compelling pitches and reports more efficiently.
2. Gamma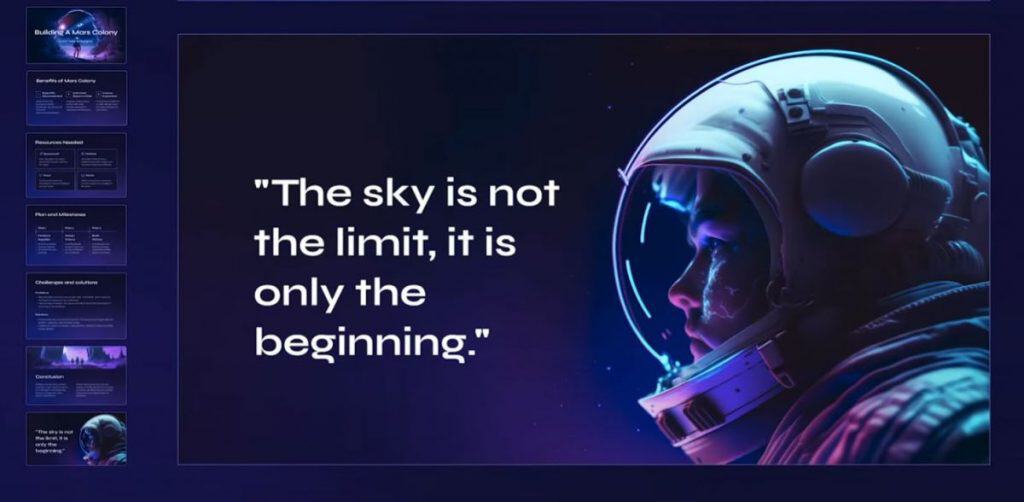 Gamma has launched its latest offering designed to streamline the process of creating presentations, documents, and webpages. Central to its platform is the AI generator, which rapidly crafts a foundational presentation or document, providing users with a base that can be further refined and personalized.
Users have highlighted Gamma's ability to present information in innovative formats, bypassing the traditional constraints of conventional slides. Its functionality offers the benefit of maintaining a cohesive flow throughout presentations.
A noted feature is its "one-click" aesthetic refinement. Users can revamp the entire look of their presentation or document with a single click, eliminating the tediousness of slide mastering or aligning individual components. The platform's emphasis on aesthetics ensures that creations remain visually appealing and aligned with brand guidelines.
Features:
Gamma has enhanced user engagement by offering interactive elements. Beyond static texts and generic images, the platform supports the embedding of diverse content such as GIFs, videos, charts, and websites. Such capabilities aim to keep the audience attentive and invested in the content being presented.
To foster collaboration, Gamma provides features like built-in analytics to gauge user engagement, a comment section, and the ability to share content across a myriad of devices. This ensures that presentations or documents can be accessed and collaborated on, regardless of the device being used, be it a laptop, tablet, or phone.
Users have drawn parallels between Gamma and a merger of functionalities found in tools like Notion and Canva. Its value proposition revolves around its versatility: being more visual than a typical document, fostering better collaboration than traditional slide decks, and offering interactivity surpassing that of videos.
Endorsements from agency users suggest that while many have moved away from conventional tools like PowerPoint, Gamma offers a rejuvenated and adaptable alternative that enhances client interactions. With Gamma, the time spent on creating presentations is significantly reduced, making it a preferred tool for those who prioritize efficiency without compromising on quality.
3. SlidesAI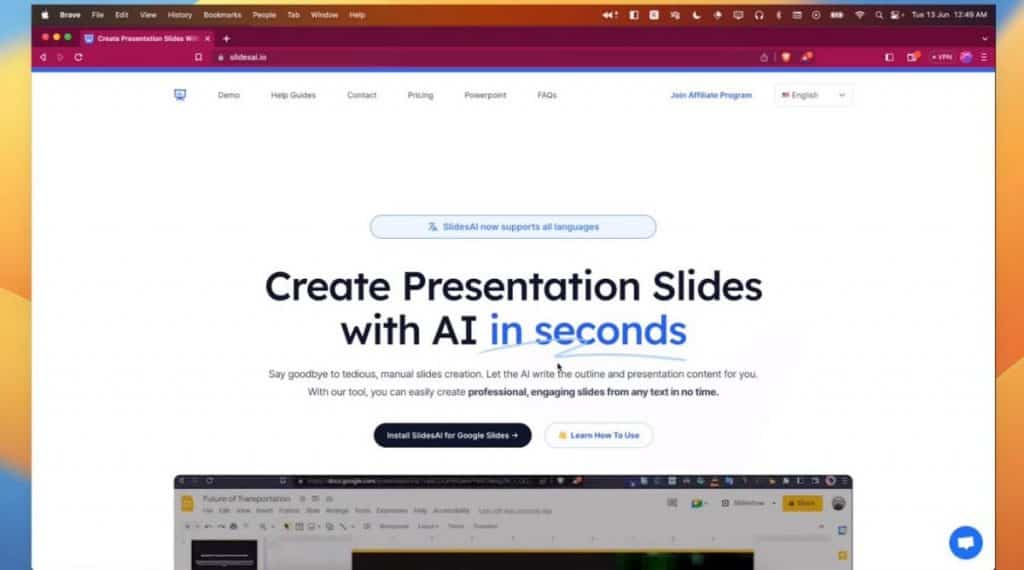 SlidesAI has unveiled its presentation-making software tailored to facilitate users in crafting professional-grade presentations in a streamlined manner. The software emphasizes user-friendly procedures, enabling users to initiate their presentations with text or a concise overview of the content they wish to deliver.
One of the distinguishing characteristics of SlidesAI is its capability to autonomously generate presentations from textual inputs. This autonomous generation feature is supplemented by customization options that provide users with a spectrum of color schemes and font choices, allowing for adaptability to different branding and personal preferences.
Features:
Another notable feature of the platform is its multilingual support. Currently, the software extends its services in English, Spanish, and Japanese, with Italian support slated for future release. This multilingual approach caters to a broader audience, offering accessibility to users across different linguistic backgrounds.
Prioritizing user privacy, the software has been configured to operate with minimal permissions, reinforcing its commitment to safeguard user data. Furthermore, SlidesAI's compatibility with Google Slides showcases its intent to cater to a broader user base and facilitate seamless transitions between platforms.
For those seeking a solution to minimize the time and effort invested in developing presentations, SlidesAI positions itself as an optimal choice. Its applicability spans both personal and professional domains, making it suitable for diverse presentation needs. Potential users can choose from three distinct pricing tiers: a free Basic plan, a Pro plan priced at $10 per month, and a Premium offering at $20 per month.
4. Decktopus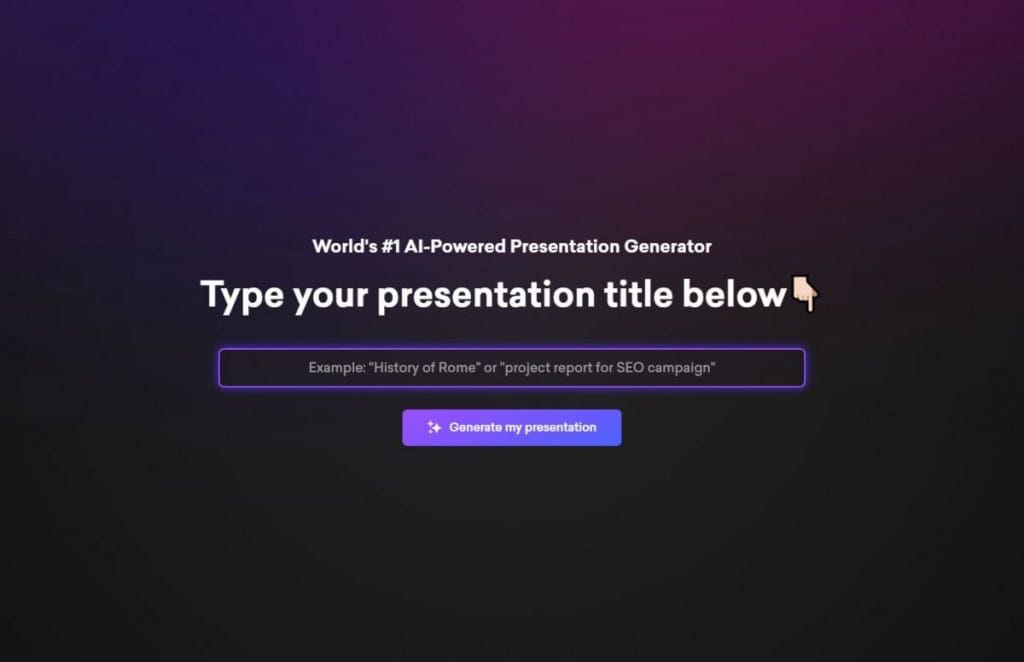 Decktopus, a cloud-based software solution, introduces a suite of tools designed for efficient and customizable presentation creation. Among the notable features are a comprehensive library of editable templates, catering to a wide range of design preferences. Each template can be modified, from layout adjustments to font selection, ensuring users have ample creative freedom.
Complementing its design capabilities, Decktopus incorporates an AI-powered content assistant. This feature aids users in curating presentations with more efficiency, ensuring the delivery of clear and concise content. One of the more practical functionalities of Decktopus is its real-time collaboration tool. Teams can collectively work on a presentation, streamlining efforts and maintaining consistency.
Features:
Further enhancing its user-friendly attributes, the software offers online sharing capabilities. Presentations, once finalized, can be shared online seamlessly or broadcasted during live presentations. Decktopus also boasts an integrated image library, smart editor, Kanban views, and a quote library. Moreover, to cater to the evolving digital landscape, it is optimized for mobile use.
For those interested, Decktopus offers varied pricing structures. Their Pro plan stands at $9.99 per month, while businesses looking for a more comprehensive suite can opt for the Business plan priced at $36 per user per month.
5. Slidesgo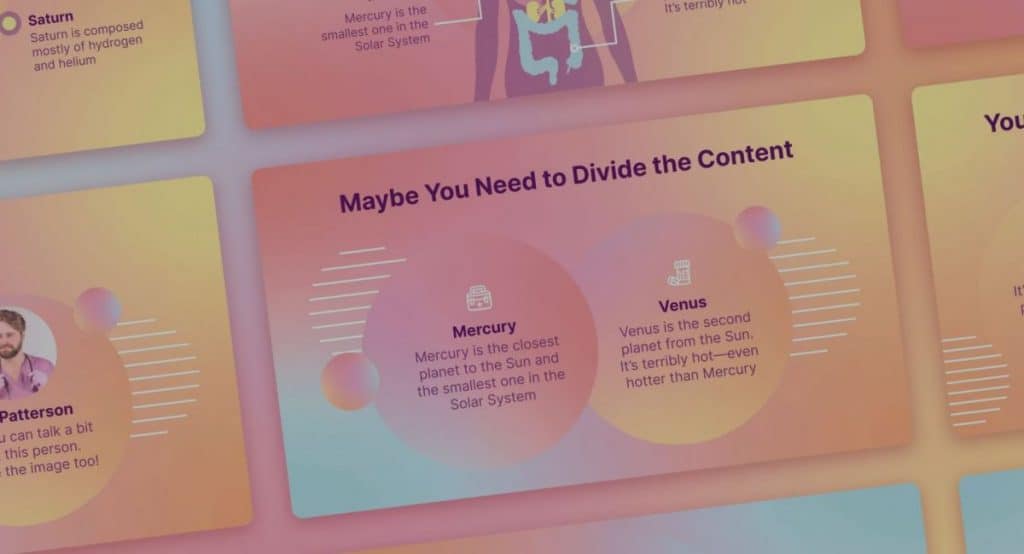 Slidesgo has recently introduced its dedicated platform, providing users with an array of Google Slide themes and PowerPoint templates, streamlined for various sectors including business, education, marketing, and healthcare. The tool is engineered to facilitate users in sculpting a presentation that echoes their unique requirements, enabling choice in topics, styles, hues, tones, and more.
Distinguishing itself in the marketplace, Slidesgo houses a diverse library of templates, each modifiable to cater to specific user needs. Furthermore, the software's AI presentation maker functionality accelerates the creation process, making it an efficient choice for individuals pressed for time.
Features:
Design remains an integral component of any compelling presentation. Recognizing this, Slidesgo has ensured users have an abundant supply of images, icons, and various design elements. Additionally, the platform's association with Wepik has paved the way for users to harness resources from renowned platforms such as Freepik and Flaticon.
In terms of sharing and exporting, Slidesgo extends the capability to formulate presentations in PDF format, coupled with a free download option. A shareable link feature is also integrated, simplifying the process for users aiming to distribute their presentations.
Affordability remains central to Slidesgo's offerings. The software operates on a freemium model, allowing users to access and download up to ten templates without any charge. Those seeking enhanced benefits can opt for the Premium plan priced at 4.99€ per month. This tier grants unlimited template downloads, an exclusive sharing license, among other advanced utilities.
6. iA Presenter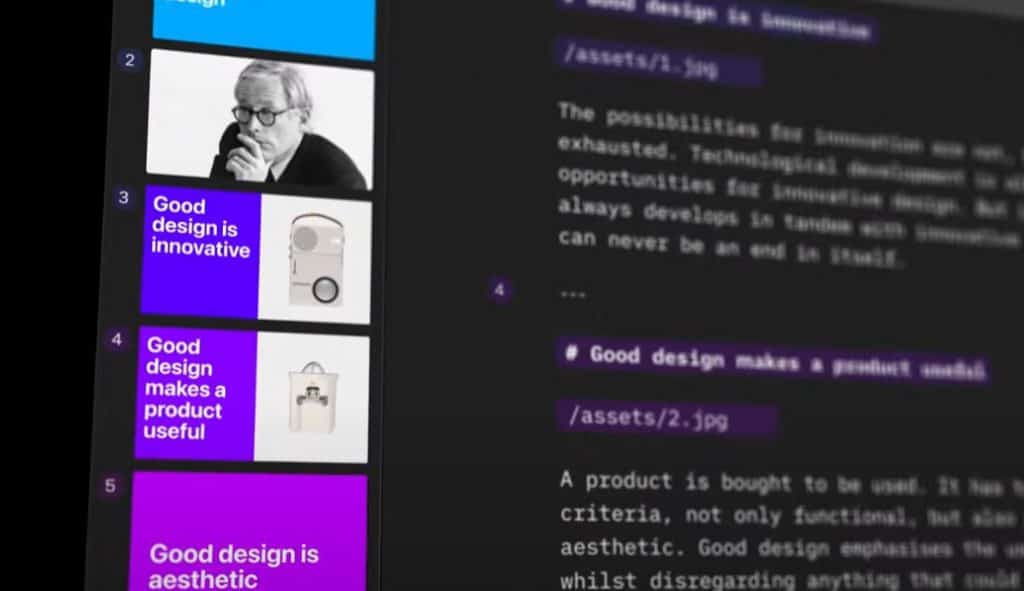 iA Presenter introduces a unique approach to creating presentations by emphasizing text-based interfaces. This innovative tool places the narrative at the heart of the design, allowing for a seamless progression from writing to visual presentation.
A notable feature of the iA Presenter is its "Turbostart". This function eliminates the initial dread of starting a presentation. Instead of building from scratch, users can input existing content such as emails, notes, or tweets. The software's text-based editor facilitates immediate use of existing written material, considerably reducing the time typically spent on slide creation.
Editing within iA Presenter is equally straightforward. The tool provides functionality to easily divide or merge content into different slides, ensuring adaptability as the story progresses. The differentiation between regular text and slide headlines is clear, promoting a systematic process from conception to finalization of a presentation.
Features:
Visual aspects aren't overlooked. Users can effortlessly integrate images, videos, tables, and templates, with iA Presenter managing the design intricacies. An additional benefit is the software's dedicated image library, streamlining the tracking and application of visual elements.
Customization features cater to both novices and those with a keen design eye. The software's design capabilities, from font choices to layouts, are intuitive. A standout feature is the platform's dynamic background colors, altering as the presentation progresses. These layouts are not only visually appealing but also adaptive. Recognizing the diverse range of devices presentations might be viewed on, iA Presenter ensures templates are responsive and screen resolution compatible.
To further aid presenters, the software incorporates a teleprompter, ensuring the narrative remains central during delivery. Post-presentation, iA Presenter even allows for the exportation of content, providing audiences with a tangible take-away.
7. Pitch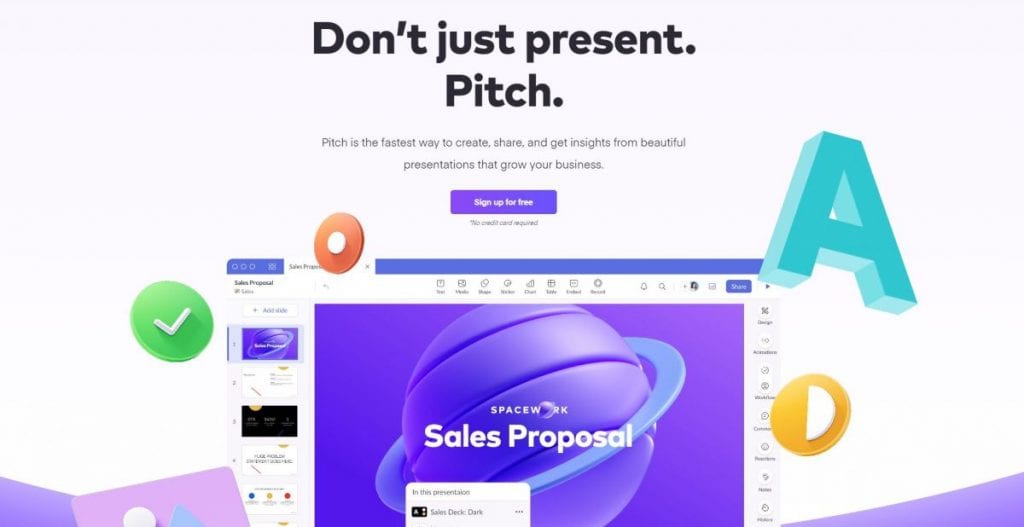 Pitch aims to streamline the process of presentation creation, collaboration, and sharing, with an emphasis on fostering business growth. A salient aspect of Pitch is the efficiency it brings to the table, allowing users to craft and modify presentations in a timely manner. This software empowers users with smart editing capabilities and offers them insights via real-time analytics, enabling better decision-making.
Customization is a key component of Pitch. Users have the freedom to select pre-designed templates or customize their own, factoring in brand colors and specific fonts. Additionally, the software supports swift style alterations for individual slides, thereby promoting brand consistency across presentations. For teams, the facility to craft reusable templates can be a game-changer, ensuring uniformity and saving time.
Features:
The process of slide creation has been significantly enhanced in Pitch. It is equipped with tools that simplify the addition of visuals, ranging from photos and icons to videos. The platform also promotes collaborative efforts, allowing multiple users to engage and make changes in real time.
For those looking to make an impact with their presentations, Pitch provides several avenues. Presenters can share links, offer live sessions, or embed their presentations on various online platforms. With the ability to track link openings and analyze slide engagement, users gain valuable insights into their content's performance.
Incorporation of third-party applications is another feature that distinguishes Pitch. The software allows easy visual imports, data integration, and ensures that teams remain updated. Moreover, for those seeking inspiration, Pitch showcases exemplary presentations that have played pivotal roles in sealing deals or securing funds.
Pitch emerges as a holistic solution for presentation needs, ensuring precision in layouts and fostering opportunities for business growth.
8. Ludus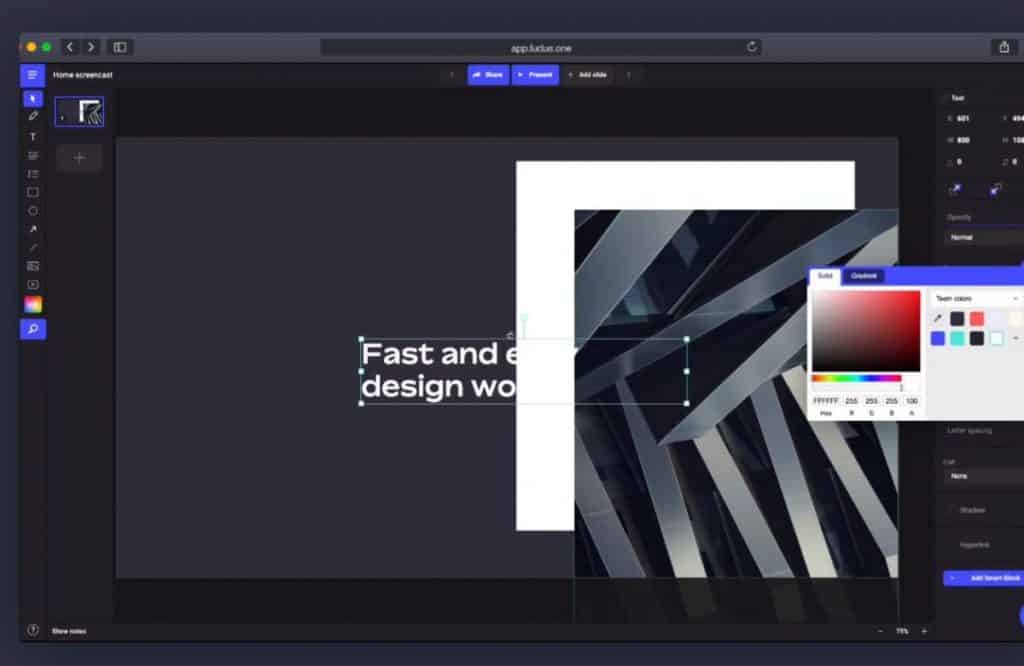 Ludus offers a web-based solution tailored for the creative professional. Through this platform, users can harness the vast resources of the Internet, integrating them seamlessly into their slides.
One of Ludus's defining attributes is its emphasis on collaboration, ensuring that creative teams can jointly craft presentations. By offering shared channels, the platform simplifies the organization of the team's workflow. Recognizing the diverse strengths of individual team members, Ludus allows for role-specific assignments. This ensures that each member can operate within their area of expertise, fostering efficiency and confidence.
Features:
Designers will find Ludus's environment to be particularly intuitive. The platform offers a myriad of customization features, such as selecting preferred fonts, editing visuals, and applying specific blending modes. Furthermore, a standout feature is the option to construct a library comprising reusable elements, termed "smart blocks."
The platform's versatility in content integration sets it apart. Ludus operates on a block system, with each content piece representing a block. These blocks can be sourced from various platforms, including Unsplash, GIPHY, Dropbox, and Google Drive. Notably, team-generated content can be incorporated as Smart Blocks, providing users with tools such as headers, charts, image grids, and buttons. Constructing a cohesive narrative becomes a matter of strategically assembling these blocks.
Ludus also provides flexibility in presentation delivery. Users can opt for live presentations or share their work via a customized URL. An added feature, Ludus Vox, enables the integration of recorded content into slides, allowing for a more personalized and context-rich presentation experience.
Ludus emerges as a solution that melds creativity with functional simplicity, catering explicitly to the nuanced needs of the creative industry.
9. ClassPoint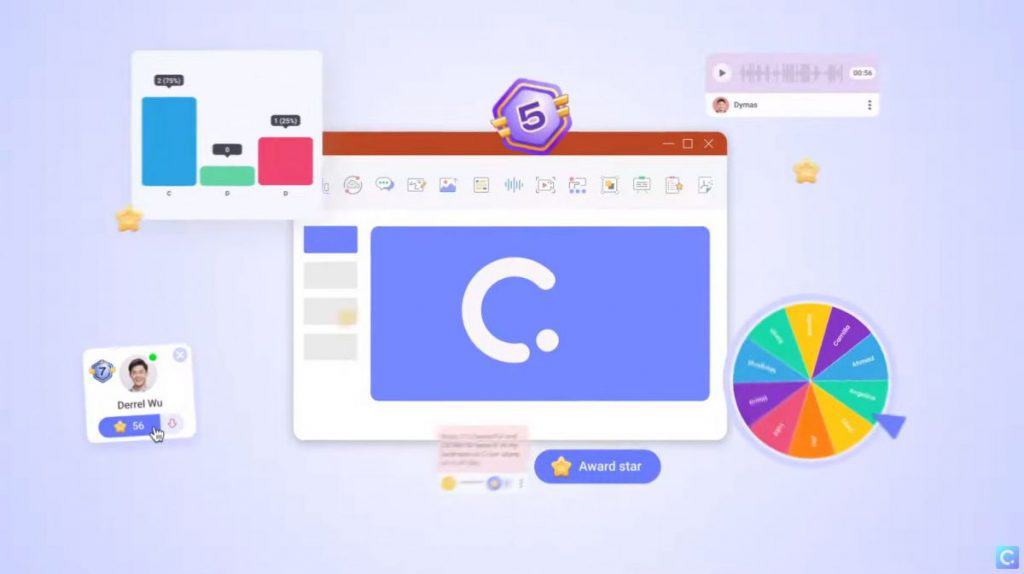 ClassPoint emerges as a tool designed to elevate the conventional PowerPoint presentation experience. It specifically targets educators, enabling them to convert standard slideshows into immersive, audience-centric presentations.
One notable feature of ClassPoint is its emphasis on interactivity. By integrating whiteboard tools and audience polls directly within PowerPoint, presenters can actively engage their listeners. Additionally, its AI-generated questions provide a means to source audience input, promoting a more dynamic and collaborative learning environment.
Rather than looking outside PowerPoint for auxiliary teaching aids, ClassPoint serves as an all-in-one solution. By enriching the platform with student engagement tools, educators can facilitate interactive lessons without departing from the familiar PowerPoint interface. This approach aims to streamline the teaching process, allowing educators to focus on content delivery rather than managing multiple software solutions.
Features:
For educators aiming to make lectures more interactive, ClassPoint offers a suite of features to transform slides into student activities, infusing each lesson with a more engaging approach. In a nod to the modern trend of gamification in education, ClassPoint provides tools that allow teachers to introduce gamified elements, such as stars, levels, and leaderboards, directly within their presentations.
The tool also addresses the practical aspects of presentation management. With advanced annotation and teaching tools, educators can manage their content with ease, aligning it closely with their unique teaching methodologies.
A significant addition to ClassPoint is its native language support, reflecting a commitment to fostering inclusivity. This feature ensures that educators globally can utilize the platform without facing language-based barriers.
The integration depth that ClassPoint offers with Microsoft PowerPoint is a distinguishing feature. Teachers can seamlessly transition to using ClassPoint, given its compatibility with PowerPoint's native features and the ability to utilize existing slide content. This cohesive integration aims to provide educators with enhanced capabilities without the need to acclimatize to an entirely new platform.
10. Piggy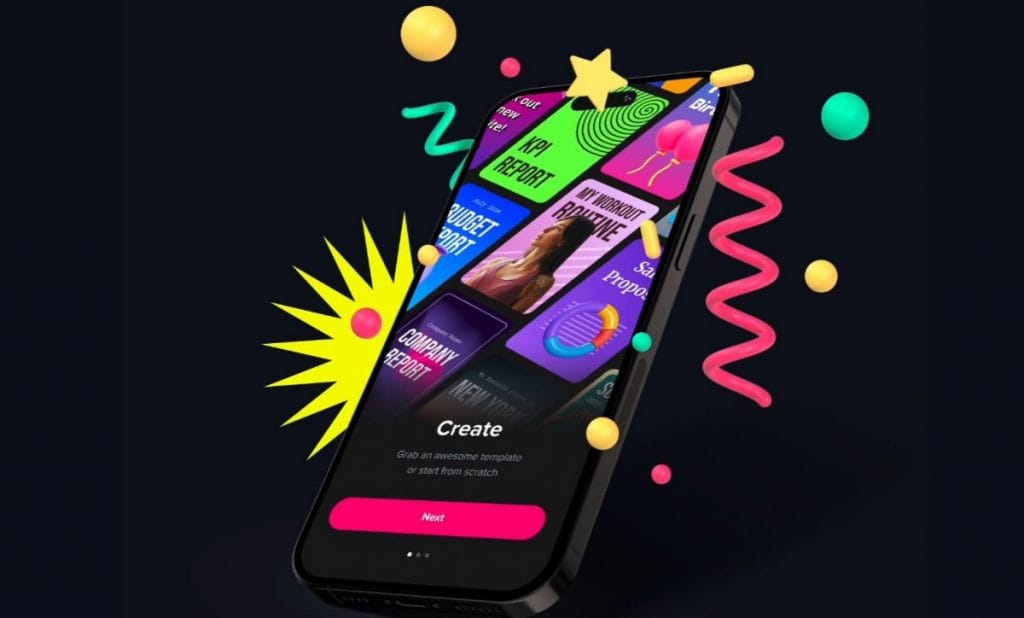 Piggy, a Tel Aviv-based startup, offers a solution tailored for today's mobile-centric era: a versatile application for creating a range of digital content. Established two years ago and operating with a dedicated team of 13, Piggy underscores its commitment to enhancing the landscape of digital self-expression tools.
Piggy is designed to be a multifaceted mobile app catering to users' varied needs, whether they are creating documents, presentations, photo albums, or web pages. A standout feature of this app is its emphasis on interactivity, offering users the option to craft quizzes and interactive stories. Such content can subsequently be downloaded, embedded, or shared based on the user's preference.
Features:
For those daunted by the idea of starting a project from ground zero, Piggy provides templates. These templates serve not only as a starting point but also as inspiration, aiding users in realizing their creative vision without the necessity of prior design experience. For individuals seeking full customization, the platform permits creations from scratch, ensuring a wide range of expressional possibilities.
The application is designed with user-friendliness in mind. Notably, it operates on a no-code basis, eliminating potential technical barriers and ensuring that users can concentrate solely on their creative output. Once a project is finalized, users have the autonomy to share their creation or retain it privately.
Piggy positions itself as a one-stop solution for crafting and disseminating diverse mobile content, from portfolios and greeting cards to more formal presentations. As the digital realm continues to evolve, tools like Piggy are at the forefront, empowering users to articulate their vision in the online space effectively.
FAQs
What is the AI Presentation Tool?
An AI Presentation Tool is a software or application that integrates artificial intelligence (AI) technologies to assist users in creating, editing, and delivering presentations. Such tools harness the capabilities of AI to provide enhanced functionalities that go beyond what traditional presentation tools offer.
How is AI changing the realm of presentation software?
AI is offering enhanced functionalities, smarter design recommendations, and personalized audience engagement features to presentation software.
What advantage does AI provide over traditional presentation tools?
AI provides smarter design recommendations and more personalized audience engagement features compared to traditional presentation tools.
Are AI presentation tools designed only for seasoned presenters?
No, AI presentation tools can be beneficial for both seasoned presenters and those just starting out.
Are AI presentation tools becoming more mainstream in the modern era of digital transformation?
Yes, with the advancements in AI, presentation tools that incorporate AI functionalities are becoming more mainstream in the modern digital era.
What is the best AI Presentation Tool?

Determining the "best" AI Presentation Tool depends on specific user needs, preferences, and the context in which the tool will be used. Several AI-powered presentation tools have gained popularity, each with its unique features and capabilities.
Beautiful.ai
Gamma
SlidesAI
Decktopus
Slidesgo
iA Presenter
Pitch
Ludus
ClassPoint
Piggy
Read more related toopics:
Disclaimer
Any data, text, or other content on this page is provided as general market information and not as investment advice. Past performance is not necessarily an indicator of future results.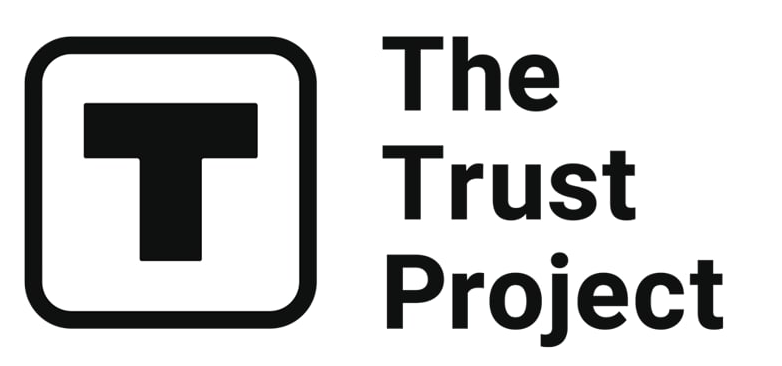 The Trust Project is a worldwide group of news organizations working to establish transparency standards.
Damir is the team leader, product manager, and editor at Metaverse Post, covering topics such as AI/ML, AGI, LLMs, Metaverse, and Web3-related fields. His articles attract a massive audience of over a million users every month. He appears to be an expert with 10 years of experience in SEO and digital marketing. Damir has been mentioned in Mashable, Wired, Cointelegraph, The New Yorker, Inside.com, Entrepreneur, BeInCrypto, and other publications. He travels between the UAE, Turkey, Russia, and the CIS as a digital nomad. Damir earned a bachelor's degree in physics, which he believes has given him the critical thinking skills needed to be successful in the ever-changing landscape of the internet. 
More articles


Damir is the team leader, product manager, and editor at Metaverse Post, covering topics such as AI/ML, AGI, LLMs, Metaverse, and Web3-related fields. His articles attract a massive audience of over a million users every month. He appears to be an expert with 10 years of experience in SEO and digital marketing. Damir has been mentioned in Mashable, Wired, Cointelegraph, The New Yorker, Inside.com, Entrepreneur, BeInCrypto, and other publications. He travels between the UAE, Turkey, Russia, and the CIS as a digital nomad. Damir earned a bachelor's degree in physics, which he believes has given him the critical thinking skills needed to be successful in the ever-changing landscape of the internet. 
Hot Stories
by Damir Yalalov
September 27, 2023
by Victor Dey
September 27, 2023
by Cindy Tan
September 26, 2023
by Victor Dey
September 26, 2023
Latest News
by Damir Yalalov
September 27, 2023
by Damir Yalalov
September 27, 2023
by Agne Cimermanaite
September 27, 2023
by Cindy Tan
September 27, 2023