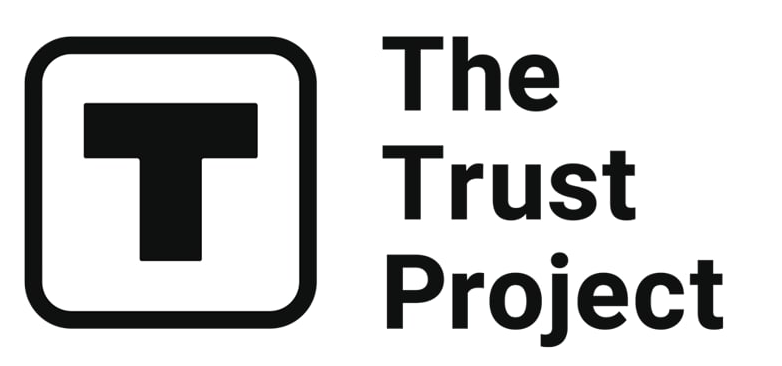 The Trust Project is a worldwide group of news organizations working to establish transparency standards.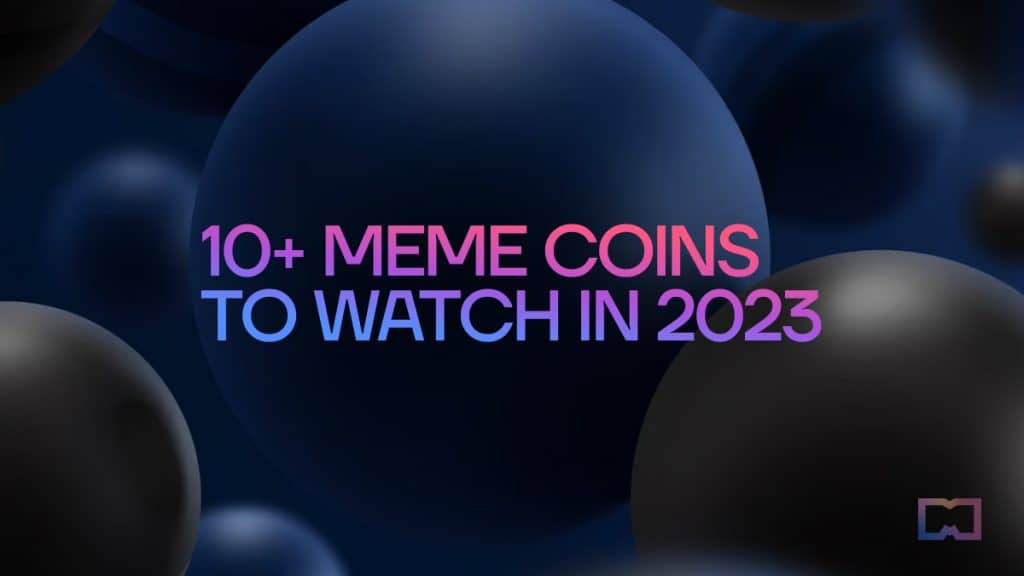 A new type of digital currency has taken the crypto market by storm in recent years – meme coins. Often created as a joke with hilarious or absurd names and logos referencing viral internet memes and buzzwords, these coins are marketed on social media platforms through even more memes and viral content.
Despite their unserious origins, meme coins have gained significant popularity and even market capitalization, with some meme coins hitting multi-million dollar market caps. The meme coin phenomenon began with Dogecoin, a cryptocurrency created in 2013 based on the popular internet meme of a Shiba Inu dog. It is perhaps the most well-known meme coin. Its initial status as a joke currency has gained a large following on social media platforms, with high-profile entrepreneurs such as Elon Musk and Mark Cuban tweeting about it.
Musk, in particular, has been a vocal supporter of Dogecoin, mentioning it in his appearance on Saturday Night Live and changing Twitter's blue bird logo to the famous Shiba Inu dog at one point, leading to a surge in its value. Musk's shilling of Dogecoin has been a subject of much discussion and speculation. Some argue that Musk's tweets about Dogecoin are simply a form of entertainment or a joke, while others believe that his tweets have a significant impact on the cryptocurrency market. Whatever the case, it is clear that Musk's tweets have helped bring attention to Dogecoin and other meme coins.
While crypto degens wonder whether meme coin season is back, here's a look at 11 meme coins gaining traction in the crypto market.
Pepe
Launched in April by anonymous founders, Pepe is a deflationary meme coin created as a tribute to Pepe the Frog, the internet meme that gained popularity in the early 2000s. This meme coin based on the famous green frog that's become one of the official mascots of the crypto community has been making headlines recently as it saw a meteoric surge in late April to May that caused its market cap to reach a high of $1.6 billion at one point.
Pepe aims to capitalize on the meme coin trend and establish itself as one of the most popular meme-based cryptocurrencies like Dogecoin and Shiba Inu. A trader known as dimethyltryptamine.eth spent $260 to purchase 5.9 trillion PEPE tokens and famously made over $4 million in profit after selling half his holdings. It has a burning mechanism to maintain scarcity within the market. Pepe is listed on Binance, OKX, CoinW, Deepcoin, and Bitrue. It currently ranks #66 on CoinMarketCap, with a live market cap of $652,986,335 USD. It has a circulating supply of 391,790,000,000,000 PEPE coins and a max. supply of 420,690,000,000,000 PEPE coins.
Ben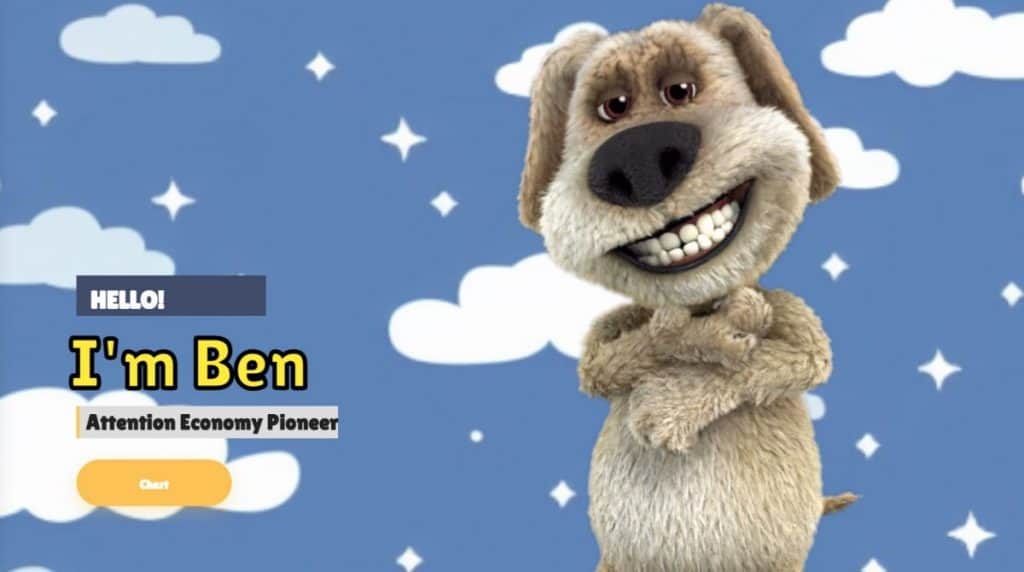 Launched by NFT influencer @eth.ben earlier this month amid the PEPE and Milady hype, $BEN managed to raise 55ETH from 329 wallets during presale. The coin trended down shortly after presale closed on May 5 but skyrocketed after well-known crypto influencer Bitboy started shilling it on May 8 and joined the $BEN team the day after. Less than 72 hours after the meme coin project launched, eth_ben handed it over to Bitboy and announced another meme coin project, $PSYOP, on the same day. Leveraging the success of $BEN, $PSYOP raised $1 million within an hour of the project's announcement and $6.9 million by the end of the presale.
According to CoinMarketCap, there is a max supply 420,690,000,000,000 BEN tokens, and it is currently trading on CoinW, SuperEx, LBank, MEXC, and Uniswap v3 (Ethereum).
Turbo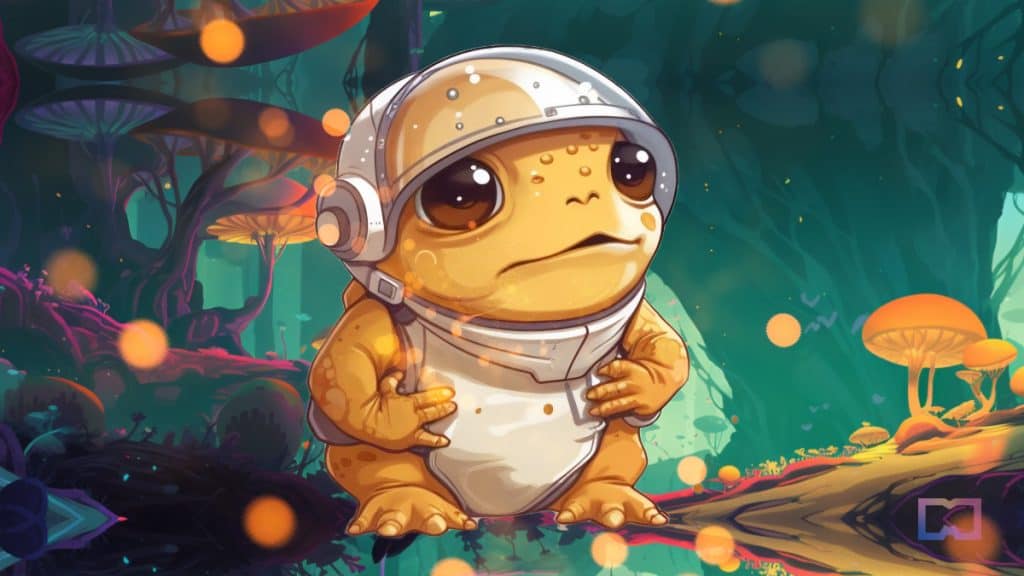 Turbo, the latest meme coin to make waves in the crypto world, was created by digital artist Rhett Dashwood, also known as Rhett Mankind, at the end of April. According to Mankind, Turbo was created as a piece of digital performance art and as an experiment. What sets Turbo apart from other meme coins is that it was created using GPT-4, which gave it the initial traction it needed, given the current AI boom and the continued convergence of crypto and AI.
As with many meme coins, Turbo's value has been incredibly volatile. On May 6, it peaked at $0.003034, up from $0.00068 the day before, with a trading volume of $270.87 million in just 24 hours. However, it rapidly plummeted to $0.005982 on May 8. Turbo has a maximum supply of 69,000,000,000 TURBO coins and is currently listed on CoinW, BTCEX, Bitget, Hotcoin Global, and BingX.
AIDOGE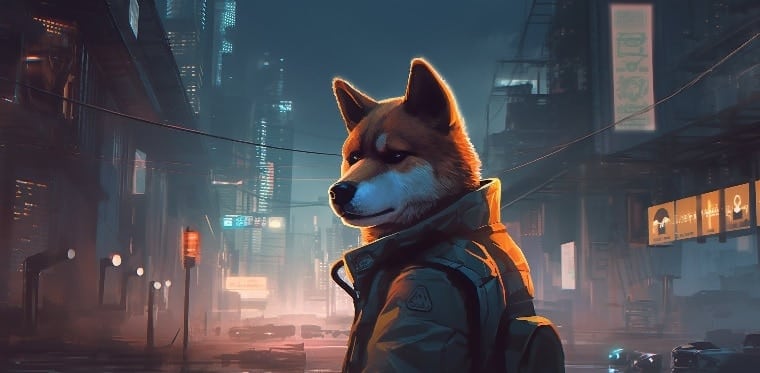 AIDOGE is an experimental meme coin launched in the Arbitrum ecosystem. According to its website, the token is "co-built by AI creatures" and its community, though details as to how that happened are unclear. Clearly jumping on the current trending topic of artificial intelligence, AIDOGE is a deflationary token that offers a 15% tax burn in each transaction. Holders can also stake their tokens to earn more.
According to the badly written whitepaper, "the survival and development of AIDOGE depend on code." However, there is no explanation of what that means. The project saw a peak trading volume of $483.13 million on May 1, though it has plummeted to just over $30 million as of this writing. There is a max supply of 210,000,000,000,000,000 AIDOGE coins. It is listed on OKX, CoinW, BTCEX, Bitget, and Hotcoin Global.
Sponge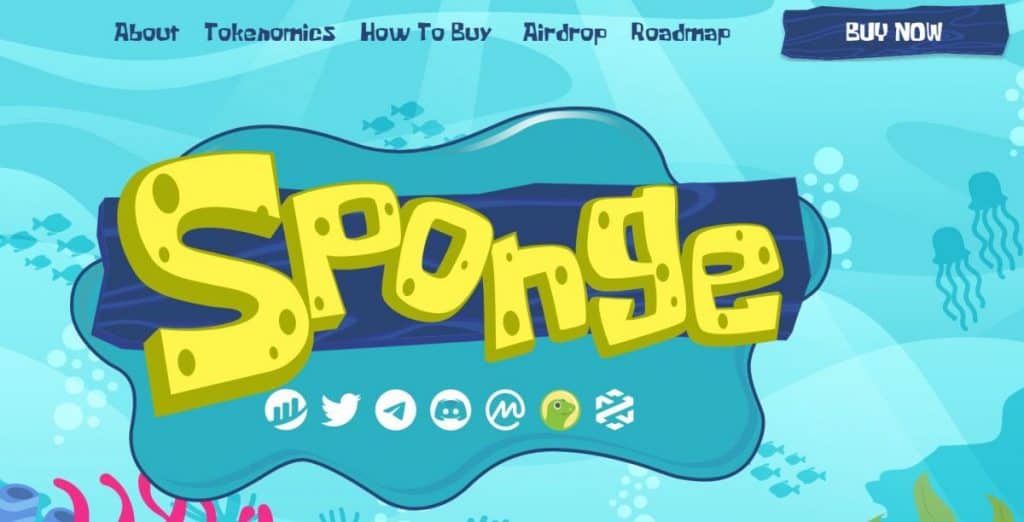 Based on the popular kids' cartoon Spongebob, Sponge is a community-driven meme coin with zero taxes, launched in early May. It surged 3,000% in seven days, peaking at $0.002328 with a 24-hour trading volume of $45.3 million. However, it saw a huge dump shortly after and is currently $0.000515 USD with a 24-hour trading volume of $9,648,649.
Sponge has a 61% circulating supply and a max supply of 40,400,000,000 $SPONGE coins. It is currently listed on currently CoinW, Bitget, Gate.io, LBank, and MEXC. Its website warns users that $SPONGE is a meme coin with no intrinsic value or expectation of financial return and that there is no formal team or roadmap. It also said that the coin is completely useless and for entertainment purposes only.
Homer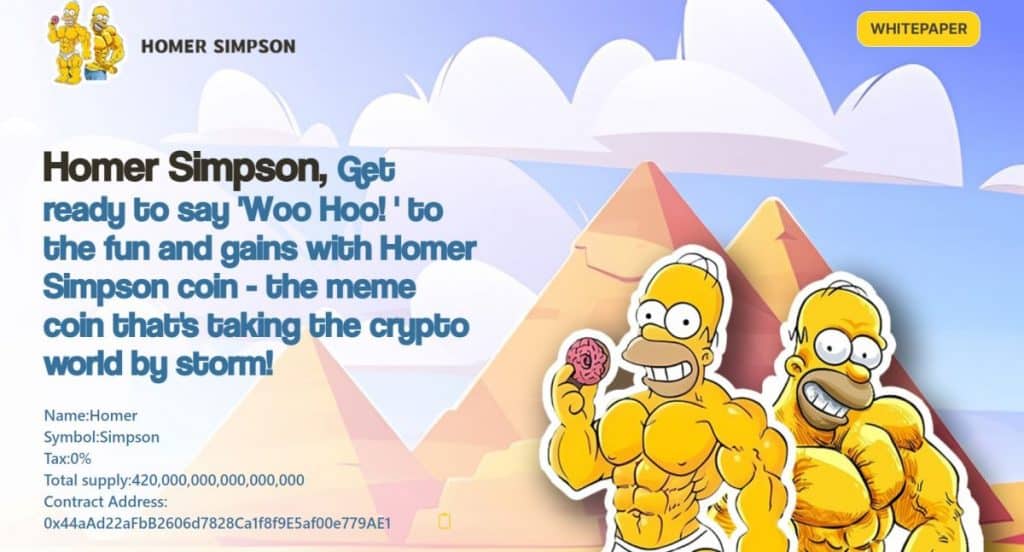 Another meme coin based on a popular animated series, Homer was launched in May and saw its value multiply by four on May 14 with a 24-hour trading volume of $54 million before plummeting more than 50%. Not only is the project jumping on the meme coin trend, but its website also reveals plans for a Homer Simpson Twitter and Telegram AI chatbot claiming to "be able to provide 100% accurate answers to provided questions by the Twitter users at a superhuman level."
It has a max. supply of 420,000,000,000,000,000 SIMPSON coins and is currently available on BitMart, MEXC, Uniswap v3 (Ethereum), and Uniswap v2.
Shiba Inu
Shiba Inu, a cryptocurrency created in 2020 by an individual known only by the pseudonym Ryoshi, rapidly gained attention from high-profile figures such as Elon Musk. Its creators have dubbed it the "Dogecoin killer," a reference to the popular meme cryptocurrency. The success of Shiba Inu has inspired over a hundred copycat tokens with the words Shiba or Inu in their names.
Despite being initially categorized as a meme coin, Shiba Inu has developed into a full-fledged ecosystem with various tokens such as BONE, a governance token, and LEASH, a special token for loyal supporters. Holders of LEASH can enjoy exclusive perks and access to the ecosystem. Shiba Inu is listed on ShibaSwap, a decentralized exchange within the ecosystem. Shiba Inu gained even more attention when it was listed on Coinbase in September 2021, leading to a price increase of over 40% in just two days. It has a market cap of $5.2 million with a circulating supply of 589,538,098,148,525 SHIB and a max supply of 589,600,765,820,360. It is listed on Binance, Bybit, Coinbase Pro, Kucoin, and more.
The Shiba Inu team has been working on several new projects, including a metaverse project called SHIB – The Metaverse, which is expected to partially open by the end of this year. The team has also been developing its own L2 network, Shibarium, which is currently undergoing early beta testing.
Floki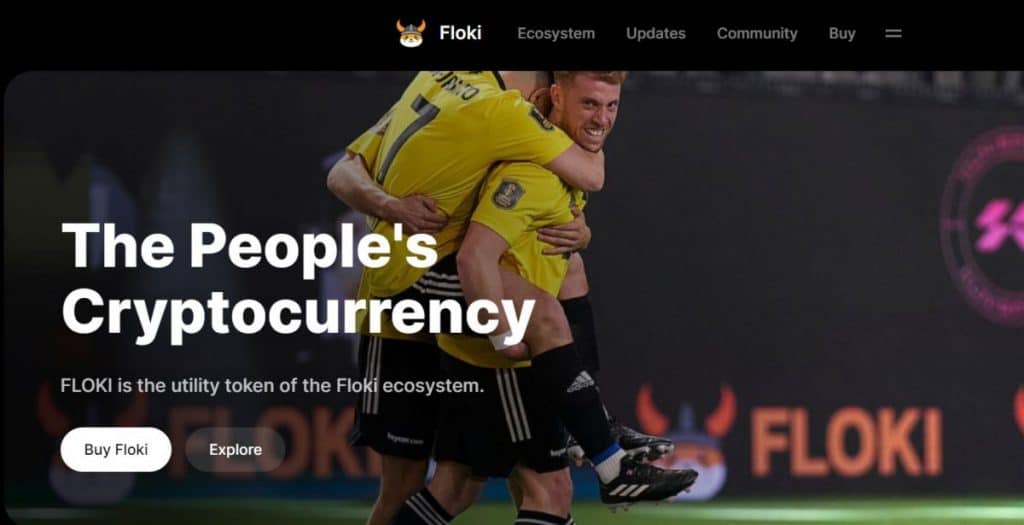 Initially launched by an anonymous dev who abandoned the project shortly after it launched, Floki is a decentralized project relaunched the project by fans and members of the Shiba Inu (SHIB) community, Floki calls itself "the people's currency." It is the utility token of the Floki Ecosystem. Its team is currently working on four flagship projects:
An NFT gaming metaverse called Valhalla;
A suite of decentralized finance products launched under the "FlokiFi" umbrella;
An NFT and merchandise marketplace called FlokiPlaces;
A content and education platform called the University of Floki.
The main figures behind the project are anonymous individuals known as B, Sabre, and MrBrown Whale. Jackie Xu is the project's lead developer and is a well-known and doxxed figure in the blockchain industry with more than ten years of experience.
Currently, Floki has a live market cap of $344,000. It has a circulating supply of 9,711,319,933,775 FLOKI coins and a max. supply of 20,000,000,000,000 FLOKI coins. It is listed on Gate.io, Binance, Kucoin, Bitget, OKX and more.
Bone Shibaswap
BONE is the governance token of the ShibaSwap decentralized exchange (DEX), allowing users in the Shiba Inu community, also referred to as the Shib Army, to exercise their voting rights on upcoming proposals, submit proposals and obtain future NFTs. The number of BONE tokens users hold determines the weight of their votes; the more tokens they hold, the more influential their votes will be.
The Shibaswap DEX was launched on July 7, 2021, enabling users to swap their SHIB tokens for other cryptocurrencies. In the Shiba Inu ecosystem, BONE plays an important role as a bridge. SHIB holders on ShibaSwap provide liquidity in exchange for BONE reward tokens. By staking their tokens, users can earn rewards, which is determined by the quantity and duration of the tokens staked.
BONE has a live market cap of $182,481,569. It has a circulating supply of 229,923,351 BONE coins and a max. supply of 230,000,000 BONE coins. It is also available on OKX, CoinW, Deepcoin, BTCEX, and Bitget.
Milady Meme Coin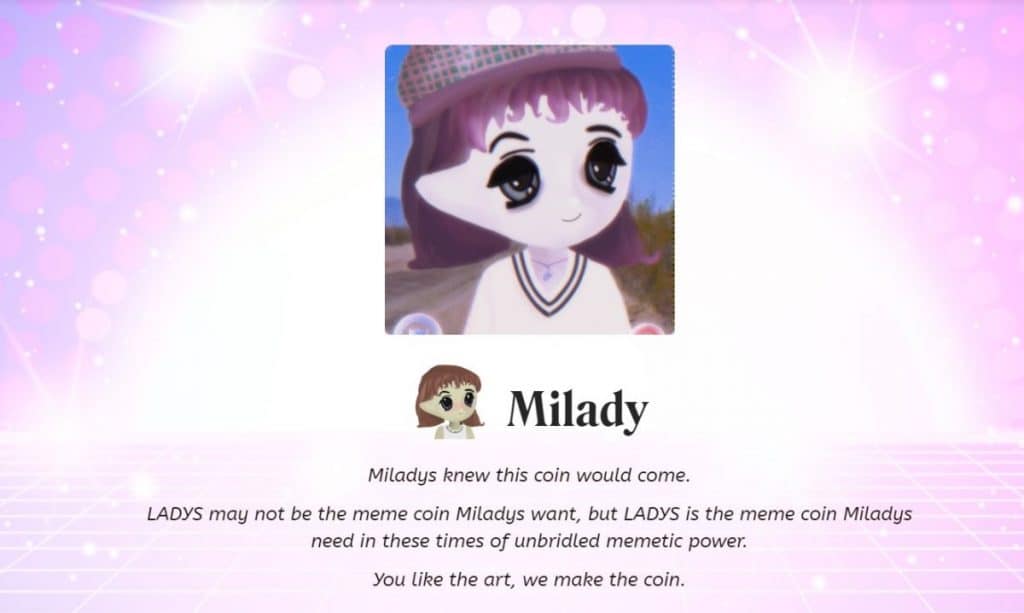 The meme coin of the Milady NFT collection, this token experienced a Dogelike surge after Elon Musk tweeted about it. Launched in May, the value of LADYS rose 86% in 24 hours, hitting a 24-hour trading volume of $221 million.
It has a circulating supply of 734,366,023,232,083 LADYS coins and a max. supply of 888,000,888,000,888 LADYS coins, and 1% of the supply were airdropped to all $PEPE and Milady NFT holders. It currently has a live market cap of $100,529,911. The token is currently listed on Bybit, Crypto.com, Bitget, Huobi Global, and more.
Tamadoge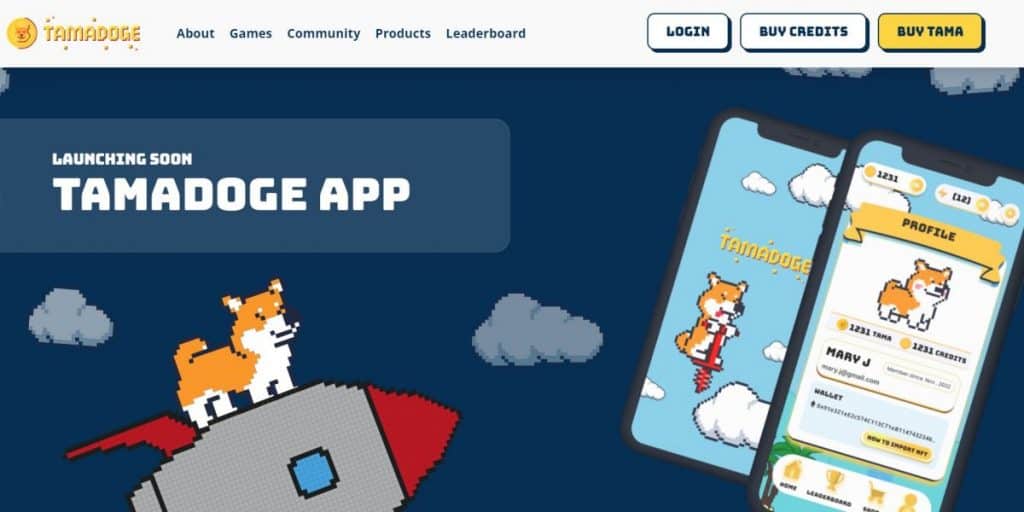 Launched in Sep 2022, Tamadoge is a meme coin blockchain project. Its ecosystem combines NFT trading with virtual pets, where users acquire tokens, monitor their development, and participate in battles with other players. $TAMA is the gateway token of the Tamaverse – where users can mint, breed, and battle with their NFT pets in the metaverse. All Tamadoge NFT pets can be bought, sold, traded, or upgraded.
Its website states that the play-to-earn opportunities of Tamadoge will expand to include Augmented Reality (AR) experiences, allowing your NFT to play with its friends in the Tamaverse. Currently, it has a live market cap of $17,326,543 with a circulating supply of 1,025,380,201 TAMA coins and a max supply of 2,000,000,000 TAMA coins. The tokens are available for trading on Bybit, OKX, Bitmart, MEXC Global, and more.
FAQ
What exactly are memecoins, and how do they differ from traditional cryptocurrencies?
Memecoins are a cryptocurrency created as a joke and marketed through memes and viral content. They differ from traditional cryptocurrencies because they aren't based on complex technology or blockchain algorithms. Instead, they rely on their brand recognition and social media hype to gain value and popularity.
What's the appeal of investing in memecoins?
Many people are drawn to meme coins because of the potential for high profits. Some meme coins have seen massive price increases, with early investors making significant returns. The playful nature of meme coins and the sense of community they create can also be attractive to some investors.
Is buying meme coins a good idea?
Keep in mind that buying meme coins is like gambling. It can be risky, and you should approach it with caution. While some people have made a fortune from meme coins, remember that the market for meme coins is highly speculative and volatile. Prices can rise and fall rapidly based on social media trends and celebrity endorsements.
Can you actually use meme coins to buy things?
The usefulness of meme coins as a currency is limited, as they aren't widely accepted by merchants. However, some businesses, including Tesla, AirBaltic, AMC Theaters, and Twitch, have started accepting certain dogecoin as payment.
Why do some people struggle to sell their meme coins for a profit?
Some people may struggle to sell their meme coins for a profit due to liquidity issues. This means there aren't enough buyers in the market to match the number of sellers, making it difficult to sell the coin at the desired price. Some meme coins may have low trading volumes, making it hard to find a buyer for the coin. It's important to research the liquidity of a meme coin before investing and to be prepared to hold onto the coin for an extended period if needed.
Conclusion
Many people are drawn to meme coins because of the potential for large profits, while others remain skeptical. Some people who bought early have made a ton of money from meme coins that skyrocketed in value. However, some struggle to sell their meme coins for profit due to liquidity issues. But it's important to keep in mind that investing in meme coins is more like gambling than traditional investing. The market for meme coins is highly speculative and volatile, with pumps and dumps, and prices can rise and fall rapidly based on social media trends and celebrity endorsements. If you're thinking of buying meme coins, you should approach it with caution and be prepared to potentially lose all of your "investments."
Read more:
Disclaimer
Any data, text, or other content on this page is provided as general market information and not as investment advice. Past performance is not necessarily an indicator of future results.