Xsolla and Crypto.com Partner to Integrate Payment Solutions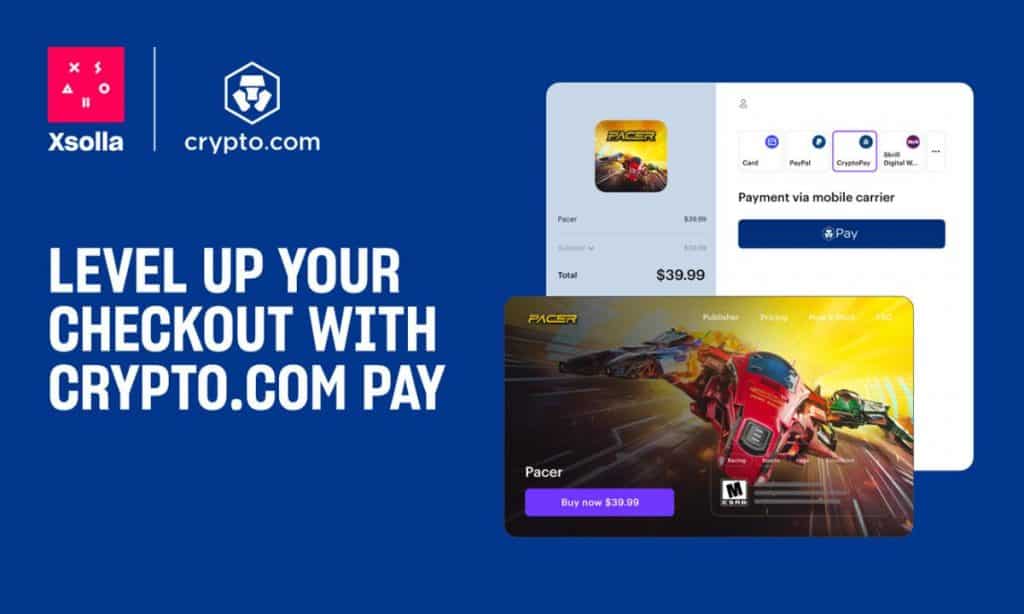 LOS ANGELES, United States, August 8th, 2023, Chainwire
Xsolla, a global video game commerce company, and global cryptocurrency platform Crypto.com have announced a partnership for the integration of Crypto.com's checkout solution into Xsolla's Pay Station platform. 
This transformative integration of Crypto.com Pay represents a significant advancement in the gaming industry and creates new possibilities for game developers and players, enabling them to accept cryptocurrency payments and streamline transactions in a user-friendly and secure manner for a universally enhanced experience. This pivotal update broadens the horizon for digital payment methods, offering players more diverse and preferred transaction options in digital and metaverse environments. This collaboration also marks a significant step for Crypto.com in building its presence and network across the gaming industry.
"There is significant potential in the convergence of gaming and Web3," said Eric Anziani, President and Chief Operating Officer of Crypto.com. "By partnering with a global gaming leader like Xsolla and leveraging our respective assets and expertise, we are helping make that potential a reality – giving developers, publishers, and players a seamless way to engage and create value in the crypto economy."
Xsolla's Pay Station, which facilitates in-game purchases across 200+ regions and countries using a variety of compliant payment providers, is enhancing its service with the integration of Crypto.com Pay. This forthcoming development promises to expand the reach of developers and publishers, enabling them to engage a more diverse player base and tap into new, dynamic markets and revenue streams.
"We are thrilled about this partnership with Crypto.com and the significant integration of Crypto.com Pay into our Pay Station platform. The gaming industry is rapidly evolving, and we must adapt to meet those changes. The integration of cryptocurrencies as a form of payment offers game developers and players an innovative payment solution that aligns with the global shift towards digital currencies," said Chris Hewish, CEO of Xsolla. "Our collaboration with Crypto.com marks a pivotal moment for the gaming industry, paving the way for a more inclusive and secure gaming ecosystem."
"We are tremendously excited to take this first step with Xsolla as part of a broader collaboration initiative in Korea and on a global level," said Patrick Yoon, General Manager of Crypto.com Korea. "We look forward to continuing to work with Xsolla in developing and advancing payment ecosystems and digital asset adoption."
For more information about Crypto.com Pay and Pay Station, please visit: xsolla.pro/cryptocom 
About Xsolla
Xsolla is a global video game commerce company with a robust and powerful set of tools and services designed specifically for the industry. Since its founding in 2005, Xsolla has helped thousands of game developers and publishers of all sizes fund, market, launch, and monetize their games globally and across multiple platforms. As an innovative leader in game commerce, Xsolla's mission is to solve the inherent complexities of global distribution, marketing, and monetization to help our partners reach more geographies, generate more revenue and create relationships with gamers worldwide. Headquartered and incorporated in Los Angeles, California, with offices in Berlin, Seoul, Beijing, Kuala Lumpur, Tokyo, and cities around the world, Xsolla supports major gaming titles like Valve, Twitch, Roblox, Ubisoft, Epic Games, Take-Two, KRAFTON, Nexters, NetEase, Playstudios, Playrix, miHoYo, and more. 
For additional information and to learn more, please visit: xsolla.com
About Crypto.com
Founded in 2016, Crypto.com is trusted by more than 80 million customers worldwide and is the industry leader in regulatory compliance, security, and privacy. Our vision is simple: Cryptocurrency in Every Wallet™. Crypto.com is committed to accelerating the adoption of cryptocurrency through innovation and empowering the next generation of builders, creators, and entrepreneurs to develop a fairer and more equitable digital ecosystem.
 Learn more at crypto.com
Contact
Global Director of Public Relations
Derrick Stembridge
Xsolla
[email protected]
919-971-7855

Disclaimer
In line with the Trust Project guidelines, please note that the information provided on this page is not intended to be and should not be interpreted as legal, tax, investment, financial, or any other form of advice. It is important to only invest what you can afford to lose and to seek independent financial advice if you have any doubts. For further information, we suggest referring to the terms and conditions as well as the help and support pages provided by the issuer or advertiser. MetaversePost is committed to accurate, unbiased reporting, but market conditions are subject to change without notice.
About The Author
Chainwire is the top blockchain and cryptocurrency newswire, distributing press releases, and maximizing crypto news coverage.
More articles


Chainwire is the top blockchain and cryptocurrency newswire, distributing press releases, and maximizing crypto news coverage.
Hot Stories
by Victor Dey
November 30, 2023
by Kumar Gandharv
November 30, 2023
by Victor Dey
November 30, 2023
by Nik Asti
November 29, 2023
Latest News
by Alisa Davidson
November 30, 2023
by Victor Dey
November 30, 2023
by Alisa Davidson
November 30, 2023
by Nik Asti
November 30, 2023