Metaverse fundraising report for July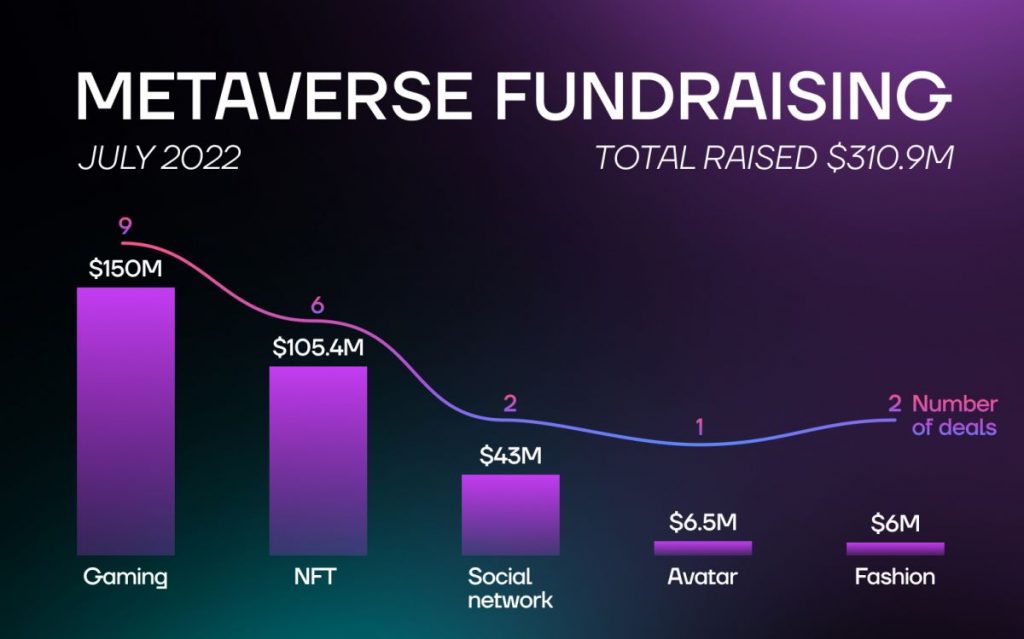 Metaverse Post introduces a fundraising report for July 2022 that focuses on tech companies specializing in Web3, Metaverse, gaming, and NFTs.
As 'NFT' and 'DAO' terms might not excite investors as much as before, the overall investment in Web3 reached $6.7 billion in the first half of 2022. Blockchain-based games were and still remain the hottest topic for investors. In July, venture funds and angel investors also paid attention to NFT, avatar, and digital fashion startups, as well as blockchain-based social networks.
GAMING
Despite the overall market downturn, investors are highly interested in Web3 gaming. The first half of 2022 saw blockchain-based gaming startups raise a total of $4.1 billion. In July, gaming startups received more than $150 million in investment money. 
Soba, an open-world gaming platform, raised $13.6 million. Lightspeed Venture Partners led the seed round, with participation from FTX Ventures, Cherry Ventures, Point Nine Capital, and TQ Ventures.
Planetarium Labs, a community-driven Web3 game network, got $32 million. The company plans to build its network with gaming and player governance tools. Digital entertainment leader Animoca Brands led the Series A round, with backing from Trust Universe and WeMade.
Blockchain for the games Oasys raised $20 million. The private sale round was led by Republic Capital. Other participants included Jump Crypto, CryptoCom, Huobi, Kucoin, Gate, bitbank, and Mirana Ventures.
Canada-based independent gaming studio Bravo Ready received $3 million in a seed round from Solana Ventures, 6th Man Ventures, and Shima Capital. The company plans to use the funds to accelerate software and game development.
Free-to-play and play-to-earn soccer game CLUB raised $3.1 million. The seed round was led by Zee Prime Capital. Among other participants, there are ATKA, Merit Circle, CitizenX, Moonlanding Ventures, and Petrock Capital.
Solana-based MonkeyLeague game developers raised $24 million. Griffin Gaming Partners and Maverick Ventures Israel led the Series A round. Drive by DraftKings, Vgames, and 6th Man Ventures are among other investors.
NFT card game Alchemon, based on the Algorand blockchain, raised $1 million in a seed round led by Borderless Capital. Pillar VC and Yieldly also backed the project.
Web3 game Mighty Action Heroes raised $10 million. The funding round led by Framework Ventures, with investments from Mirana, Sfermion, Spartan, Dune Ventures, Sanctor Capital, Folius Ventures, Ocular, Polygon, Play Future Fund, Everblue, Ancient8, Ready Player DAO, Razer, Avocado DAO, DWeb3, Great South Gate, and mrblock.
Web3 gaming company Ambrus Studio closed a funding round with an undisclosed amount. The round was led by Spartan Group and M13. CVP NLH, 6th Man Ventures, Axia8, Krypital, Red Building Capital, Cobo, and Bas1s Ventures also backed the project.
Ambrus Studio's token funding also reached a valuation of $65 million. The company will use the funds for product development.
NFT
Non-fungible token projects continue gaining mainstream attention and funding despite the crypto winter. Even though NFT sales have decreased in volume and the largest NFT marketplace has shorted its staff, the sphere still excites investors. In the first half of 2022, DeFi and NFT startups raised $203 million altogether. 
In July, venture funds invested approximately $105,4 million in NFT companies. It's worth noting that most of these startups provide utility and aim to facilitate the usage of NFT platforms.
DeepNFTValue raised $4 million. The startup estimates the value of NFT collections and plans to expand to Bored Ape Yacht Club, Azuki, and other collections. The funding round was led by Rockaway Blockchain Fund. Among other participants are 1Confirmation and Cygni Capital.
Cardinal, a Solana NFT utility protocol, raised $4.4 million. The seed round was led by the Protagonist and Solana Ventures. Animoca Brands, Alameda Research, Delphi Digital, and CMS Holdings are among other investors.
reNFT, an NFT renting protocol, raised $5 million. Mechanism and gumi Cryptos Capital (gCC) co-led the round. Among other investors, there are Gemini, The Sandbox, OpenSea, Sfermion, Morningstar Ventures, EveryRealm, OP Crypto, Fourth Revolution Capital, and Metastreet.
Hang, an NFT brand loyalty platform, raised $16 million. The platform allows users to earn NFT memberships and gain perks by simply being a fan. Crypto VC firm Paradigm led Series A funding. Other investors include Tiger Global, Good Friends, Kevin Durant's Thirty Five Ventures, MrBeast's Night Ventures, and Shrug Capital.
Unstoppable Domains raised $65 million in a Series A round at a $1 billion valuation. The four-year-old company builds digital identity markers as NFTs and will use the funds to reduce the friction of crypto payments between applications. The round was led by Pantera Capital. Among other investors of the round are Mayfield, Gaingels, Alchemy Ventures, Redbeard Ventures, Spartan Group, OKG Investments, Polygon, CoinDCX, and CoinGecko.
Center, an NFT indexing company, raised $11 million in a seed round. The company will develop a search product that indexes NFTs across multiple blockchains. The investors are VC firms Thrive and Founders Fund.
FASHION
Digital fashion has not been the most attractive Web3 topic for investors. In the first half of 2022, digital fashion startups raised $150 million. 
However, in June, Mark Zuckerberg announced the launch of Meta's Avatar store, where users can purchase clothing for their avatars. Additionally, the social media giant partners with Prada, Thom Browne, Balenciaga, and DressX to develop digital fashion garments.
So, digital clothing might gain users' and investors' attention in the second half of the year. In July, two digital fashion companies raised $6 million altogether.
Draup, a Web3 digital fashion platform, raised $1.5 million. The company aims to maximize digital fashion's value and create a revolutionary impact. The pre-seed round was led by Variant Fund. Among other participants are TCG Crypto, FLAMINGO DAO, and NEON DAO.
Croatia-based digital fashion house Tribute Brand raised $4.5 million. The seed round was led by crypto-focused venture fund Collab+Currency, which previously invested in Nifty Island, ArtBlocks, Rarible, and Superrare. Among other investors are Flamingo DAO, RED DAO, Alice Lloyd George, and Lattice Capital.
"This is something that has a long-term vision. It's not about just selling and reselling. Crypto in digital fashion is about expressing identity in digital spaces, and we use blockchain as proof of ownership."

Gala Marija Vrbanic, Tribute Brand CEO
AVATAR
In the first half of 2022, Avatar-focused companies raised $130 million.
In July, Hologram, a virtual avatar firm, raised $6.5 million. The company will develop blockchain-based avatars for Zoom, VR chats, Twitch, and other platforms. The seed round was led by Polychain Capital. Among other participants are Nascent, Inflection, The Operating Group, Quantstamp, Neon DAO, Foothill Ventures, South Park Commons, and several angel investors.
SOCIAL NETWORK
In the first half of 2022, social network startups raised $130 million. However, decentralized social network companies raised $43 million in July alone.
Lines, a new Web3 messaging platform, raised $4 million. The seed round was led by tech entrepreneur Elad Gil, who previously invested in Airbnb, Coinbase, and Pinterest. Among other participants are Hash3, Scalar Capital, Volt Capital, Caffeinated Capital, Ethereal Ventures, and Mischief. 
Blockchain-based social network DSCVR raised $9 million. The seed round was led by Polychain Capital and backed by Upfront Ventures, Tomahawk VC, Fyrfly Venture Partners, Shima Capital, and Bertelsmann Digital Media Investments (BDMI), among others.
Farcaster, a decentralized social network protocol, raised $30 million in a round led by a16z. Among other investors are Standard Crypto, 1confirmation, A Capital, Coinbase Ventures, Ribbit Capital, Multicoin Capital, and Scalar Capital.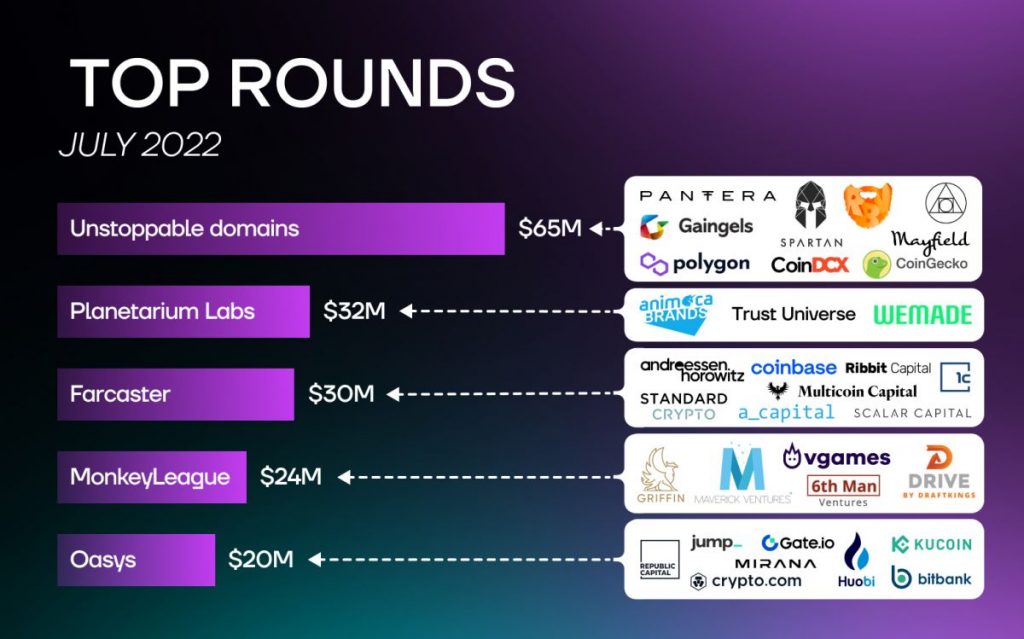 This bear cycle further proofs that our industry is resilient and able to find opportunity in adversity. Solid and legitimate ventures continue to fundraise, build their products and deliver results. With deals being as promising as they are, now is a great time to invest. Major kudos to all the funds that did — it's not easy, but it will be worthwhile. At Cryptomeria Capital we, too, are going full speed ahead and amping up our activity to take full advantage of the current landscape.

Vadim Krekotin, Cryptomeria Capital Founding Partner
As a result, among the most active investors in July are:
Pantera Capital. It led Series A round of Unstoppable Domains, which has raised a total of $65 million. Pantera Capital is the first U.S. institutional asset manager that focuses on blockchain technology. It has previously invested in several NFT marketplaces and blockchain-based applications, including NEAR, Polkadot, Coinbase Earn, and others.
Animoca Brands. It led Series A round of Web3 game network Planetarium Labs, which raised a total of $32 million. The digital entertainment leader has previously invested in Axie Infinity, Sky Mavis, The Sandbox, and other well-known gaming and Metaverse companies.
a16z, also known as Andreessen Horowitz, funded the decentralized social network protocol Farcaster with $30 million. Even though a16z's new accelerator for early-stage entrepreneurs does not have a 'crypto' section on the list, the firm continues investing in blockchain technology-backed startups. Andreessen Horowitz, considered one of the largest venture funds, has previously invested in Facebook, Twitter, Airbnb, Coinbase, and other now well-known companies.
Griffin Gaming Partners and Maverick Ventures Israel raised $24 million for MonkeyLeague game developers altogether. Griffin Gaming Partners focuses on gaming-related Web3 companies, content, software infrastructure, and social platforms, while Maverick Ventures Israel invests in tech companies based in Israel.
Republic Capital led the private sale round of blockchain for games Oasys, which raised a total of $20 million. The investment advisory focuses on Web3, deep tech, and fintech startups.
Read related posts:
Disclaimer
In line with the Trust Project guidelines, please note that the information provided on this page is not intended to be and should not be interpreted as legal, tax, investment, financial, or any other form of advice. It is important to only invest what you can afford to lose and to seek independent financial advice if you have any doubts. For further information, we suggest referring to the terms and conditions as well as the help and support pages provided by the issuer or advertiser. MetaversePost is committed to accurate, unbiased reporting, but market conditions are subject to change without notice.
About The Author
Valeria is a reporter for Metaverse Post. She focuses on fundraises, AI, metaverse, digital fashion, NFTs, and everything web3-related.Valeria has a Master's degree in Public Communications and is getting her second Major in International Business Management. She dedicates her free time to photography and fashion styling. At the age of 13, Valeria created her first fashion-focused blog, which developed her passion for journalism and style. She is based in northern Italy and often works remotely from different European cities.You can contact her at [email protected]
More articles


Valeria is a reporter for Metaverse Post. She focuses on fundraises, AI, metaverse, digital fashion, NFTs, and everything web3-related.Valeria has a Master's degree in Public Communications and is getting her second Major in International Business Management. She dedicates her free time to photography and fashion styling. At the age of 13, Valeria created her first fashion-focused blog, which developed her passion for journalism and style. She is based in northern Italy and often works remotely from different European cities.You can contact her at [email protected]
Hot Stories
by Victor Dey
November 30, 2023
by Kumar Gandharv
November 30, 2023
by Victor Dey
November 30, 2023
by Nik Asti
November 29, 2023
Latest News
by Alisa Davidson
November 30, 2023
by Victor Dey
November 30, 2023
by Alisa Davidson
November 30, 2023
by Nik Asti
November 30, 2023