FLUUS Announces $FLUUS Token Listing on MEXC Exchange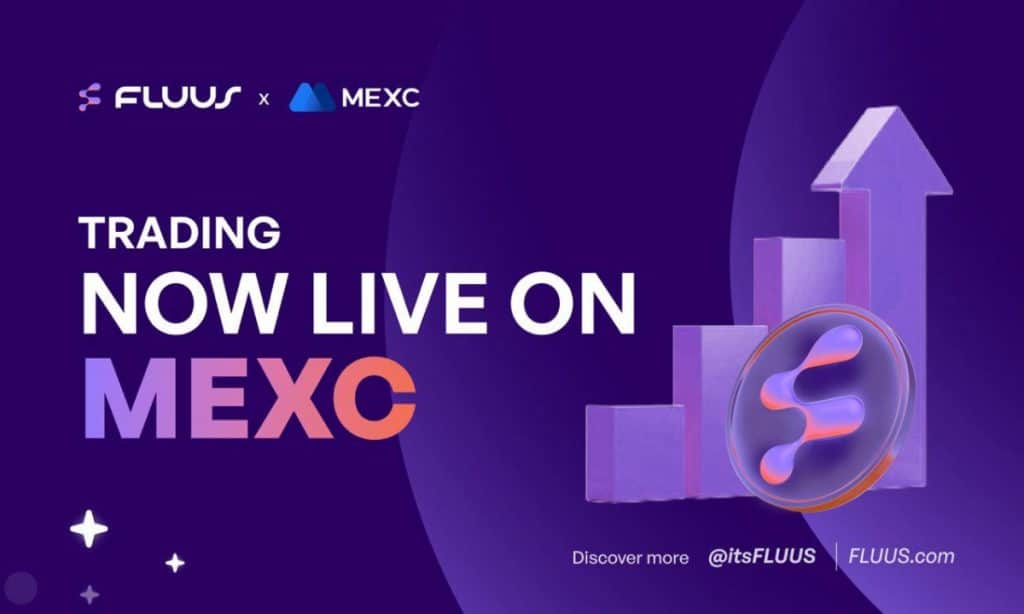 Majuro, Marshall Islands, May 25th, 2023, Chainwire
Web3 project FLUUS has announced the listing of its eponymous token on MEXC exchange. The $FLUUS token was listed on MEXC on May 24 at 12:00 UTC, marking the first centralized exchange to list the Avalanche-based asset.
MEXC's decision to list the $FLUUS token will support the FLUUS team in its mission to revolutionize access to web3 for developers and consumers. As a multi-purpose utility token, $FLUUS performs a range of roles including fee reductions for developers integrating FLUUS into their solutions. It also serves as collateral for on and off-ramp partners and rewards retail users with real yield.
FLUUS is on a mission to connect the world's digital money by making it easier for crypto holders to transact. FLUUS Pay, its flagship product, combines a widget and API that enables anyone to buy, sell, and swap cryptocurrencies. It can be easily embedded into third-party websites and applications.
As a fixed supply token, the one billion $FLUUS that have been minted will never be increased. The token aligns incentives within the FLUUS ecosystem and its importance in driving desirable outcomes will increase as further FLUUS products are released. Use cases such as staking and governance within FLUUS DAO will be complemented by new ways of saving $FLUUS while driving the project's overarching goal of making crypto spendable for millions.
The second project to launch on the AllianceBlock Fundrs Launchpad, the $FLUUS token sale sold out in just three hours. The token's listing on MEXC was ratified with the support of the exchange's community. The Kickstarter session that resulted in the $FLUUS listing was confirmed after a total of 45,089,514 MX voted in favor.
MEXC is the 15th largest cryptocurrency exchange by volume and is famed for its support of emerging web3 projects that are on a mission to effect positive change through intelligent tokenization.
About FLUUS
By building global solutions that cater to underserved markets, FLUUS promises to evolve the crypto ecosystem to connect the whole of humanity to better economic opportunities. FLUUS believes in being a force for positive change, evolving the crypto ecosystem to boldly overcome financial barriers in the developing world.
Learn more: https://www.fluus.com/
Contact
Dan Edelstein
[email protected]

Disclaimer
In line with the Trust Project guidelines, please note that the information provided on this page is not intended to be and should not be interpreted as legal, tax, investment, financial, or any other form of advice. It is important to only invest what you can afford to lose and to seek independent financial advice if you have any doubts. For further information, we suggest referring to the terms and conditions as well as the help and support pages provided by the issuer or advertiser. MetaversePost is committed to accurate, unbiased reporting, but market conditions are subject to change without notice.
About The Author
Chainwire is the top blockchain and cryptocurrency newswire, distributing press releases, and maximizing crypto news coverage.
More articles


Chainwire is the top blockchain and cryptocurrency newswire, distributing press releases, and maximizing crypto news coverage.
Hot Stories
by Victor Dey
November 30, 2023
by Kumar Gandharv
November 30, 2023
by Victor Dey
November 30, 2023
by Nik Asti
November 29, 2023
Latest News
by Alisa Davidson
November 30, 2023
by Victor Dey
November 30, 2023
by Alisa Davidson
November 30, 2023
by Nik Asti
November 30, 2023