YouTuber BitBoy Crypto, who gives "financial advise," sues YouTuber Atozy for defamation, emotional distress
YouTuber BitBoy Crypto, who has more than 1.5 million subscribers on the platform, has sued YouTuber Atozy for "defamation and emotional distress." The latter has shared his thoughts in a Twitter thread published on August 24.
BitBoy Crypto, whose real name is Ben Armstrong, is a 39-year-old resident of Atlanta, Georgia. Being one of the most viewed crypto bloggers, BitBoy's channel is based on giving "financial advise," where he discusses crypto opportunities and at times promotes risky investment opportunities to his followers.
For instance, Armstrong has talked about the Shibainu cryptocurrency, claiming that it would bring followers financial freedom. "Bitcoin is going $20 million a coin" is also his advice. Further, the YouTuber encouraged followers to invest in Celsius. However, when the latter went bankrupt, Ben Armstrong was the first blogger to lead an online charge against the company.
There is no need to say that BitBoy Crypto led his numerous followers to major money loss.
In November 2021, YouTuber Atozy (real name Erling Mengshoel), who has 1.2 million followers, published a video dubbed "This YouTube Scams His Fans," in which he calls BitBoy a "dirtbag" who promoted crypto scams. Since then, the blogger has received several lawsuit drafts, that is before Ben Armstrong sent him a real one.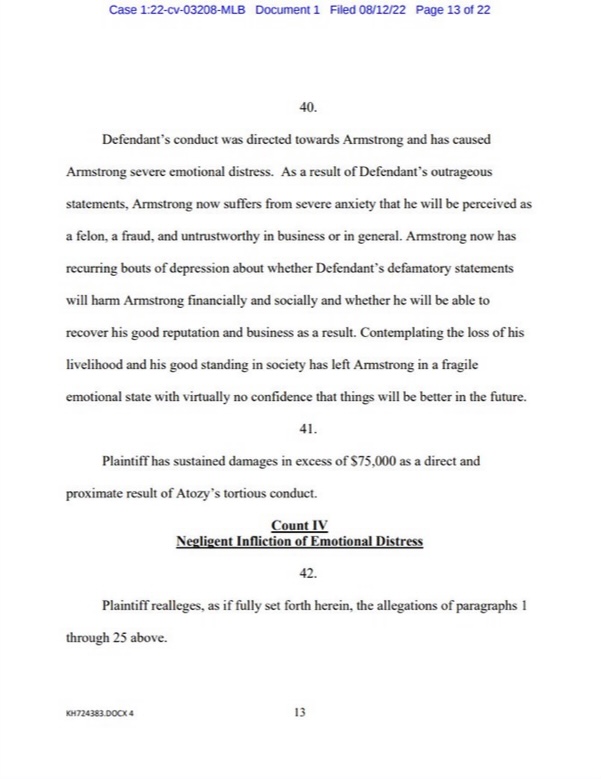 The federal suit "involves impact and losses in excess of $75,000." Atozy is sued by BitBoy Crypto for "defamation, defamation per se, emotional defamation, intentional infliction of emotional distress, torturous interference with business relations or potential business relations, violation of uniform deceptive practices act, and violation of fair business practices act."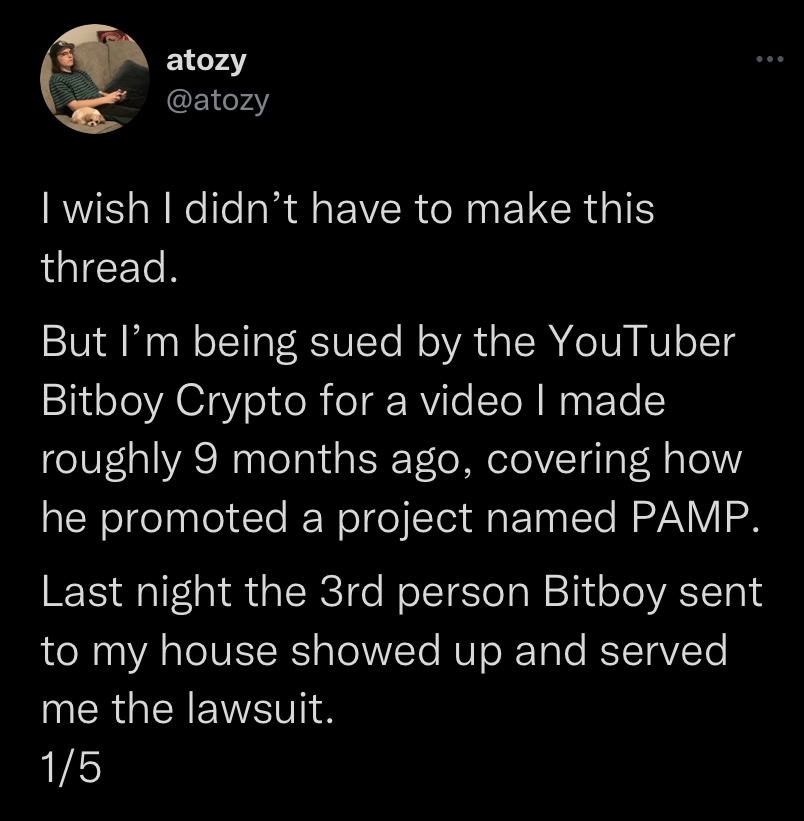 Following the suit, Erling Mengshoel decides to crowdfund in order to cover the costs of defending himself against the lawsuit.
"All funds will be used to pay legal fees. If there is anything left over I will donate them to various charities as I have no interest in profiting from my community,"

States Atozy's tweet.
Read related posts:
Disclaimer
In line with the Trust Project guidelines, please note that the information provided on this page is not intended to be and should not be interpreted as legal, tax, investment, financial, or any other form of advice. It is important to only invest what you can afford to lose and to seek independent financial advice if you have any doubts. For further information, we suggest referring to the terms and conditions as well as the help and support pages provided by the issuer or advertiser. MetaversePost is committed to accurate, unbiased reporting, but market conditions are subject to change without notice.
About The Author
Valeria is a reporter for Metaverse Post. She focuses on fundraises, AI, metaverse, digital fashion, NFTs, and everything web3-related.Valeria has a Master's degree in Public Communications and is getting her second Major in International Business Management. She dedicates her free time to photography and fashion styling. At the age of 13, Valeria created her first fashion-focused blog, which developed her passion for journalism and style. She is based in northern Italy and often works remotely from different European cities.You can contact her at [email protected]
More articles


Valeria is a reporter for Metaverse Post. She focuses on fundraises, AI, metaverse, digital fashion, NFTs, and everything web3-related.Valeria has a Master's degree in Public Communications and is getting her second Major in International Business Management. She dedicates her free time to photography and fashion styling. At the age of 13, Valeria created her first fashion-focused blog, which developed her passion for journalism and style. She is based in northern Italy and often works remotely from different European cities.You can contact her at [email protected]
Hot Stories
by Victor Dey
December 06, 2023
by Victor Dey
December 06, 2023
by Kumar Gandharv
December 06, 2023
by Victor Dey
December 05, 2023
Latest News
by Alisa Davidson
December 06, 2023
by Alisa Davidson
December 06, 2023
by Kumar Gandharv
December 06, 2023
by Victor Dey
December 06, 2023