CoinMarketCap Web3 Conference "Catalyst" Early-Bird Registration Now Open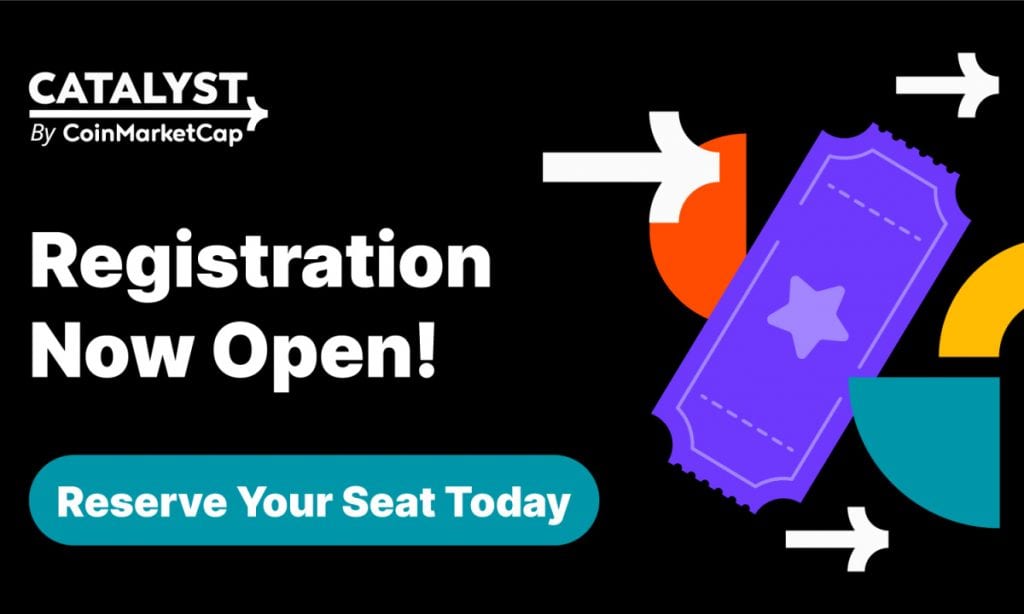 London, United Kingdom, June 6th, 2023, Chainwire
CoinMarketCap's flagship Web3 conference "Catalyst" has opened early-bird registration. The conference will take place at the (Lisbon Congress Centre, Portugal), on February 21st ~ 22nd, 2024. Catalyst will bring together the world's brightest minds in technology, art, philosophy, and finance to reimagine the future of Web3.
The Conference, originally scheduled for October 2023, has been changed to February 2024. This decision was made following careful consideration by the event organizers. With an already congested European conference calendar in Q4 2023, CoinMarketCap's Catalyst conference will provide more value to attendees, speakers and the industry at large with its new date.
Tickets are limited for this exclusive gathering and will be available on a first-come, first-served basis through the Catalyst website. Payment for the tickets can be made with fiat.
With the European crypto scene thriving, Lisbon serves as the perfect backdrop for this groundbreaking event. The Catalyst conference will provide a platform for innovative discussions and collaborations that will shape the industry's future. This is the ideal opportunity for professionals and enthusiasts to come together, exchange ideas, and drive the next big breakthrough in the crypto world.
Rush Luton, CEO of CoinMarketCap, said that Catalyst would bring together experts "to collaborate and learn about upcoming trends, challenges, and opportunities." In alignment with the conference's title, Luton stated that "Catalyst is designed to spark new ideas and initiatives." 
Conference attendees can expect a high-caliber event featuring some of the most prominent figures in the crypto and blockchain space. Tickets are available on the official Catalyst website. Attendees can follow upcoming announcements on CoinMarketCap's newsletter and social channels.
Conference Website:
https://coinmarketcap.com/events/catalyst2024
About CoinMarketCap: CoinMarketCap is the world's most-referenced price-tracking website for crypto assets in the rapidly growing cryptocurrency space. Its mission is to make crypto discoverable and efficient globally by empowering retail users with unbiased, high quality and accurate information for drawing their own informed conclusions.
Contact
Events Team
[email protected]

Disclaimer
In line with the Trust Project guidelines, please note that the information provided on this page is not intended to be and should not be interpreted as legal, tax, investment, financial, or any other form of advice. It is important to only invest what you can afford to lose and to seek independent financial advice if you have any doubts. For further information, we suggest referring to the terms and conditions as well as the help and support pages provided by the issuer or advertiser. MetaversePost is committed to accurate, unbiased reporting, but market conditions are subject to change without notice.
About The Author
Chainwire is the top blockchain and cryptocurrency newswire, distributing press releases, and maximizing crypto news coverage.
More articles


Chainwire is the top blockchain and cryptocurrency newswire, distributing press releases, and maximizing crypto news coverage.
Hot Stories
by Victor Dey
November 30, 2023
by Kumar Gandharv
November 30, 2023
by Victor Dey
November 30, 2023
by Nik Asti
November 29, 2023
Latest News
by Kumar Gandharv
December 01, 2023
by Nik Asti
December 01, 2023
by Alisa Davidson
December 01, 2023
by Nik Asti
December 01, 2023