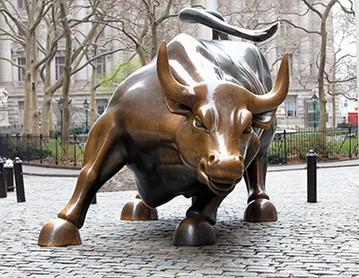 What is a Bull Run?
A bull run happens when a market exhibits consistent price increases over a period of time. Further, it is typical seen as a 20% rise from highs due to market optimism and positive sentiment.
A commodity is considered to be in a bull market if the sustained period is over two months or more. The opposite of a Bull Run is a Bear Market.
Understanding Bull Runs
Bull runs are a sure sign of increase investor risk-taking and often follow (and are followed by) bear markets. A bull market in cryptocurrency can be as short as a few days and, thanks to volatility of most cryptocurrency markets, can lead directly into flat or bear markets, depending on the currency.
What is the source of the bear/bull imagery? Wall Street has long use the image of a bull and a bear to describe various market conditions. In this case, a bear "bears down" on a market i.e. slows it down while a bull "pushes up" a market, presumably with its horns.