In Brief
Bored Ape Yacht Club (BAYC) is a vibrant ecosystem of NFT owners and contributors.
Its members actively foster a self-sustaining digital society.
BAYC's resilience demonstrates the power of online communities, setting new standards for digital brand creation that aim for global recognition.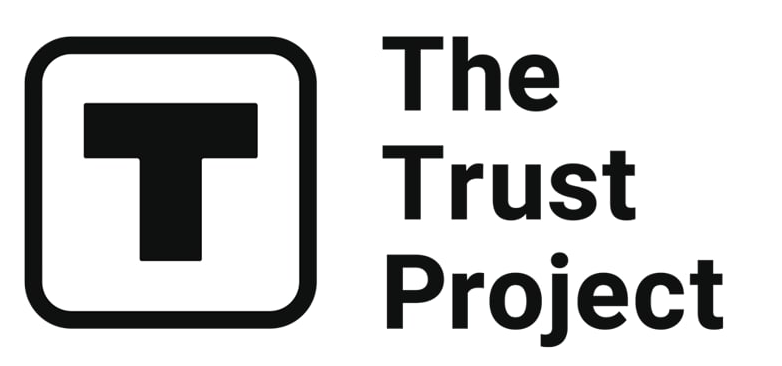 The Trust Project is a worldwide group of news organizations working to establish transparency standards.
The Bored Ape Yacht Club (BAYC) is not just a collection of digital art pieces in the form of Non-Fungible Tokens (NFTs). It's a burgeoning ecosystem, a hub of creativity, and a rapidly expanding community that is rewriting the rules of digital engagement and ownership.
Each Bored Ape NFT serves as a membership card, granting access to a lively community and various benefits. However, the true magic of BAYC goes far beyond ownership of a unique piece of art. It lies in the vibrant community of creators, artists, writers, influencers, and entrepreneurs continually contributing to its thriving ecosystem.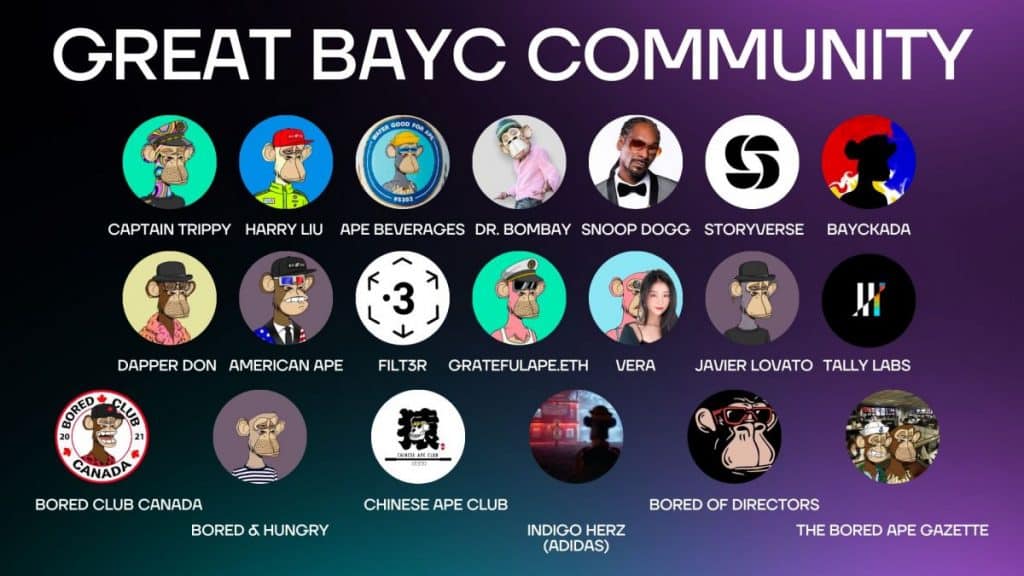 The Players in the Bored Ape Ecosystem
The BAYC ecosystem comprises a diverse set of actors, each playing a unique role in expanding and energizing the community.
Community Leaders and Storytellers
Media and News Outlets
Brand Collaborations and Sponsors
Food and Beverage Enterprises
Content Creators and Entertainers
Community Shows and Podcasts
Artists and Derivative Makers
Merchandise and Apparel
Local Ape Clubs

1. Storytelling and Narrative Creation
In every community, stories and narratives are the glue that binds members together. In BAYC, prominent figures like Captain Trippy, OGDfarmer, TallyLabsNFT, Ramon Govea, and Harry_forj are crucial in driving this aspect.
They develop and advance intriguing narratives that build the lore of the Bored Ape universe, ensuring a continuous engagement from the community and creating a strong shared identity.
2. Media and Content Creation
Media channels such as BoredApeGazette serve as the community's news outlets, ensuring members stay informed about recent developments. Platforms like FILT3R_Studio, on the other hand, encourage members to create and share their content, thereby promoting user engagement and a sense of ownership within the community.
3. Brand Collaborations
Brand collaborations, such as the partnership between Adidas Originals and Bored Ape Indigo Herz, play a crucial role in extending the reach and influence of BAYC. These collaborations not only provide mainstream visibility for BAYC but also validate its position in the broader cultural landscape.
4. Enterprises within the Ecosystem
Bored n Hungry and Ape Beverages are examples of enterprises that have sprung up within the BAYC ecosystem. These businesses provide products and services to community members, creating a self-sustaining economic system and strengthening the sense of community.
5. Entertainment and Engagement
High-profile celebrities like Snoop Dogg, along with creators like Troy Caylak, leonasskau, and Rionna Morgan, enrich the BAYC ecosystem with diverse entertainment options. They actively participate by creating content, engaging with community members, and providing novel experiences for the audience.
6. Community-driven Initiatives
Shows and podcasts like The Grateful Show and The Boring Show are prime examples of community-driven initiatives. They stimulate dialogue and engagement within the community, fostering a more connected and active membership.
7. Artistic Contributions
Artists like JavierLovato127, MeiravHaber, and BoredOhms add a creative layer to the BAYC ecosystem through their art and derivative works. They contribute to the richness of the community's culture and provide members with new forms of expression.
8. Merchandise and Physical Goods
The creation of physical merchandise, led by entities like NFIPHoldings, brings the digital world of BAYC into tangible reality. This extension of the BAYC brand into the physical realm increases its visibility and provides members with a way to show their affiliation in real life.
9. Local and Regional Communities
Regional clubs like bayckada, BoredClubCanada, Chinese_ApeClub, FrenchApeYC, and baycsg foster local BAYC communities. These localized groups make the global BAYC brand more accessible and relatable to different cultures and regions, thereby expanding its reach and influence.
In each of these categories, the Bored Ape Yacht Club community is thriving and expanding, driven by the passion and creativity of its members. These elements work together, creating a robust and resilient ecosystem that is propelling BAYC towards becoming a global brand.
Building a Global Brand
The Bored Ape Yacht Club is more than a digital art collection; it's an evolving, dynamic ecosystem. The ethos of the community is embodied in the statement, "Apes come and go but real ones don't just stay. They build." The BAYC ecosystem thrives because its members are not just passive holders; they are active participants, builders, and creators.
The success of BAYC as a global brand is not just the result of savvy marketing or a clever concept. It is built on the passion, creativity, and dedication of its community members. This model of community-driven development and engagement could serve as a blueprint for other digital communities in the future.
Just as a physical community needs infrastructure, businesses, and cultural institutions to thrive, the same is true for digital communities. Bored Ape Yacht Club's success lies in the ecosystem's ability to facilitate these functions in a decentralized and digital manner. From providing news and entertainment to creating merchandise, from fostering local communities to generating art and culture, the BAYC ecosystem is an impressive digital parallel to a physical city or society.
Forward, Together
The Bored Ape Yacht Club is a clear example of how a community can rally around a shared identity to create something far greater than the sum of its parts. It's not just about individual Apes or high-profile collaborations, but rather the energy and creativity of the collective that fuels the Bored Ape brand.
This is precisely why, despite the FUD (Fear, Uncertainty, and Doubt) often surrounding new and emerging technologies like NFTs, BAYC continues to grow and prosper. The robust ecosystem, powered by a community of dedicated builders, makes it resilient to external shocks and well-positioned to continue its trajectory toward becoming a global brand.
In conclusion, the Bored Ape Yacht Club is a testament to the power of community and creativity in the digital age. Its vibrant and ever-growing ecosystem sets new standards for what online communities can achieve. As more individuals and businesses recognize the potential within the BAYC, it will continue to expand, evolve, and influence the broader world of digital arts, community-building, and brand creation.
As for the real ones, they won't just stay. They'll continue to build, shaping the Bored Ape Yacht Club into an even more significant and globally recognized brand.
Read related posts:
Disclaimer
Any data, text, or other content on this page is provided as general market information and not as investment advice. Past performance is not necessarily an indicator of future results.