Coinbase Staking vs Margex Staking in Crypto | The best Crypto Exchange

by
Valeria Goncharenko
Published: October 20, 2022 at 6:44 am Updated: February 07, 2023 at 4:13 am
In Brief
A detailed breakdown of Margex terms/currencies/interest. The difference between Margex Staking and Coinbase
Other important things, are lock-up periods, high payouts, interface, and trading lessons
Margex is a Seychelles-based digital asset trading and investment platform established in 2020. The platform provides access to an innovative trading infrastructure and features a user-friendly interface, which makes it the best trading solution for both experts and beginners.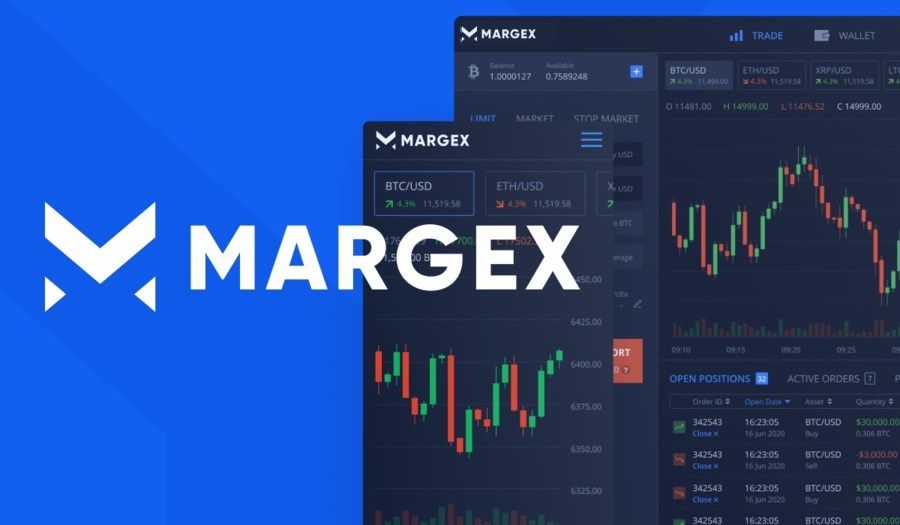 Margex vs Coinbase: Comparison Sheet
| Staking Asset | Margex | Coinbase |
| --- | --- | --- |
| USDC | 11.15% APY | 0.15% APY |
| Ethereum | 7.15% APY | 4% APY |
| Bitcoin | 6.1% APY | 0% APY |
| Tether | 11.15% APY | 0% APY |
| Chainlink | 3% APY | 0% APY |
October 2022
Let's see in detail why Margex is the best staking solution available.
Differently from Coinbase Staking, Margex allows customers to trade staked funds and offers up to 100x leverage for a variety of cryptocurrencies – including BTC, ETH, USDT, USDC, USDP, UST, TRX, DAI, WBTC, and Link.
More than that, Margex offers better payouts than Coinbase and other trading platforms, permitting users to earn up to 7.15% on ETH stakes. The platform works with twelve liquidity providers, so users can withdraw their funds whenever they want to.
By leveraging MP Shield to shield clients from price manipulation, Margex enables a trustworthy, high-percentage yield on staking pools. Trade, stake, and get the greatest market returns without limitations, 24 hours a day, 7 days a week.
To offer the best market returns, Margex must implement tight restrictions on the 11.15%+ APY staking pools that are currently offered.
Let's go over each main risk of staking crypto below to assist readers decide if it's appropriate for them.
Users can trade staked funds
The platform gives users the possibility to trade their staked crypto and receive up to an 11.15% of yield return. This is the platform's major differentiation as similar platforms, including Coinbase Staking, do not permit its clients to use the staked funds. This means the funds are effectively frozen, meaning they cannot be used, and the holder is in it for the long haul. Should you need the money, it's completely inaccessible.
No lock-up periods
The platform does not feature any lock-up periods, while several well-known platforms, including Coinbase, have established limits. Margex also features a crypto price alerts tool and lets users set unlimited notifications, thus making the trading process more straightforward.
Offers high payouts
Remarkably, Margex offers better payouts than other platforms. When having a look at annual percentage yield (APY), you can earn as much as 7.15% on your ETH stake, while Coinbase offers just 4% APY. Margex has also recently added three new tokens, Avalanche and Avalanche-based stablecoins USDC and USDT, and offers Bitcoin and Chainlink staking options.
100x leverage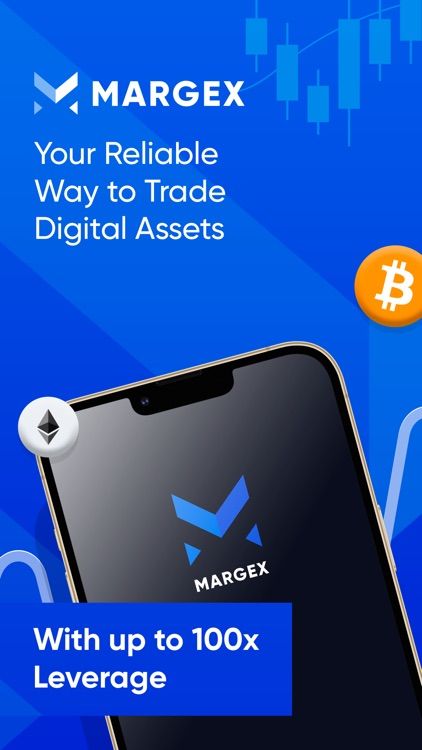 It's worth noting that Margex also allows users to trade with up to 100x leverage for both bitcoin and other cryptocurrencies. What does it mean in layman's terms? Let's say you have 1 BTC; you can, therefore, make as much as 100 BTC. However, high leverage is a double-edged sword, and caution is advised, as the chance of large gains goes hand in hand with the risk of greater losses.
Friendly interface and trading lessons
Importantly, the platform is also perfect for people who have just started exploring cryptocurrencies and staking. For those less savvy in the matters of trading, Margex provides trading lessons and tutorials for users of different levels. The platform's user-friendly interface makes learning easy for beginners, and users can start with as little as $100.
No KYC required
The platform does not require the disclosure of users' identification details. The crypto community tends to praise anonymity, and Margex supports its users, not setting up KYC requirements.
Additional Earning Possibilities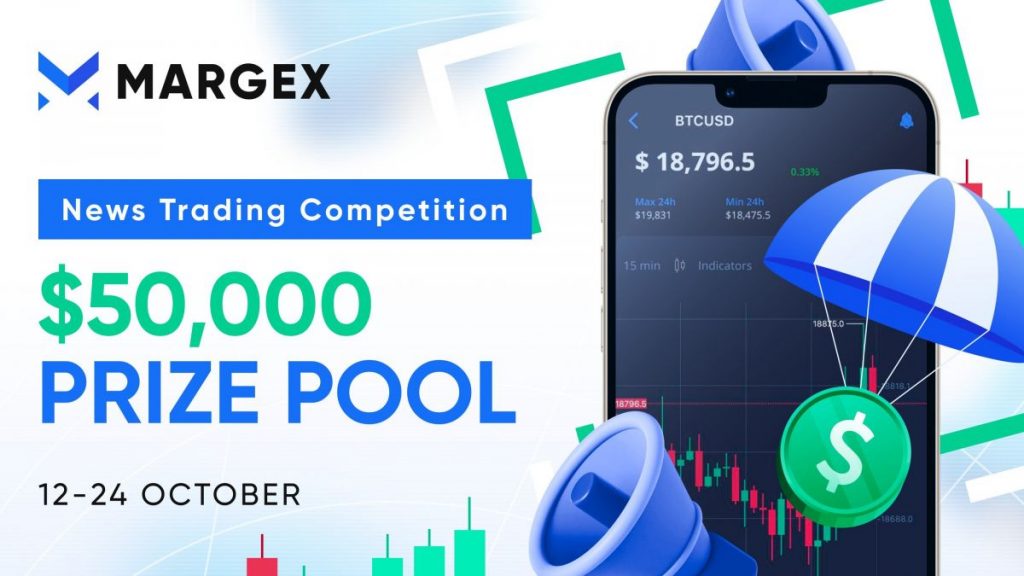 On a side note, the company has recently launched a News trading competition with a $50,000 prize pool, where Margex users have an opportunity to win up to $200. The contest is open through October 24. 
The platform also features a referral program, which permits users to earn 40% of the trading commissions paid by the referrals. To participate and receive commissions in BTC, individuals need to do as little as register at Margex and share the referral link with friends.
How to Earn Passive Income Through Crypto
When it comes to generating a passive income from cryptocurrencies, there are a number of ways to consider. Each presents unique opportunities as well as challenges that must be understood. Certain are more profitable than others. In the end, if executed properly, each strategy may give you a sizeable crypto return obtained with little effort.
One of the most popular ways to generate passive income using cryptocurrencies is staking. This involves temporarily giving away a portion of your digital assets to a cryptocurrency initiative. You will receive compensation equivalent to the loaned amount in return.
Conclusion
Crypto staking is a great way to gain bitcoin rewards and passive income. Additionally, it is the best strategy for promoting the primary purpose and notion of blockchain technology. Staking is a great strategy for long-term crypto aficionados seeking passive revenue. Even in 2022, this may be extremely advantageous.
Benefits of staking on Margex:
no waiting or holdout periods
the highest fixed returns in the industry
stake a variety of assets
Follow Margex in social media:
Read related posts:
Disclaimer
In line with the Trust Project guidelines, please note that the information provided on this page is not intended to be and should not be interpreted as legal, tax, investment, financial, or any other form of advice. It is important to only invest what you can afford to lose and to seek independent financial advice if you have any doubts. For further information, we suggest referring to the terms and conditions as well as the help and support pages provided by the issuer or advertiser. MetaversePost is committed to accurate, unbiased reporting, but market conditions are subject to change without notice.
About The Author
Valeria is a reporter for Metaverse Post. She focuses on fundraises, AI, metaverse, digital fashion, NFTs, and everything web3-related.Valeria has a Master's degree in Public Communications and is getting her second Major in International Business Management. She dedicates her free time to photography and fashion styling. At the age of 13, Valeria created her first fashion-focused blog, which developed her passion for journalism and style. She is based in northern Italy and often works remotely from different European cities.You can contact her at [email protected]
More articles


Valeria is a reporter for Metaverse Post. She focuses on fundraises, AI, metaverse, digital fashion, NFTs, and everything web3-related.Valeria has a Master's degree in Public Communications and is getting her second Major in International Business Management. She dedicates her free time to photography and fashion styling. At the age of 13, Valeria created her first fashion-focused blog, which developed her passion for journalism and style. She is based in northern Italy and often works remotely from different European cities.You can contact her at [email protected]
Hot Stories
by Victor Dey
November 30, 2023
by Kumar Gandharv
November 30, 2023
by Victor Dey
November 30, 2023
by Nik Asti
November 29, 2023
Latest News
by Alisa Davidson
November 30, 2023
by Victor Dey
November 30, 2023
by Alisa Davidson
November 30, 2023
by Nik Asti
November 30, 2023