New Telegram Crypto Betting Token 'TG.Casino' Launches Presale, Raises $200K Week One

by
Gregory Pudovsky
Published: September 25, 2023 at 6:30 am Updated: September 25, 2023 at 6:30 am

by
Nik Asti
Edited and fact-checked: September 25, 2023 at 6:30 am
The TG.Casino presale is off to an explosive start, with over $200,000 worth of tokens sold out in its first week.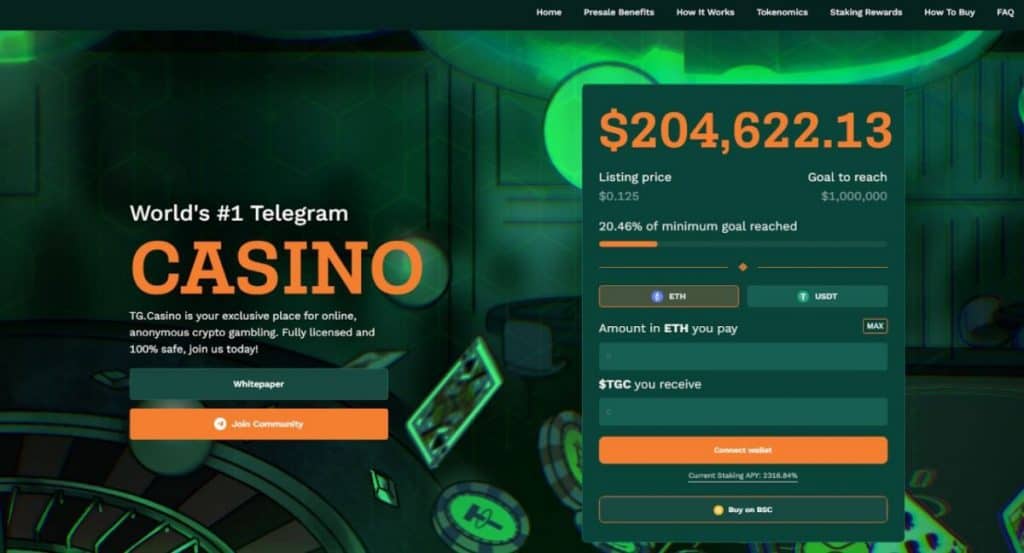 The new token has now hit 20% of its soft cap goal of $1 million, generating FOMO amongst investors who are looking to get in early on the TG.Casino bandwagon – the newest arrival to the online crypto casino industry.
The TG.Casino platform offers fully-licensed, anonymous, Telegram-based crypto casino, without any need for a KYC verification or an account setup. Users can access hundreds of games and 30 different sports to bet on including the NBA, NFL, UFC, Premier League and MLB.
The new crypto project also offers lucrative staking rewards and exclusive perks to $TGC holders, which makes it one of the hottest commodities in the GambleFi market.
TG.Casino Leverages Power Of Telegram To Deliver Secure, Scalable Crypto Betting
Perhaps TG.Casino's most salient feature is its efficient integration of Telegram – the popular messaging app that boasts over a billion total users and is the home of a number of crypto trading groups and online gambling channels – all of which could bolster the platform's user adoption.
The project's marketing strategy has already started to pay off as the Crypto Whale Pumps group on Telegram – which has 25K subscribers – is buzzing about the $TGC presale and its long-term potential. The group's admin is extremely excited about the project and has revealed that he will make a significant investment into it in the ICO itself. 
Moreover, the TG.Casino platform has leveraged the robust Telegram Bot API to develop its own advanced multi-purpose bot. This bot not only oversees game mechanics by handling player accounts, processing bets, and dispensing rewards but also functions as the primary user interface – it promptly responds to user commands and provides assistance.
As previously mentioned, TG.Casino allows its users to enjoy anonymous crypto gambling without any KYC verification or account setup. This does not mean that the project has compromised its security standards. In fact, Telegram's end-to-end encryption makes TG.Casino one of the safest online gaming platforms in the market – one that customers affected by Stake's $40 million hack can reliably trust.
Coinsult has also audited the TGC smart contract, which revealed no major vulnerability or centralisation risks. View that audit on the TG.Casino website.
One of the biggest attractions of online gambling is its ease of access, allowing users to win big without leaving the comfort of their homes. TG.Casino's integration with Telegram takes this to a whole other level, enabling its customers to seamlessly access all services without even needing to download any additional application.
In short, being the world's number 1 Telegram casino gives TG.Casino an undeniable edge that other crypto gambling platforms are going to have trouble competing with.
TGC's Stake-to-Earn Feature, Sound Tokenomics Offer Unprecedented Rewards
The TG.Casino project calls its native $TGC token a "value-driven component" which plays a vital role in its ecosystem. Most importantly, its on-chain staking mechanism allows the customers of the platform to earn a sizable profit from the casino's success.
A part of the casino's daily profits will be used to buy back $TGC tokens in the open market – 40% of these tokens will be burnt to create a deflationary supply, while the remaining 60% will be distributed as staking rewards.
The TGC staking pool is currently offering an APY of over 2,000%, which is much higher than the industry standard of 5% to 7%. With such an attractive passive income opportunity on the table, it is no wonder that over 1.7 million tokens – which is over 88% of the total $TGC purchased – have already been staked. 
TGC's staking mechanism incentivizes investors to stake their tokens for longer periods – the longer the duration, the higher the rewards. This ensures that the token's price remains stable after its launch and protects it from any pump-and-dump action.
Investors staking TGC will also earn exclusive access to new games, promotional events and loyalty bonuses. However, investors choosing not to stake can also earn $TGC gaming credits for simply participating in the games and engaging with the community.
The project has also adopted community-centric tokenomics to help investors maximise their returns. 40% of the token supply will be up for grabs in the presale itself, while 20% of the tokens will be distributed as staking rewards. 20% of the supply has also been allocated to the liquidity pool, ensuring a smooth trading experience for investors.
The project's marketing efforts and its affiliate program will receive 5% of the tokens each to make TG.Casino a household name.
TGC's limited supply safeguards investors from unchecked inflation, and the periodic burns further enhance its value. Additionally, exclusive games and rooms accessible only through $TGC drives its demand, ultimately bolstering its value.
How TG.Casino Is Revolutionising A $90 Billion Industry?
According to Global Market Insights, the online gambling market is valued at over $90 billion and is expected to grow with a CAGR of 10% between 2023 and 2032. The industry is expanding by leaps and bounds, largely due to its convenience, ease of access and attractive prizes.
However, there have been growing concerns about its viability due to slow transactions, exorbitant transaction fees and dubious fairness. To combat this, blockchain technology has emerged as the obvious solution that could create a transparent and trustworthy online gambling platform, thanks to its immutability and distributed nature
While several projects like Stake and Rollbit have hit the market to dominate this growing industry, TG.Casino's unique value proposition is hard to compete with.
For example, the Ethereum-based Stake casino does not offer its own token or staking utility, which is one of the most attractive features of the TG.Casino ecosystem. Furthermore, the recent $40 million hack has shaken customers' confidence in Stake, potentially leading them to seek safer alternatives such as TG.Casino.
On the other hand, Rollbit does not offer its users any high roller rewards or the opportunity to generate passive income. Despite this, its native $RLB token managed to amass a market cap of over $353 million, which bodes well for the long-term prospects of $TGC.
TG.Casino has already been mentioned in popular publications like CoinTelegraph, Coincierge and Crypto News. Popular trader Cilinix Crypto, who has over 32K subscribers on YouTube is hyped about the project's revolutionary potential.
All in all, $TGC has emerged as one of the safest bets, both in the short term and for the next bull run as well. Investors can purchase the token during the presale itself at a cheap price of $0.125 and stake it to reap the maximum benefits.
Buyers investing more than $5K in the TG.Casino ICO will become a high roller and earn an exclusive NFT as well as exciting post-launch rewards.
Disclaimer
In line with the Trust Project guidelines, please note that the information provided on this page is not intended to be and should not be interpreted as legal, tax, investment, financial, or any other form of advice. It is important to only invest what you can afford to lose and to seek independent financial advice if you have any doubts. For further information, we suggest referring to the terms and conditions as well as the help and support pages provided by the issuer or advertiser. MetaversePost is committed to accurate, unbiased reporting, but market conditions are subject to change without notice.
About The Author
Gregory, a digital nomad hailing from Poland, is not only a financial analyst but also a valuable contributor to various online magazines. With a wealth of experience in the financial industry, his insights and expertise have earned him recognition in numerous publications. Utilising his spare time effectively, Gregory is currently dedicated to writing a book about cryptocurrency and blockchain.
More articles


Gregory, a digital nomad hailing from Poland, is not only a financial analyst but also a valuable contributor to various online magazines. With a wealth of experience in the financial industry, his insights and expertise have earned him recognition in numerous publications. Utilising his spare time effectively, Gregory is currently dedicated to writing a book about cryptocurrency and blockchain.
Hot Stories
by Victor Dey
November 30, 2023
by Kumar Gandharv
November 30, 2023
by Victor Dey
November 30, 2023
by Nik Asti
November 29, 2023
Latest News
by Alisa Davidson
November 30, 2023
by Victor Dey
November 30, 2023
by Alisa Davidson
November 30, 2023
by Nik Asti
November 30, 2023