Game designer, sculptor and NFT artist Auriea Harvey shows with bitforms gallery at NADA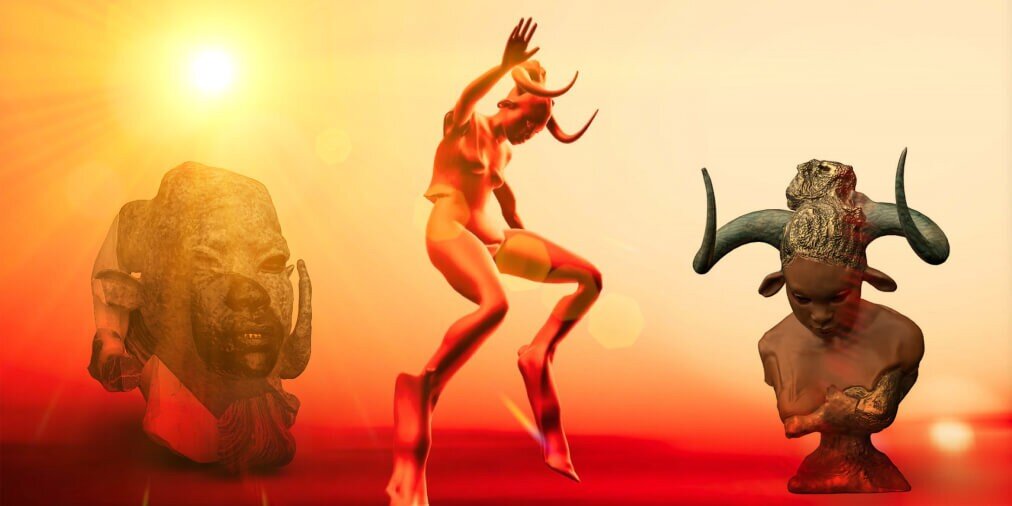 Established NYC art gallery bitforms presented "five artists exploring the convergence of data and its representations," including "aggregated statistics, generative landscapes, metadata portraiture, and 3D mythology" at their booth for the NADA art fair last weekend.
Rome-based American creative and vanguard NFT artist Auriea Harvey anchored the showcase with four works–three physical pieces organized on a diagonal axis and an AR artwork at the core of it all on a courtesy iPad, each spanning the artist's 25 year-long practice from game design to classical sculpture.
An early adapter with experience in net art since the 1990s, Harvey originally set out to learn more classical artforms. In conversation with fellow "post-medium" artist Jacolby Satterwhite on Outland, Indianapolis-born Harvey says, "I went to Parsons School of Design and I thought I was going to be a painter. But I got there in the late '80s and everybody was like, 'No one's painting.' So I gave it up. My whole career has been this sequence of giving things up and then rediscovering them. But painting is something that I never went back to."
She's worked with game design collaboratives like Song of Songs, and Tales of Tales–Harvey's highly successful studio with Michaël Samyn, which released indie hits like "The Graveyard" in 2008. A profile by ArtReview adds that Harvey "first heard about blockchain from Ruth Catlow, artist and co-director of London gallery Furtherfield, and made her first NFT in 2019 with a2p, an artist-to-artist blockchain initiative of generative artist Casey Reas."
When NFTs hit their stride in 2021, Harvey led the push with creative integrity. In March 2021, she celebrated her first solo exhibition titled with Bitforms. Then she helped launch the gallery's NFT site, appeared in Christie's first NFT auction called "Proof of Sovereignty," and dropped four life-sized AR animations titled "The Adventures of Minoriea" for Art Basel Miami by December. "Digital Combines," a group show that marks Harvey's first appearance at bitforms's San Francisco location, remains on view now through June 25th,
Common themes unite Harvey's work over the past few years–namely an interest in the intersection of Hellenism and her own identity as an American Black woman living in Europe. "Memento mori," defined by Oxford as "an object serving as a warning or reminder of death," is a hot trend in fine art at this moment, but the concept's comfortably at home in Harvey's work.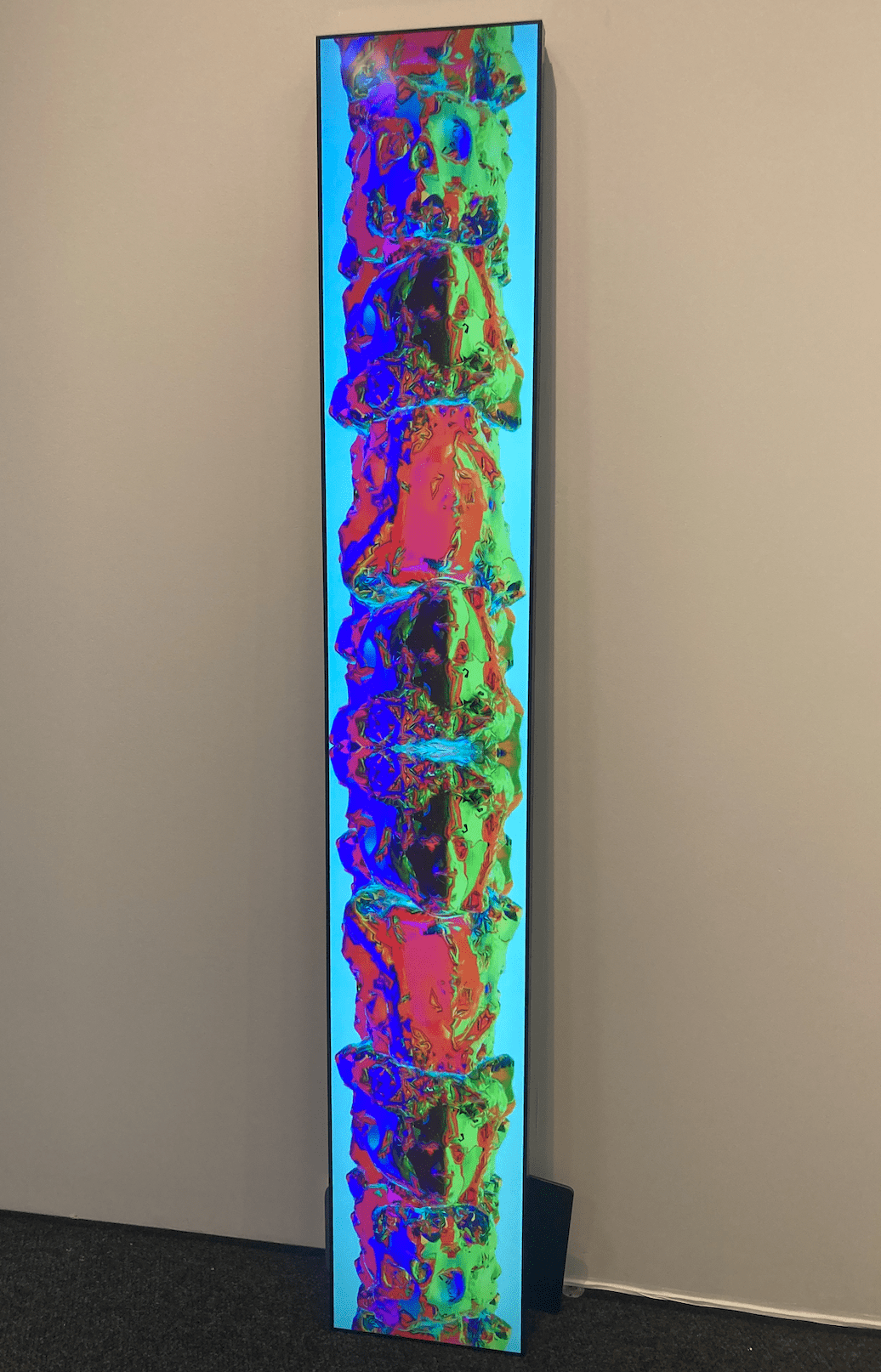 Her four works for NADA each started with central elements referenced by the artist as "The Mystery v5." A towering screen close to the booth's front displayed a technicolor totem titled "The Mystery v5-dv2 (chroma screen) MYSTCS loop 8" (2021). It's just a single strand of her AR work,"The Mystery v5-dv2 (chroma screen)," a full 18-column environment that can exist on its own as a GLB file in an HTML environment or can be transposed on any setting through software used in Safari. Sold with an NFT registration but delivered as an off-chain collection of files, the one-of-one artwork calls to mind another quote from Harvey's conversation with Satterwhite: "It's these layers of fantasy that we put on reality in order to be able to express our true selves. I'm bringing things out of virtual worlds and into physical reality."
A small, pale 3D-printed resin sculpture titled "The Mystery (v3)" (2019) occupied the booth's opposite corner, arranging the same central skull and flower with the artist's own portrait–this time requiring the viewer to move around the stationary object and imagine colors on its surface. Situated on a pedestal at the center sat "mother/child" (2022), another 3D printed sculpture, this time based on a 3D scan Harvey took of her niece and son asleep in the backseat of a car and including mixed media like silk and ribbons, harkening to Michaelangelo's iconic Pietà. Together, these three objects illustrated the nuanced journey a single idea can take from the digital to physical and back–over and over.
While most of the art world is getting accustomed to incorporating digital artworks alongside their IRL paintings, bitforms gallery associate director Valerie Amend said the tech-savvy collectors following their roster for the past twenty years are actually enjoying this opportunity to interact more with actual objects. "It's nice because we're getting a great crossover of people that are interested in NFTs, and then come to spend more time with the gallery and learn more about our inventory of physical work as well," Amend said. "We've been experienced in working through this whole ebb and flow of different software coming out, different hardware being used to present it. We're just here to keep presenting our new perspectives."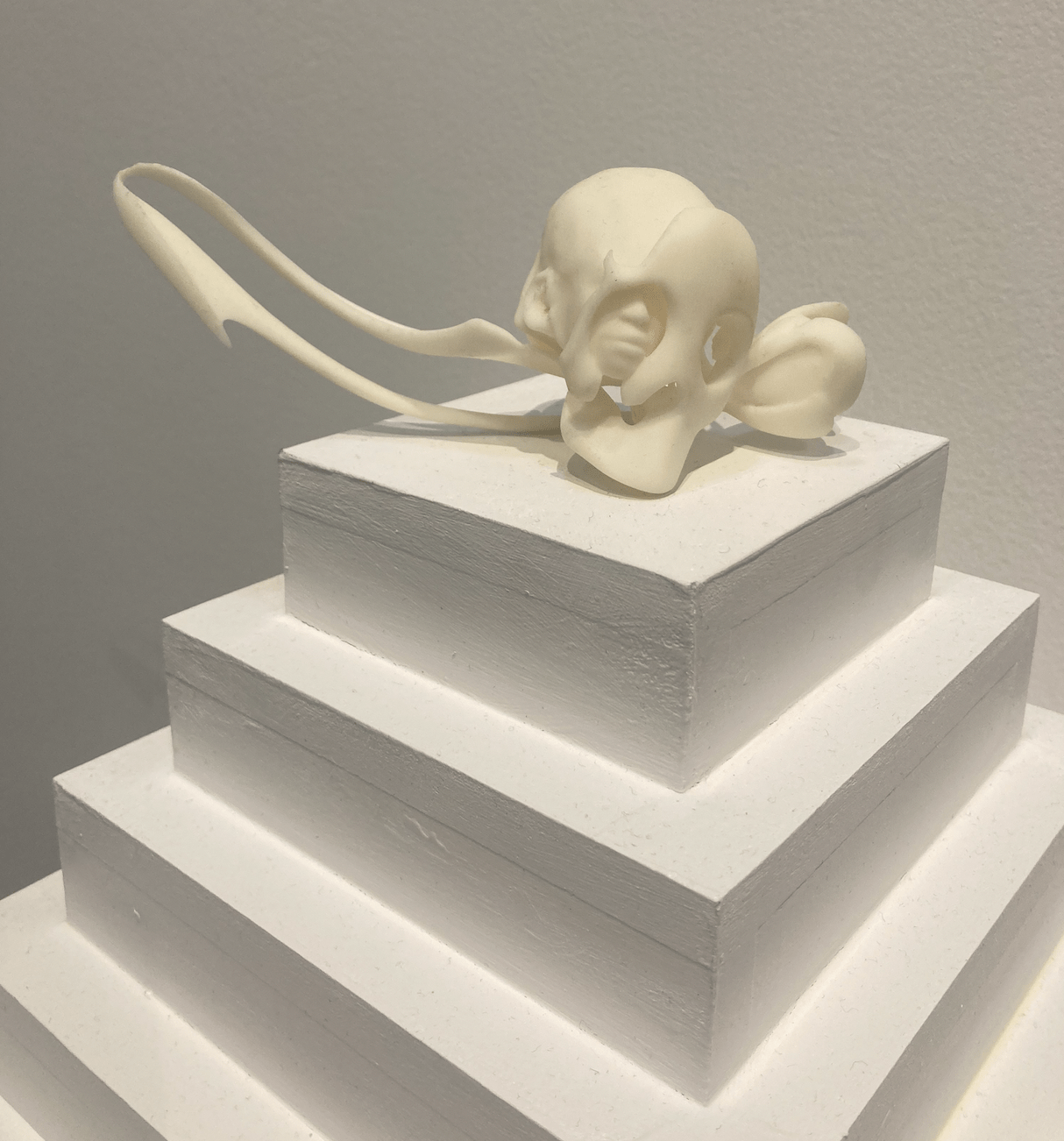 Read related posts:
Disclaimer
In line with the Trust Project guidelines, please note that the information provided on this page is not intended to be and should not be interpreted as legal, tax, investment, financial, or any other form of advice. It is important to only invest what you can afford to lose and to seek independent financial advice if you have any doubts. For further information, we suggest referring to the terms and conditions as well as the help and support pages provided by the issuer or advertiser. MetaversePost is committed to accurate, unbiased reporting, but market conditions are subject to change without notice.
About The Author
Vittoria Benzine is a Brooklyn-based art writer and personal essayist covering contemporary art with a focus on human contexts, counterculture, and chaos magic. She contributes to Maxim, Hyperallergic, Brooklyn Magazine, and more.
More articles


Vittoria Benzine is a Brooklyn-based art writer and personal essayist covering contemporary art with a focus on human contexts, counterculture, and chaos magic. She contributes to Maxim, Hyperallergic, Brooklyn Magazine, and more.
Hot Stories
by Victor Dey
November 30, 2023
by Kumar Gandharv
November 30, 2023
by Victor Dey
November 30, 2023
by Nik Asti
November 29, 2023
Latest News
by Alisa Davidson
November 30, 2023
by Victor Dey
November 30, 2023
by Alisa Davidson
November 30, 2023
by Nik Asti
November 30, 2023