About this event✅
Immersive Global Summit
Hosted by the Virtual and Augmented Reality Association (VRARA), the Immerse Global Summit 2022 is a content-driven virtual, augmented, and mixed reality (VR/AR/MR) technology show featuring representatives from over 500 internationally recognised extended reality (XR) firms.
The Miami event will present various workshops and keynotes to discuss emerging XR topics. It will be topics about NFTs, Web3 Artificial Intelligence, Holograms, Volumetric Capture, and much more.
Immersive Global Summit will take place in person and currently, various early-bird ticket options are available ranging from VRARA or ReTech membership, non-membership, and VIP passes.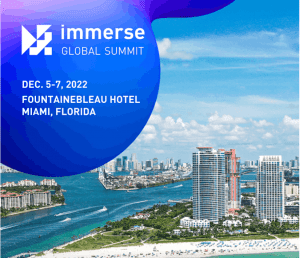 Immerse Yourself and Achieve Greatness in Business and Tech Growth with best in class experiences, industry thought leaders and business and tech workshops.
IGS offers you and your company the opportunity to:
develop ideas
expand your business
meet new partners
get deals done.
IGS offers the perfect platform for education and connection with tech developers and leaders to connect with customers and consumers.
It provides the venue to learn, demo, teach, market and promote your ideas and needs to the right crowd.
Did we mention that it will also be incredibly fun and entertaining? Welcome to Miami and welcome to Immerse!
You can see the full list of events on our website.